"I think the job of a CFO is ultimately to create return for stakeholders."
Tony Tiscornia, CFO of Coupa, the spend management technology company, has spent the majority of his career in finance, helping turn a 100-person start-up into a 3,000-person global organization. Starting as the company's controller in 2012, he has helped navigate an IPO, guide it to a decade of exceptional growth, and, most recently, return to private status again via acquisition by Thoma Bravo. 
With these twists and turns, his focus noted above — creating return for respective stakeholders — has been a guiding principle for the company and for himself.
Recently, CFO had the opportunity to talk to Tiscornia at Coupa's annual conference in April, and he explained in greater detail the challenges of being growth-minded, the learning curve he experienced as a new finance chief, and the critical need to be an effective storyteller. 
---
Tony Tiscornia
CFO, Coupa
First CFO position: 2021
Notable previous companies:

Soraa
The Clorox Company
KPMG
---
This interview has been edited for brevity and clarity.
ANDY BURT: Tony, your career has followed a relatively traditional accounting-to-CFO path. How did you decide to cross over from public audit to industry? 
TONY TISCORNIA: I think I decided a few years into public accounting, right out the gate from college. I realized that it'd be more fun to actually build something versus just expecting something, and that came from the interactions I had with the people at the companies that we were working with. Talking with the clients, and all the knowledge I was gaining, was great. I wanted to be a part of something that was growing and also to build something big.
I came from the accounting side of the house, and a lot of CFOs come from more of the FP&A and modeling side of the house. I've had ample opportunity now to dig into that and learn.
What were some of the first things you had to learn as a new CFO?
TISCORNIA: [Coupa] was a public company before I became CFO, and during my first couple of years as CFO, we were investor relations-centric. I learned to understand the value of telling a clean story to investors about how Coupa consistently delivered on expectations.
I wanted to be a part of something that was growing and also to build something big.
Six years ago, our prior CFO Todd Ford, who was a great mentor to me, started bringing me to meet with Wall Street analysts, even before we were public. I got to know a lot of them well. I didn't know the investment banking 'game' with buy-side investors, and things like that. Fortunately, I learned and it helped me get to where I am today.
Doing an IPO, roadshows, supporting earnings calls cycles, working on modeling, guidance, and things like that, all these things developed an essential skillset for me that has allowed us to navigate the ups and downs.
The first four years we were public, valuations were appreciating at rocket ship kind of levels, and money was basically free. Now, the last couple of years have been a bit more tumultuous. 
You have watched your finance team grow tremendously over the course of your time at Coupa. What has that been like?
TISCORNIA: When I first came to Coupa, there were fewer than 100 people. The finance team was four people, including myself. We quickly grew to five.
It's been amazing to be a part of the journey to see Coupa grow from that early stage. The first four years that I was here we were private, trying to get our financial statements in order for the first time, getting an audit done. We were going from QuickBooks to NetSuite — really startup company-type stuff. It was very cool and fun.
What was one thing you learned along the way that really excited you, and what was one thing that you had to learn even though you didn't love it all the time?
TISCORNIA: The one thing I took away that's the most valuable and that excited me the most, and that I share with other folks that are trying to go from accounting to a CFO position, is there's so much stuff going on in the role. There are metrics, there's noise, there's margin, points of margin, free cash flow margin, and more.
But, when you really zoom out, it's a long arc that you're trying to paint a story with. You don't want to have a story with 27 different nooks and crannies.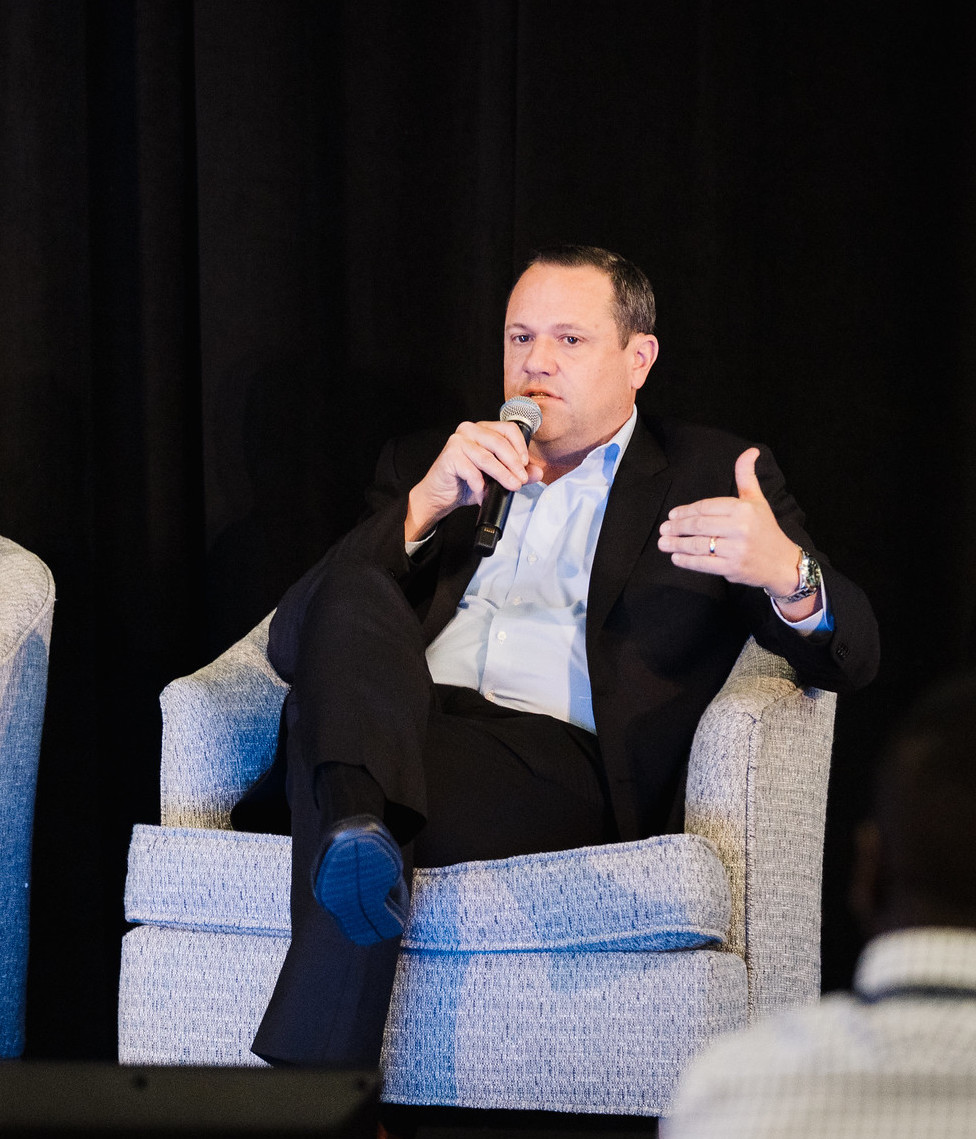 Then there's consistency. We have a three pillars story if you will — it was top-line growth, sales and marketing efficiency, and leveraging the model to appreciate profitability or cash flow over time — all of which were consistently delivered. That was cool for me. I always bring it back to these three things that we're trying to achieve in my decision-making processes.
Our three pillars story — top line growth, sales and marketing efficiency, and leveraging the model to appreciate profitability or cash flow over time.
The hardest thing for me that I had to learn was interacting with investors and Wall Street. They often do want to go into a deep rabbit hole, and I've always been a person that wants to answer the question and give all the details. But sometimes it detracts — it's not relevant, right? Sometimes it's too much detail, it is going to be confusing, and really isn't germane to the core of the story. I would have to stop myself when I heard a question and take it back to "What are we trying to achieve here?" For me, that's my natural way to answer your questions and just get into details and numbers. That was one of the hardest things for me [to adapt].
How do you relate to your customers who are coming to you wrestling with the current labor force challenges?  
TISCORNIA: I think for our customers, they get it already. They know that if you throw people off the problem, it's not good for the company long term. It's not good for their employees over the long term either, because of all the manual work they're going to have to do anyway.
I think the biggest challenge now is finding out what is the compelling event that triggers a need for change. What and where is the strategic support in an organization to decide to do it now versus another time? My job is to help people understand why their people should be a priority.
With 30% year-over-year growth over 10 years, that sounds like it can be an intoxicating experience. How do you measure that historical growth against the long-term strategy for the company?
TISCORNIA: We were much smaller when I started, and we were originally doubling over in growth every year. For many years, we had nearly 40% plus organic growth, and a lot of that was driven by why there's a need for what we do. As that grew, people started to track on to that and really dive into it.
It is intoxicating, and what I will say for all the other CFOs and business leaders, is that U-turn from "growth, growth, growth, higher, higher, higher," to "okay, we have got to be balanced here" isn't easy.
We had to find the areas of growth that are most lucrative and promising and invest in those. And, we had to identify the other areas where we needed to slow down. It's a hard balance. 
What are you most excited about next, and what is the thing that keeps you up at night?
TISCORNIA: I think what we are most excited about is our ability to prove that Coupa is a leader in this very large space. There are so many companies that haven't taken on the technology we offer, and part of my role is to help them understand what is best for their needs. The opportunity for our people is also incredibly strong, and I am very excited about that. I think my colleagues are just as excited, too. 
As far as what keeps me up at night, I'm always focused on trying to ensure that at every touch point, and every interaction that I have, I emphasize those core values and culture that helped us succeed in the beginning.
It's a typical thing when companies get bigger, they get more bureaucratic. Employees around the world become less engaged with the culture the company started with. It's something we proactively work towards avoiding as we grow, and I want to do everything possible to make sure we keep the culture that we started with.