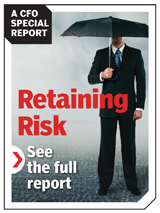 This is the fourth of four articles in a special report looking at risk retention. Also included are: An Appetite for Risk, which explores the metrics and thought processes of the new ways of thinking about risk; Seven Factors in Self-Insuring, which analyzes the components of retention strategy; and If Insurance Costs Too Much, Don't Buy It, which provides a case study in cost saving.
---
Should you retain some or all of your workers' compensation (WC) risk? On what basis do you decide?
After over a decade of relatively inexpensive WC insurance, the marketplace is hardening. For many companies, higher prices and narrowing coverage availability will affect your upcoming policy renewals.
Yours may be one of many employers forced to explore the option of WC risk retention, in which you pay a significant layer of claim costs "out of pocket." Depending on the employer, the layer in which the employer's money is exposed can be as low as $250,000 or as high as $1 million per claim.
Retention plans take two basic forms. The simplest one is to buy an insurance policy with a large deductible. The more complicated one is to accept a fully self-insured layer of risk by completing necessary legal steps and collateral requirements. Each plan has different up-front costs, structuring requirements and long-term savings opportunities. But they both require a commitment to control loss costs.
In considering retention plans, CFOs and risk managers need to go beyond a straight formulaic consideration of cash flow and up-front costs. You need a targeted plan to control and reduce the actual dollars spent on medical treatment, lost wages and other statutorily-mandated benefits to injured workers.
Your opportunity to exercise more precise operational control of your WC risk rises commensurate with the amount of risk dollars you retain. Successful employers see this as liberation from the efficient but ineffective "one size fits all" claim service that comes with a first-dollar (non-deductible) WC insurance policy. 
Employers have reduced costs as much as 50 percent by properly focusing their savings opportunity on controlling claim costs – including efforts in safety and loss prevention but especially in post-claim management.
Retention plans allow combinations of such "unbundled" services as claim adjusting, medical management, litigation defense and investigative services. In such plans, the employer calls the shots in assembling vendors and aligning their protocols within a claims process that is intelligently designed to work best for their specific risk.
An intelligently designed claim-management plan uses an employer's clam history to target areas ripe for savings. One common focus area is early return to work. Are you exercising every opportunity to give injured employees temporary modified duties then progressively move them into regular jobs?
Benchmarking your historic return to work results against peer groups can reveal opportunities.  Set your goal above the average and calculate savings potential in reduced lost-workdays. Your WC insurance broker may be able to employ such benchmarking data as "lost workdays by injury type" to see where you rank.
A more creative example could be the goal to reduce attorney representation of employees. Your history might show average cost of litigated claims at three times that of non-litigated. Better handling of injured workers within an immediate 48-hour plan following the reported injury can increase employee confidence and reduce attorney involvement.
A common 48-hour plan puts the employee's supervisor in a facilitative role, applies nurse triage and immediately directs medical care. You can set a goal to reduce attorney involvement by 30 percent, for example, and translate that into potential dollar savings.
Your risk profile can also dictate where savings opportunities lie. If you have locations with 24-hour shifts and high employee concentration in heavy manufacturing, you might want to invest in on-site medical clinics.
The clinic could become a central "hub" of injury triage, medical control and return-to-work opportunities. Conversely, if your employees are dispersed in retail outlets or on-the-road transportation, you might apply telephonic nurse triage to obtain early medical control. Strategy and tactics will differ based on many aspects like the age of workers, the presence of union contracts, seasonal work fluctuation and whether the workplace is an office or manufacturing environment.
It's Your Money
In a retention plan, controlling costs is critical because the employer's money is directly spent on benefit payments. The budgeting paradigm necessarily changes. There is no longer a single precise calculated premium that you can budget. You will fund certain up-front costs such as deductible insurance or excess- insurance premiums. You may have to provide some collateral or letter of credit. However, this is less important than actual claim costs and future claim experience.
Claim costs are the actual statutorily-defined benefit dollars paid to injured workers. They include lost wages, permanent impairment awards, medical costs and various other expenses. In retaining risk via either a deductible policy or self-insurance, employers must select typically set a dollar threshold, usually between $250,000 and $1 million per claim.
Typically in a retention plan the employer would also provide a source of collateral or buy a letter of credit (LOC) from bank and set up a method of funding a payment account. Within the retention, day-to-day loss costs would be paid by a claim-adjusting third-party administrator (TPA) with your funds.
"Excess" insurance layers at certain multi-million dollar limits will likely require review and adjustment as more risk is retained, depending upon your choice to fully self-insure or purchase a high deductible policy. Simple protocols like excess notification rules for cases meeting certain thresholds may become the employer's direct responsibility. Creative risk transfer schemes for excess coverage, including captive insurance plans or risk pools, might also be available.
If purchasing a deductible policy, the greater the deductible, the less your premium cost. Calculation of premium is often based on an up-front amount plus amounts due upon a retrospective review and calculation using your claim-cost experience.
Such "retro-adjustments," as they are called, are scheduled in the up-front program agreement with the insurer. Some plans have a single retro-adjustment at one or two years after policy inception. Others might have annual reviews for five years. Based on the formula, if claim cost experience increases, then your retro-adjustments increase. Therefore, controlling today's benefit costs becomes even more important for long term dollar savings.
Your claim "experience" is the ultimate dollar estimate for a policy year based on actuarial formulas added to your open claim values, or "case reserves."  For example, as of today you may have paid only $4,000 in benefits costs for a 4-month-old back injury claim projected to require surgery. However, future costs can be projected at $55,000 for the life of the claim.
That $55,000 dollar reserve is added to the current claim value. Your "experience" is the aggregate reserves of all claims in the policy period. Long-term control of your experience is your ultimate opportunity for WC risk-cost savings.
Structuring retention options applicable to your company should be a straightforward exercise for your broker. You should be able to make basic cash-flow decisions based on deductible and excess premium costs, LOC or collateral funding options, increased funding/budget projections as a policy year matures, and investments in added staff or vendors to manage the retained risk.
No one option can generally be said to be better than another — except for your specific situation. Most critical will be your appetite for and selection of a retained amount per claim. That should not be based on a leap of faith, but on a claim cost-management plan you're confident with.
CFOs and risk management directors should challenge their companies' brokers and/or risk-management staffs to identify opportunities for controlling future claim-cost experience and to design a cost-management plan.
What factors, if addressed, will reduce ultimate loss costs? What investments are required? What dollar savings potential exists? Your plan will help you decide if and how your company will retain some or all of your WC risk.
Barry Thompson has over 30 years of Risk Management experience and is president of Risk Acuity, LLC, a risk management and claims consulting firm based in Watertown, Conn.
---
This is the fourth of four articles in a special report looking at risk retention. Also included are:An Appetite for Risk, which explores the metrics and thought processes of the new ways of thinking about risk; Seven Factors in Self-Insuring, which analyzes the components of retention strategy; and If Insurance Costs Too Much, Don't Buy It, which provides a case study in cost saving.