Enterprise performance management systems — not to be confused with enterprise resource planning systems, but closely wedded to the latter in more and more companies — are becoming more useful than ever, thanks to advances in technology and a wider choice of products. EPM software is increasingly powerful and easier to use; predictive analytics capability is more prevalent; cloud versions are more common. Mobility is a new feature, and compatibility with spreadsheets is a new virtue.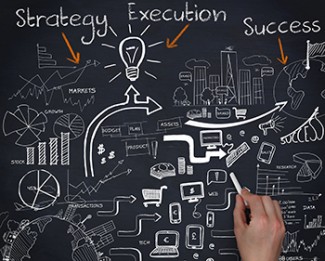 Enterprise performance management (also called business performance management or corporate performance management) refers to the monitoring and managing of performance across an organization with processes in the finance function. The software enables CFOs and other managers in the enterprise to draw on data from internal and, sometimes, external sources to plan and improve corporate performance.
IBM, SAP, and Oracle command about 70% of the EPM market, while Infor and SAS account for 10%, according to Christopher Iervolino, a research director at Gartner who follows the performance management vendor space. But there are plenty of sophisticated systems to choose from in the remaining 20% of the market. "There's a lot of interesting capability coming from those players with 2% or less market share," says Iervolino.
Indeed, following a period of vendor consolidation, the trend has reversed. More companies are entering the market, some headed by managers who left acquired firms to start new ventures. Today there are more EPM vendors than ever — nearly 20 mainstream providers, plus other, more narrowly focused vendors, according to Craig Schiff, president and CEO of BPM Partners, a consultant on performance management projects.
Below the top three vendors, the next-smaller tier includes providers whose sole focus is on EPM solutions, whether tailored for company size or particular industry, says Schiff. Axiom EPM, for example, focuses on the financial services and health care sectors; XLerant has enjoyed success in the higher-education sector.
Smaller vendors may also be known for strengths in specific areas of EPM, such as budgeting, profitability optimization, and scenario modeling; or for their deployment options — on-premises software versus cloud solutions, for example. "The opportunity is there [for vendors] to distinguish [themselves] by being stronger, whether it's the technology platform or the different aspects of the offering," Schiff says.
Two Types
An EPM system hosts a company's budgeting and planning data, and pulls it together with transactional data from an ERP system for use in performance management. Nearly all EPM systems are designed to integrate easily with ERP systems, according to Schiff.
EPM applications are built from business intelligence tools, such as report-and-query tools. Some vendors have acquired BI tools vendors, enabling them to provide access to pure BI capabilities in addition to the prepackaged EPM tools. In 2012, for example, Adaptive Insights bought MyDials business intelligence tools, which it now offers as an integrated solution under Adaptive Discovery. Earlier this year, Longview Solutions merged with BI tools vendor arcplan, while Prevero purchased MIK, which will continue to operate independently.
Gartner breaks down EPM into two categories: office of finance processes and strategic processes. Office of finance processes include, for example, financial consolidation and close management, disclosure management, and external reporting. Strategic processes include planning, profitability modeling, and managing initiatives and strategies, and draw more from sources outside of finance, says Iervolino.
Need for Speed
Technological change is affecting both types of EPM, Iervolino says. Thanks to the increasing use of in-memory computing, office-of-finance processes are able to move closer to ERP, he says. In-memory computing works with data accessed from a computer's memory, or RAM, instead of its hard disks. That reduces the need for aggregation and allows for more calculations in extremely short periods of time.
"Speed is the key," Iervolino says. "We're talking about being able to access huge volumes of data — Big Data related — and doing that very quickly. It's enabling new business processes more than it is speeding up existing processes." In-memory computing advances are pointing to a future where all-encompassing ledgers can create aggregations on the fly from all transactional data, Iervolino says.
On the strategic EPM side, technology advances are allowing for greater collaboration with other business areas and for integrating financial plans more closely with operational plans, Iervolino says.
The changes wrought by technology advances on the EPM space are so significant that they are changing the role of the office of finance, Iervolino says. The opportunities being opened up by new EPM tools and analytics are moving CFOs to focus more on strategic and dynamic planning, and on orchestrating performance management across their organizations, he explains.
"This type of agility, enabled by technology, is really where we see things changing," Iervolino says. "The idea of EPM is moving toward enterprise performance optimization — not just managing. Managing is about finance's responsibility to monitor and manage performance, where if we're talking about optimizing, it's finance's responsibility to enable the enterprise to perform."
Easy Does It
EPM systems are also becoming more user-friendly — a welcome trend, given that they had become more difficult to use as they became more complex, adding more and more features. Many vendors have redesigned user interfaces to be more intuitive and easier to understand.
Cloud deployment options are also making the systems easier to use, with users able to access the system through web browsers. Some vendors, such as Adaptive Insights and Host Analytics, designed their products from the ground up as cloud-only solutions; others, like Axiom EPM and Tagetik, have created cloud versions of their on-premises software solutions.
Security concerns about cloud systems have quieted as more companies have become used to having their data stored in the cloud, through the adoption of tools like Salesforce.com, and as IT departments have seen success elsewhere with other cloud solutions. "The reality is that in many cases, these solutions in the cloud are far more secure than what people were doing in the past, which was passing around Excel spreadsheets," says Schiff.
Vendors are also starting to offer access to their systems from mobile devices. "Mobile isn't in general use; it's still early stages for mobile-access performance management," says Schiff. Although demand for the capability hasn't taken off yet, there is one exception, says Schiff: when CFOs are involved in the software purchase decision. "There are CFOs who insist on the ability to access their reports on their mobile device, typically an iPad, and being able to drill down into detail," he explains. "They want live mobile access to their reports. Where those CFOs are involved in deciding what software to purchase, for them, that becomes a key criterion."
Beyond Financial Planning
Another trend in the EPM market is that vendors are expanding their solutions beyond financial planning to operational planning, sales performance management, and strategic planning, and linking them all together for integrated planning.
Host Analytics, for example, in April released its modeling cloud module, which is focused on operational planning and modeling. On the other hand, Anaplan, a cloud EPM vendor, started with a focus on sales and operational planning and then recently added financial planning.

"Everyone has been able to do some version of [integrated planning], but they're really optimizing the systems for it, so now they do it well," Schiff says. "They're designed to do it natively."
Vendors are also improving the data visualization and analytics of their EPM offerings, adding new charting and graphing capability to their dashboards, thereby making data more accessible to decision-makers outside the finance function, Schiff says. A strength of cloud-based EPM provider Tidemark, for example, is its ability to generate USA Today-type infographics from data instead of the usual pie charts and bar graphs.
Predictive analytics is another new tool that Tidemark, Oracle's Hyperion, Adaptive Insights and some other vendors now offer. With predictive analytics, users can look at trends in the data, history, macroeconomic numbers, external data, and other factors, and then analyze user forecasts to predict the likelihood of those forecasts coming to pass. "It's clearly a trend that's in the early stages, but it will grow," Schiff says.
Many companies have shown an interest recently in external benchmarking, a tool that EPM systems have carried for years but that has been difficult to use because the external data was hard to find and pull into the system. Host Analytics, for one, has signed up a partner to provide the external performance data, based on information reported by publicly traded companies, and now offers one of the best external benchmarking tools in the EPM space, according to Schiff.
Implementation
While companies typically look to add EPM to address a specific pain point — a month-end close that takes too long, for example — Schiff said he advises clients to start out with a roadmap that looks to future needs as well, and whether a vendor's system can meet those needs.
Software and service for an EPM system at a high-end midmarket company — say, with 60 users — may cost between $200,000 and $400,000, Schiff says. For an on-premises solution, typically the price is split evenly between service (consulting and installation) and the software. The annual renewal fee for the software is typically 20% of the initial software piece, which includes updates and support.
Cloud versions charge less initially, based on a per-user fee per year, but after four to six years the cloud solutions' accumulated annual fees cost more than those of the on-premises solutions. Beyond the capabilities of cloud versus on-premises solutions, companies usually choose between the two based on capital expense or long-term vendor risk considerations.
Depending on how many components or modules come with the software, it can take two to eight months to get an enterprise performance management system up and running, including testing. Implementation time and cost tend to be less with a cloud solution.
Keith Button is a freelance writer based in New York.
---
Keep Your Spreadsheets
One major trend in the performance management market is that many vendors are incorporating users' spreadsheets into their systems.
In the past, performance management systems were marketed as a replacement for spreadsheets, which were deemed out-of-date, inefficient tools. But many vendors have recently introduced integration capabilities with Microsoft Office products, including Excel, recognizing that they can capitalize on users' familiarity with spreadsheets and take advantage of advanced features and functions that spreadsheets have developed on their own.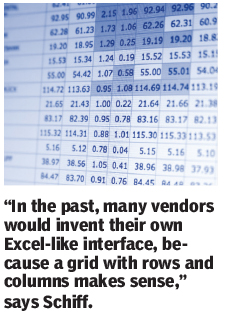 "Many people who come to performance management have been using spreadsheets to do some aspects of it on their own, and these performance management products have worked with spreadsheets to some degree," says Craig Schiff, CEO of consultancy BPM Partners. "But what they're doing now is embracing spreadsheets and making them an integral part of their own solutions."
For example, Adaptive Insights' EPM system has a module that enables users to retrieve current data and create presentations with Microsoft Excel, PowerPoint, and Word. When the data changes, the presentations are refreshed automatically.
Vena Solutions, a relatively new EPM vendor, has generated significant momentum in the market by building its system with Excel as the centerpiece, says Schiff. Some of the newer EPM vendors use Excel as the main interface with their system — the spreadsheet serves as the front end, with the vendor's whole system behind it, including the databases, central controls, and security that spreadsheets lack. Users can keep using the same spreadsheet models they have for years.
"In the past, many vendors would invent their own Excel-like interface, because a grid with rows and columns makes sense as a way to enter data into these systems," Schiff says. "Some of the newer vendors are saying: 'Why are we doing that?'
"You can't pull the spreadsheets out of people's hands," he says. "People are not going to change; the vendors changed to accept that's the way of the world." Indeed, a recent survey of EPM system buyers by BPM Partners showed that 80% still used spreadsheets to supplement the systems. —K.B.
---
Performance Review
A sampling of leading enterprise performance management vendors
Adaptive Insights
www.adaptiveinsights.com
Adaptive Insights, founded in 2003 as Adaptive Planning, offers cloud-only EPM solutions. The company reports it has more than 2,500 customers.
Anaplan
www.anaplan.com
Anaplan, a cloud EPM vendor, started as a sales and operational planning solutions provider and added financial planning and consolidation in 2013. The company says it has customers in 20 countries.
Axiom EPM
www.axiomepm.com
Axiom EPM focuses on customers in the health care and financial services sectors. The company was founded in 2006, and then was acquired last year by Kaufman Hall and Associates, a health care consulting firm.
BOARD International
www.board.com
BOARD offers EPM and business intelligence tools as an integrated solution. The vendor plans to release its first cloud version later this year, according to Gartner.
Host Analytics
www.hostanalytics.com
Host Analytics was the first cloud-only vendor with a full EPM solution, according to Gartner. The firm released Host Analytics Modeling Cloud in April, using in-memory technology for operational planning and modeling.
IBM
www.ibm.com
IBM is one of the three dominant vendors in the EPM market. IBM's share of the cloud solutions market is relatively small, but its large service and consulting network will help its cloud solutions grow, says Gartner.
Infor
www.infor.com
Infor offers mobile access to its performance management solution and provides ERP transactions in the same window as budgeting and strategic planning.
Longview Solutions
www.longview.com
Longview Solutions has been in the EPM market since 1994. Longview has the most users per customer and longest average period of use of any EPM vendor tracked by Gartner.
Oracle
www.oracle.com/us
Oracle ranked the highest in Gartner's April 2015 "magic quadrant" for EPM vendors for both "completeness of vision" and "ability to execute."
Prevero
www.prevero.com
Prevero provides integrated EPM and what it calls "self-service" business intelligence tools to more than 4,000 customers.
Prophix
www.prophix.com
Prophix targets Microsoft Excel and Sharepoint users, and it claims more than 2,600 customers. The company is planning its first cloud EPM solution before midyear, Gartner reports.
SAP
www.sap.com
SAP has used its extensive ERP customer base to grow its EPM business, Gartner says. Its customers include large, complex, global companies.
SAS
www.sas.com
SAS offers several integrated solutions related to EPM, for strategy management, financial management, cost and profitability management, and IT resource management.
Solver
www.solverusa.com
Solver markets itself as a provider of business intelligence tools (its BI360 suite) to companies in the retail, health care, government, and higher-education sectors. About 95% of its revenues come through its partnerships with vendors in the ERP arena, according to Gartner.
Tagetik
www.tagetik.com
Tagetik offers both on-premises and cloud solutions. Thirty-five percent of its customers have annual revenues of more than $1 billion, Gartner reports.
Talentia Software
www.talentia-software.com
Talentia Software offers both cloud and on-premises EPM. The company has more than 3,600 customers between its EPM and human capital management businesses.
Tidemark
www.tidemark.com
Tidemark is a pure-play cloud vendor, providing integrated financial and operational planning, and related performance analytics. Tidemark provides a planning offering for higher education.
Source: BPM Partners, Gartner