For years, corporations have been using shared-services centers to centralize transaction processing and make it more efficient, while eliminating the cost of duplicated functions at the business-unit level. Many companies have offshored those centers; others have outsourced shared services to external parties. But several corporations are reversing that pattern. They are finding that "insourcing" those tasks can save just as much money and may also increase efficiency.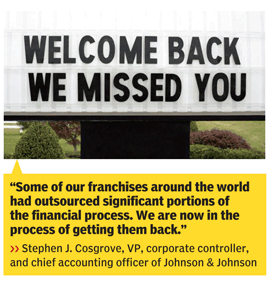 "Some of our franchises around the world had outsourced significant portions of the financial process. We are now in the process of getting them back," said Stephen J. Cosgrove, vice president, corporate controller, and chief accounting officer of Johnson & Johnson, at a Financial Executives International (FEI) conference last month. Cosgrove noted that the decision was based on cost, quality, and how effectively he could manage those units.
"In some cases, we can actually do it cheaper in-house," said Cosgrove. "In some cases, it was dissatisfaction with the quality of the work that was being done." The insourced shared-services units "have been fairly economic," he added. "For us, it's been a real positive thing to keep it in-house." Johnson & Johnson does more than 90% of its transaction processing, such as accounts payable, through its shared-services center in Prague, according to Cosgrove.
Companies like spice maker McCormick are going further. McCormick insourced all of its accounts receivables, accounts payable, general ledger, and reconciliation functions within its shared-services group in the United States, said Kenneth A. Kelly, senior vice president and controller at the company, at the FEI conference. Insourcing, he said, has enabled the company to decrease the cost per transaction over a 10-year basis.
Among corporate controllers who have offshored their shared services, at least one, Susan Grafton, senior vice president, controller, and chief accounting officer at Best Buy, keeps the management of those foreign units in the U.S. (Best Buy has moved most of its account reconciliation and the processing of its lease transactions offshore.) This strategy works because she can remind her staff that they cannot point the finger at an offshore location and say, "That was India. They made the mistake," she said. Indeed, Grafton ensures that her domestic reports consider the offshore transaction processors their responsibility. "They sit in a different time zone, but that's their staff."