In its most recent 10-K filing, computer giant Hewlett-Packard lists among its business risks the "development of cloud-based solutions," which would require the company to "transition to an environment characterized by cloud-based computing and software being delivered as a service."
"Transition" has been the order of the day at HP for some time now, and not just in terms of its technologies. Last August, former CEO Leo Apotheker announced that HP would abandon its TouchPad tablet (hardware, not software), essentially writing off its investment in the WebOS operating system it got when it acquired Palm for $1.2 billion in 2010. About a month later, Apotheker was gone, replaced by former Ebay CEO Meg Whitman. She announced in December that HP would release WebOS to the open-source community for further development and would not, in fact, give up on tablets.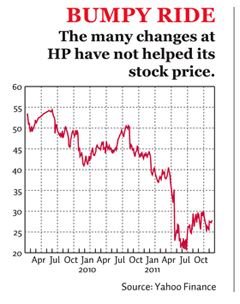 Whitman, HP's third sitting CEO since Mark Hurd's August 2010 ouster (after a sexual-harassment investigation) in August 2010, also intimated that HP will pull back from its recent acquisitions binge in order to focus on organic growth and the R&D needed to confront the very trends it cited as risks, namely cloud computing and software-as-a-service.
CFO Catherine Lesjak, a 24-year veteran of HP, has not been immune to the tumult; in fact, she conducted a fierce and public bidding war with Dell for storage company 3PAR while serving as interim CEO between Hurd and Apotheker.
But she says the deal was worth it. "3PAR is the architecture of the future for cloud storage," she maintains, defending a $2.4 billion purchase price that was criticized by some as too high. "It's built to be scalable and allows customers to build capacity as they need it." That said, "Would I have preferred not to have done [the deal] in public? Yes."
Last month, Standard & Poor's downgraded HP's long-term credit rating from A to BBB+, citing concerns over the firm's "inconsistent" strategies and senior management turnover. "The last 12 months have been difficult for HP," admits Lesjak. "The consumer market was difficult in 2011," she says. The tsunami in Japan and the flooding in Thailand affected HP's manufacturing, inventory, and supply chain. "Also, we didn't lead as well as we should have.
"In 2012," she continues, echoing Whitman, "we'll step back, focus on our cost structure, and grow the top line. The first facilitates the second. Financial professionals need to be adaptable, to help the business understand and anticipate changing market conditions."
Indeed, Lesjak says that the last few years, tumultuous as they've been, have been critical to the development of HP's finance team. Turning the old Chinese curse, "May you live in interesting times" on its head, she says, "Not to sugarcoat it, but if everything's going well, it may be lucrative, but it's just not as interesting."