It's often said that small and midsize businesses are the lifeblood of the economy. And they are, when they're growing. But what happens when a company runs out of room to grow?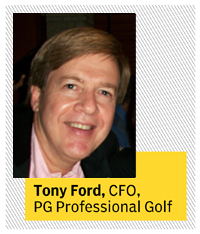 At PG Professional Golf, CFO Tony Ford is struggling with that question. The number of golfers in the United States has been declining for years – from 30 million in 2005 to 26 million in 2011, according to the National Golf Foundation. Golf course closures outpaced openings for the seventh straight year in 2012. The number of rounds played dropped nearly 12 percent in the first half of 2013.
As Ford sees his role expand, particularly into strategy and operations, he is hoping the $18 million recycled golf ball retrieval and distribution company can find new ways to increase profits and grow within a market that's shrinking.
How is the company hoping to grow?
At PG Professional Golf, we obtain and sell more than 40 million golf balls a year. The owners founded the company basically as a garage business and have grown it to where it is. But it's a very niche market, and it's tough to keep growing. I think the challenge that we face is that the golf industry is not expanding. How are we going to remain ahead of our competitors? How we can reach the untapped market? If we only approach the golfers that we know, that's not going to boost revenue much. We need to find the ones that are currently not using recycled product and convert them. By doing that, we can increase our growth while the industry is not expanding. We could also grow by making an acquisition, but we're not in an industry with numerous acquisition targets. So to increase profit, we're also focusing on trying to automate our business and become more efficient.
How do you approach strategic discussions?
I often think in terms of the acronym SWAT — our strengths, weaknesses, opportunities and threats. The threats and opportunities are external to your company and the strengths and weaknesses are internal. So what strengths do I have that I can continue to keep going or maximize? What is my largest weakness I can correct? What can I do to mitigate a threat that's external to my company, and what opportunity can I take advantage of that's out there?
Here's example of an opportunity in our particular case. We obtain golf balls from all over the country. They're our supply. Let's say, for example, that we heard there was someone who had a bunch of courses and a great supply of balls out there and he wanted to sell those. We'd want to jump on that.
What challenges do you face as CFO?  The role of the CFO in companies is expanding exponentially. Especially in smaller to midsize companies, the CEOs and the owners are depending more heavily on the CFO for strategic planning, mergers and acquisitions and key management decisions.
As CFO, I also have to become more educated in the areas of sales, logistics and operations. I spend probably 30 percent of my time in meetings with different departments to better understand them and give them financial information. It's my responsibility to continually educate the team on how they will impact the company's bottom line.
One point I would make is that this shift is not a negative thing. As a CFO, I'm more fulfilled now than I ever was, and I'm tremendously excited about these expanding roles. But unfortunately, I only have so much time to devote to these things.
Why do you think the CFO's role has changed?
There are more national and global policies and events that affect the financial success of companies. The obvious example is in the political arena with health care, which has had a major impact on small and midsize businesses. Years ago we used to depend on our CPA or our insurance broker for information on these kinds of things. Now we have to know almost as much as our external consultants so we can react quickly.