Name: Ray Arthur
Position: CFO of LeapFrog Enterprises, an educational toy and entertainment company
Previous Positions: EVP and CFO at The Pep Boys — Manny, Moe, & Jack; EVP and CFO at Toys "R" Us; president of Toysrus.com; VP and corporate controller at General Signal; AVP compliance at American Home Products; plant controller and manager of external reporting at American Cyanamid; audit practice of KPMG Peat Marwick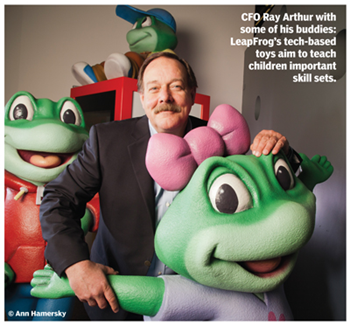 Notable For: Building the finance organization and restructuring operations at several companies.
His Take-Away: One of the issues LeapFrog had in the past was that it let some of its product get stale. John Barber, who is the new CEO, has instilled a discipline where continual improvement is the norm. We spend a lot of time on our strategic plan and our long-term product plan to make sure our mousetrap is the best that's out there. This comes from the top down and the bottom up. It's about participating at industry associations, and being at toy fairs to make sure our functionality is competitive with other offerings in the marketplace. It's about continuing to innovate with our product lineup and opening up our content library to third-party content to help bolster that offering. It's introducing new products on a timely basis that have improved memory, faster speeds, and better screens. And it's continuing to embrace our team of learning experts who have doctorates in education, and people with master's degrees who do nothing but identify the skill sets and curriculums that kids should be focused on, and then trying to determine how we build the games around those skill sets.