Like their male counterparts, female CFOs have taken many paths to the top spot. Some have come straight up through finance, while others moved over from operations. Some have been at the same company for decades, and others have forged their way through several companies in pursuit of new challenges. Most crystallized their ambitions by their late 20s and never took their eyes off the prize.
But some women stand out for the unconventional, even risky, choices they made on the way to becoming CFO. Take Gina Wilson. She made partner at Deloitte and then left after 20 years at the firm — with no new job in hand. Today, after heading finance at hotel chain Wyndham Worldwide, she is CFO of financial services provider TIAA-CREF. Or consider Caroline Dorsa, now finance chief of New Jersey–based utility PSEG. After years in finance and marketing at Merck, she got her first corporate CFO role, at Avaya — then promptly resigned when it veered from her dream job due to the company going private (she saw Avaya through the transaction first, though).
Below, we profile three more women who traded safety for possibility and wound up at the top of their profession. The first, Susan McFarland, left her relatively comfortable job as executive vice president of finance at Capital One for one of the toughest finance jobs on the planet: CFO of Fannie Mae, the embattled home-mortgage lender. The second, Marcia A. Dall, took over as finance chief of Erie Indemnity just a month before the annual shareholder meeting. And finally, Meryl Zausner overcame family tragedy to become CFO of pharmaceutical company Novartis Corp. Their journeys offer useful lessons for aspiring CFOs of either gender.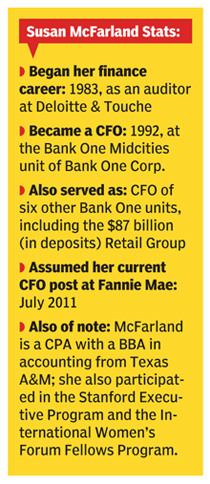 Appetite for Risk
• Susan McFarland, CFO of Fannie Mae
Since becoming finance chief of Fannie Mae last July, Susan McFarland has had more than one hard day. In the first quarter alone, she signed off on a 10-K that included the news that the lender had lost close to $17 billion in fiscal 2011, and that its overseer, the Federal Housing Finance Agency, would likely be submitting a request to Treasury for an additional $4.6 billion in funding on Fannie Mae's behalf. Within weeks, the FHFA announced that compensation for most executives at the government-sponsored enterprise would be capped at $500,000 as part of a new policy, one that spared McFarland personally but no doubt created some consternation.
Why did McFarland, 51, take the job? "I reached a point where I could afford to take risks," she says. "Sometimes we don't take on risky situations that have wonderful possibilities, because we're afraid of the downside." Now that she has taken the plunge, she is "more determined to make sure the risks pay off."
Several turning points helped McFarland get to where she is today. One was at a routine employee-development meeting when she was in her late 20s and working as a bank controller at Bank One. "It was the typical 'What do you want to do when you grow up?' question," McFarland recalls, except that her stated goal — to move up two levels or so — wasn't satisfactory to the woman running the meeting. "She said, 'You're going to do that well before you turn 40, so what will you do with the rest of your career?'" That question prompted McFarland to expand her ambition to become a divisional CFO.
Shortly after, her horizon expanded even further when a mentor left Bank One to become corporate CFO for another bank. "All of a sudden, that kind of move seemed in the realm of possibility for me," says McFarland.
A third turning point came when she started working for Gary Perlin, Capital One's CFO for the past nine years. Perlin "was a big supporter and mentor of mine, [and was] constantly telling me what I was capable of," says McFarland. For his part, Perlin says "I'm not at all surprised by her success. She brought good experience in accounting, business-line finance, operations, and treasury — and that rare combination allowed her both to support me and to develop a true CFO's perspective."
During her tenure at Capital One, McFarland graduated from the Stanford Executive Program at the Stanford Graduate School of Business and participated in the International Women's Forum Fellows Program, a yearlong global program involving 20 women that focused on softer skills and networking. She says the experience provided fresh impetus to press on toward the corporate CFO title. "It was the first time I was in a program with just women, and of a similar level," says McFarland, a fact that helped everyone open up and dig deeper into her own goals.
McFarland is generally sympathetic to the idea that it's harder for women to get the CFO title, in part because "women often don't have enough critical mass for their style to be significant to the group," she says. Because the CFO post requires a long list of talents and skills, "people may not have seen enough women play all those roles to think they're a natural fit" as CFOs, says McFarland.
After years of being either the only woman or one of the few women in the room at Capital One, McFarland says it was a "pleasant surprise" to find that a third of her direct reports and more than half of the finance officers at Fannie Mae were women. She hopes that's a sign of things to come. "I have two sons, 21 and 24, and I think their approach to women in the workplace is going to be very different, because women are there from the get-go," she says. "I'm very hopeful that the younger generation will experience things differently."

Fire in the Belly
• Marcia A. Dall, CFO of Erie Indemnity Corp.
One way to reach the top of the corporate ladder is to avoid spending too much time on any given rung. Consider the career of Marcia Dall. The Indiana native graduated from college six months early, married weeks later, and soon after that started working for General Electric in its prestigious Financial Management Program. Within 13 years of joining the company, after rotating through various high-level and challenging assignments in the corporate audit program, she became CFO of GE Capital Rail Services. Two companies later, in March 2009, Dall became CFO of Erie Indemnity. She had one month to ramp up for the company's quarterly earnings call, annual shareholder meeting, and first-ever A.M. Best review.
Now, in order to get closer to the business, Dall, 48, is going through the insurance-agent certification process. She expects to finish in 5 months instead of the typical 18 months to two years.
In Dall's view, becoming a CFO comes down to a single question: "Do you have the fire in your belly to push yourself to get the diversity of experience you need?" she says. "That's true for men and women."
Like many other women, Dall has made hard choices involving her family. She left GE's corporate audit staff early "because I wanted to stay married," she says. It was difficult to keep up with the family while getting her MBA. And without her husband's willingness to stay home with their two sons, now 17 and 22, she says working 18 hours a day to help spin Genworth Financial out of GE — and get her first corporate CFO job — may not have been possible.
But in general, becoming a CFO is equally hard for men and women, Dall believes. And while she stresses the importance of personal drive, she also acknowledges that success can hinge more on who you know than who you are. "What's becoming more and more important is to [carefully] pick the leader you work for," says Dall. "Is it someone who is interested in developing you, even more so than in their own advancement?" She credits several executives at General Electric (including current treasurer Kathryn Cassidy, former CFO of GE Capital Services Jim Parke, and former GE Capital Rail Services president Robert Speetzen, along with former Genworth Financial CEO Michael Fraizer) for investing in her and helping her move forward. "If people are tough on you, you do learn," she says. "I probably wouldn't be here today if not for those great leaders who were watching me and were noticing."
How to get noticed? She advises up-and-comers to "make sure you're working on what matters to your leaders." To that end, she is pushing her own team to tackle roles and special projects outside their core competencies — for example, by having an accountant work with the investment team, or by having someone in an actuarial role look at the bigger picture through a financial planning and analysis project.
One thing Dall is not especially focused on is gender. She doesn't belong to any women's groups or networks, and isn't setting targets for her own staff. "I have some great women and some great men; I try to be gender neutral," she says. "One of the things I took from GE is to just recruit the best talent; they could be purple, green, or blue."

Advancing through Adversity
• Meryl Zausner, CFO of Novartis
Meryl Zausner, 55, figured out that she wanted to be a CFO at the age of 27, the same day she nailed a presentation on an impending divestiture to the board of Colgate-Palmolive. At the time, she felt the role was "never achievable." The CFOs she knew in the early 1980s (all male) were "absolutely not" encouraging, and Zausner felt as though she "was nothing like them, and could never be like them."
Zausner, now CFO for pharmaceutical giant Novartis's $20 billion U.S. market, ultimately proved herself wrong, but her journey wasn't easy. Within a few years of that board meeting she was offered the chance to be the first female country CFO for Colgate-Palmolive in New Zealand, but she turned it down to remain close to her husband as he battled brain cancer. Another assignment would have taken her to Brazil for six months, but she turned that down in favor of trying to conceive a child while her husband was in remission.
She finally took her first major CFO job — heading finance for a start-up oncology business unit within Novartis Pharmaceuticals — months after her husband died in late 1999 (at which time she became a single mother to their nine-year-old son). "People worried about me, wondering if I could be around cancer all the time after my experience," says Zausner. "But it was incredibly rewarding, and my personal experience made me a much better businessperson." That role lasted eight years and the business unit grew to $10 billion, at which point she became the CFO of Novartis Corp.
Along the way Zausner has helped other women find their way to the top, in part thanks to an internal women's network she helped establish over the past decade, not to mention the sensibility she brings to her management role.
"Meryl expects a lot from people, but she recognizes that there are many ways to get work done while balancing family needs," says Jill Pozarek, director of investor relations for Novartis, who has worked with Zausner over the past decade. As for her own mentors, Zausner cites her mother. "We grew up without much money, and my mother, who was divorced, told me that I needed to have a job the day I got out of college," she recalls. Beyond that, she says she never really had a mentor or adviser. "It's probably a weakness," she admits, "but I tend to learn more from the mistakes that others make than by seeking out great leaders to advise me."
That being said, one of the key pieces of advice Zausner gives to other women is to have a best friend at work to help them navigate the waters. While she believes that women are still "far behind" men in progressing to the top of the executive ranks, she also thinks that "things have changed quite a bit, especially since those who have been successful are now mentoring and supporting those who follow us. Also, men who make [key] decisions now have daughters who are demanding the same opportunities. However, we are not there yet, and until the proven track record increases, it will still be more difficult."
Even as more women do ascend to the ranks of CFO and CEO, Zausner says few are ready for the next step: a board of directors post. While women may have some work to do to achieve that, she also says that "boards have to take a risk too, and dig deeper into the talent pool for some fresh ideas." Many female executives, she says, do want their C-level experience to translate into a seat at the table.
Or maybe a seat that reclines. While Zausner doesn't rule out a next phase for her career, having remarried two years ago she is not averse to the prospect of some serious free time. "I've been working since I was 13," she says. "People say you're not supposed to retire and do nothing, but it sounds pretty good."
Alix Stuart is a contributing editor at CFO.
---