You're a finance star, you land at a large firm in a vibrant, expanding industry, and you think you have it made. What do you do when business starts to contract?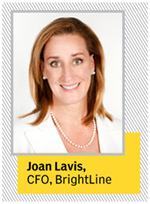 If you're Joan Lavis, you make the leap to a growth company in a (relatively) new industry. Lavis, former managing director at UBS and GE Capital, joined digital advertising and technology firm BrightLine in March of this year. (BrightLine doesn't release revenue numbers, but it has increased its employee base by more than 30 percent over the last year and a half.) Lavis, who cut her teeth as an auditor at Ernst & Young, got her Six Sigma Master Black Belt at GE and helped run finance at UBS for more than 10 years, says her experience with accounting, auditing, compliance, debt structuring, acquisitions and private equity made BrightLine an obvious next step. CFO recently sat down with Lavis, who talked about how her banking background prepared her to run finance at the growing digital advertising firm.
Why did you decide to make the transition from a large company to small, but growing one?
My roles were always on the decision-making, structuring and finance side. When I left UBS, the whole industry was contracting. I was looking for a role that would draw on all those skills that I developed over the years, but in a decision-making, high-impact role within a company that had huge potential. The whole TV industry is in for a big change with the evolution of smart TVs and the convergence of all of the devices, [including] tablets, mobile, TV and laptops. So for me, the potential here was the growth and where we were positioned as a company.
How is your role different than it might have been at a larger company?
As a CFO at a growing smaller company, you have a much broader domain than you do at a large company. The CEOs are out getting the product designed, developed and sold. So there's gotta be somebody who takes care of all the rest of the plumbing, and that's the CFO.
What challenges do you face as CFO of a growing company?
You really have limited staff, and so you have to be much more hands-on. Oftentimes the CFO in these companies is the acting compliance officer, the acting lawyer, the acting human resources leader, the treasurer and the finance chief. So you can see how broad the mandate is. And the thing is, when you grow, your infrastructure needs to grow. And you have to pay very close attention to compliance, to [intellectual property], to copyright laws and to legal matters. If you don't, you could grow fast, but then something can come back to bite you later on, when you become a developed company. My role here is to really watch out for all of those [risks].
You left the banking industry to come to BrightLine. Is this a trend you're noticing?
Everyone is leaving banking because it has changed so much. It used to be the big sexy industry. But because of its contraction and its regulation, you see really good, talented people who would otherwise have maybe stayed there go into other industries.
What did you learn in banking that translates well to a growing technology company like BrightLine?
I was in structuring and investments, and I managed a portfolio of private equity investments of about $800 million. So I knew how small companies worked, what their challenges were, what made them successful and what caused them to fail. From that whole experience, I also knew how to protect your [intellectual property], which is always a big issue in any tech company.
In the banking industry, ownership of data and rights over data was also a big issue. We produced a tremendous amount of data that was used by others, and we didn't get paid for it. The industry collectively woke up and said, "Wait, what did we do? We just gave away all our data and they're making all the money on it."  So coming into this new industry, the minute I came here I said, "Let's protect our data and let's not give it away for free." We're a data-driven firm. If we just let that data get loose out there, we've lost some of our advantage.
I also think if you came from banking, because we saw so much turmoil and so much regulation and change over the last 10 years, that a lot of those lessons can be applied. Because we were so heavily regulated, as a person coming from banking, you're much better able to say, "Okay, this may not be a heavily regulated industry now, but where can it go?" And when you're in a new growing industry, there's always change. Anticipating those changes and risks is critical.
 Photo courtesy of BrightLine