Name: Gordon Stetz
Position: CFO of McCormick & Co., the spice and flavoring maker. McCormick, a Fortune 1,000 company, brought in sales of $3.7 billion in 2011.
Previous Positions: CFO of Europe, Middle East, and Africa at McCormick; VP of finance and administration, U.S. Consumer Products Division, at McCormick; VP of acquisitions and financial planning at McCormick; financial analyst at General Foods
Notable For: His M&A expertise. Stetz has overseen the integration of more than 15 acquisitions and joint ventures during his time at McCormick.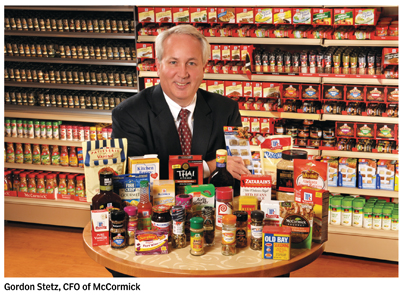 His Take-Away: We look at acquisitions in three main areas. One, we look at growth platforms that revolve around signature flavor trends. Zatarain's [a 2003 McCormick acquisition] is an example of that. Zatarain's is a New Orleans brand name that includes not only herbs and spices but also mustards, rice mixes, and side dishes. There's a very strong emotional attachment and brand loyalty that we have to honor with consumers, because they trust that Zatarain's will deliver an authentic New Orleans experience. Two, there are geographies that we want to participate in. We've done recent acquisitions in Poland, we've announced one in China, and we've had two announcements around joint ventures in India. Emerging markets were 7% of our portfolio in 2007 and 10% in 2010; we have a goal of reaching 20% in 2015. Three, we are also building out our share in what we call our core growth platforms: traditional herbs and spices, and recipe mixes. An example of that is a deal I worked on in 2000, the acquisition of Ducros, a leading herb and spice company in France. That was critical for us to expand our core platform.