You may have heard the saying that "small business is big business," and with more than half of the U.S. economy populated by small enterprises, this statement has substance. For executives of small businesses, it's important to develop this big-business attitude when it comes to your supply chain, and even in such basic purchasing categories as office supplies. By doing so, you can reduce cost, reduce risk, and increase profitability.
To develop a big-business attitude, here are the most-crucial steps:
1. Be creative about bundling spend categories.
Even though a small business doesn't have the volume of a large conglomerate, it is possible to creatively consolidate some small-business purchasing. Consolidation can come in many forms, cutting across categories or geographies. For example, you may think that spending $5,000 per year on office supplies is not significant, but when combined with other commodities such as janitorial supplies and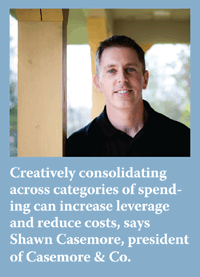 custom printing services, your potential spend with one supplier may rise by as much as 100%, increasing your leverage.
A client had two small manufacturing facilities, each with its own supplier of janitorial products. By combining the volume of both facilities, a single source of supply was identified that provided not only reduced pricing but also the opportunity to obtain discounted payment terms, further reducing the financial impact.
Even within the same spending category, you may be able to find leverage. One client spent more than $30,000 per year on various forms of packaging supplies with three different suppliers. When the volume was consolidated, the attractiveness of $30,000 of business per year versus $10,000 was incentive enough for these same suppliers to reduce prices and include several value-added services at no additional cost, in return for the opportunity to increase their piece of the business.
2. The procurement department is not the place for monogamy.
Human nature has demonstrated that the longer we remain in a stable relationship, the less effort we place into maintaining or improving the relationship. In a supplier-to-customer relationship, this tendency is often substantiated through escalating prices and diminishing customer service over time.  That's why maintaining a secondary source of supply can mitigate risks and increase competition.
Several years ago, I worked with an organization that used a sole transportation source for all of its inbound and outbound freight needs – remnants of its early days when it was a small business. The prices offered by the carrier had been steadily climbing, and freight damage was quite prevalent. Despite those problems, the company president was hesitant to change. After we moved the business away from the incumbent and divided it between two alternative carriers, service levels improved and the firm reduced overall transportation costs by nearly 10% per year.
3. Forecast the future, forget the past.
If volume discounts are an opportunity for reducing cost, reviewing historic volume or spending may not provide a picture that creates incentive for suppliers to increase discount levels. One avenue of savings, however, may come through communicating projected future business volumes with existing or potential suppliers.
While arranging courier service for a client, we developed an aggressive but realistic forecast for future growth. This information was then shared with courier providers to determine the most-advantageous discount levels. The results were discounts that rivaled those of much larger companies, in not only  reduced courier costs but also more-competitive pricing for customer shipping. All told, the moves supported improved profit margins and a competitive advantage.
4. Negotiate, don't haggle.
It is common knowledge that negotiating is a give-and-take transaction. Customers who continually (and often ruthlessly) take without providing any concession in return will often find suppliers applying surcharges, premiums, and unexpected price increases as a means to recoup costs.
Clearly identifying "wants" versus "needs" and having the willingness to provide concessions will ensure a successful outcome during negotiations. Several years ago, I was involved in negotiating an agreement with suppliers on behalf of several smaller organizations. The largest stumbling block we reached was the belief that each supplier should accept a reduced price on all items within the bid. Not only was this expectation unrealistic, it also shifted focus from the purpose of the exercise, which was to ensure that the overall spending for each customer was reduced. If I have to increase my cost of paper, but my overall spending for office supplies (which includes paper) decreases by 10%, why would I care?
Consider for a moment that reducing costs for overhead, materials, and services will yield immediate increases in working capital and profits. Also consider that the level of time and effort required to obtain these financial improvements is considerably less than producing similar profit improvements through increased sales. Seems like the right place to invest some time, don't you think?
Shawn Casemore is the president of Casemore & Co., a consulting firm specializing in supply-chain management.