Scott Henry, CFO of Skillz, is a veteran of capital raising and exits. He steered Beats Music through its $3 billion sale to Apple in 2014. A decade before, he saw casino gaming company Las Vegas Sands through a $690 million public listing. But in August, when Henry joined Skillz, a monetization platform for game developers, he jumped headfirst into a different kind of transaction: a special-purpose acquisition company IPO.
SPACs, a kind of "blank check" company, are flooding U.S. equity markets. They raise capital in an initial public offering and use the proceeds to acquire a public-ready operating business not yet identified. Once a SPAC selects a target operating company, that business merges into the SPAC shell company and becomes publicly traded.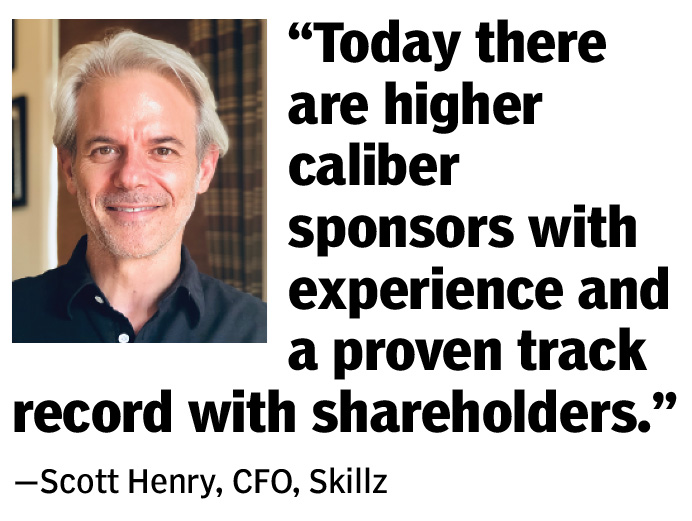 For example, Skillz is merging with Flying Eagle Acquisition, the sixth SPAC raised by former MGM CEO Harry Sloan and CBS Entertainment president Jeff Sagansky. The deal is expected to close in the fourth quarter. Though Skillz management had already chosen the SPAC route before Henry joined Skillz, he says the structure offers speed, greater flexibility, and other benefits over a traditional IPO. A SPAC deal, in many ways, is just as akin to a merger as an IPO.
This kind of backdoor IPO transaction "is a faster path to market—three to four months versus the typical six to nine months for a traditional IPO," Henry says (once the SPAC and target have agreed to combine). That means less distraction for the target's management throughout the process.
Skillz has a lot of company. About 175 SPAC vehicles listed this year on U.S. exchanges (as of November 10), compared with 59 in 2019, according to SPACInsider. The average size is $363 million. About 18 of those SPACs have announced the target company they are acquiring. (SPACs have up to two years to find an operating company to buy.) So, there is an enormous amount of raised capital looking for midsize to large companies to purchase.
Numerous factors kicked off the 2020 SPAC revival (the buildup of private capital looking for big returns, choppy equity markets, mixed success for traditional IPOs). The market is getting so heated that big names like Richard Branson, former Congressman Paul Ryan, and Donald Trump adviser Gary Cohn are getting in on the action. However, there are sound reasons why these transactions particularly appeal to some CFOs.
The Advantages
Fewer and fewer management teams are willing to go through the time-intensive process of a traditional S-1 filing. While the filing requirements for a SPAC deal are not trivial, the target doesn't have to disclose historical financials or offer a lengthy list of business risks, according to the Harvard Law School Forum on Corporate Governance.
SPACs also protect the target (somewhat) from the whims of the market. Market volatility and unpredictable investor sentiment affect the pricing of a traditional IPO, according to a Deloitte report, "Private-Company CFO Considerations for SPAC Transactions." A SPAC deal, however, values the target outside the market through negotiations between the SPAC and management.
That occurs months before the merger transaction closes and the target company is listed.
Another advantage to SPAC deals, Henry points out, is that the target company can share forward financial projections as part of its regulatory filings. "In a traditional IPO, the internal model is not shared with the investor [and analyst] community; in a SPAC, it is shared."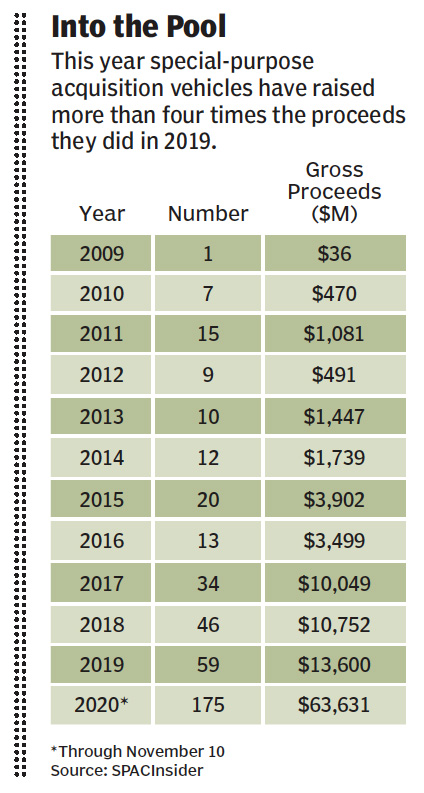 Also, in a SPAC merger, the target company can devote a large portion of the proceeds from the merger to providing secondary liquidity to early investors. "In a traditional IPO, investors would view that level of secondary proceeds [70%, in the case of Skillz] unfavorably," Henry says.
Finally, as SPACs increase in popularity, and more SPAC money chases target companies, a snowball effect occurs: the cost difference between the SPAC route and the traditional IPO route narrows, says Henry. SPAC targets can now negotiate better terms on warrants and other deal elements. "A lot of that has flattened out," he says.
Spotty Past
All that may sound ideal for a private company wanting a listed acquisition currency to grow the business and give stakeholders liquidity. But CFOs need to step back and look at the details of these transactions and how the shares of companies that list via SPACs traditionally perform. Not all is wine and roses.
SPAC transactions haven't rid themselves of a sketchy past. Unscrupulous operators once used shell companies like SPACs as fronts for "pump and dump" scams. And not all SPAC transactions are squeaky clean now either. Nikola Motor reverse-merged with SPAC VectoIQ in June, but by September had received subpoenas from the Department of Justice and the Securities and Exchange Commission about the accuracy of its disclosures.
Additionally, in June 2019, the SEC sued Ability, an Israeli-company that defrauded shareholders of a Florida-based SPAC, Cambridge Capital Acquisition. And in November, health care company MultiPlan became the target of short-seller Muddy Waters, which claims the SPAC model provides "perverse" incentives.
Today, though, many executives feel there is little negative connotation with the term SPAC, says CFO Henry. "A Flying Eagle was a diamond in the rough in the past," he says. "But today, there are higher caliber sponsors with experience and a proven track record with shareholders."
The choice of SPAC partner is the critical decision for the target company, and it's a decision made early in the process. The transaction team needs to consider the sponsor's reputation, track record, and knowledge of the target's industry sector, among other characteristics. "It's a partner you're going to live with, not just through the transaction." Indeed, the SPAC partner often has a seat on the target's board of directors. For example, Skillz expects Sloan or another executive from Flying Eagle to be on its board.
The SPAC vehicle is intricately tied to the ultimate success of the stock, also. In the initial SPAC listing, investors park their capital for up to two years in exchange for downside protection (redemption rights, if the SPAC fails to find an acquisition target or the investor is unhappy with its choice) and additional upside (warrants), says Louis Lehot of L2 Counsel, a Silicon Valley M&A and securities lawyer.
In return for sourcing an acquisition of an operating company, negotiating the deal, and bringing the target public in a reverse merger, the SPAC sponsor earns some portion of the company's stock, called "promote" stock, says Lehot. The sponsor promote can amount to about 20% of the total capital raised at IPO. To fund the IPO expenses and working capital, the SPAC sponsor also purchases additional private placement warrants for proceeds representing as much as 6% of the SPAC IPO.
Shifting Shareholders
There are plenty of risks for a target company looking to list via a SPAC, even with the right partners. After an acquisition is proposed, both the SEC and the SPAC's investors — typically at least 80% of them — must approve it, Lehot says. Stockholders may choose to vote against a target and redeem their shares for cash.
Indeed, these short term and momentum-focused investors represent another hurdle for the operating target. SPAC investors (traditionally hedge and arbitrage funds) are typically different from the growth-oriented investors (pension and 401(k)-type funds) that would invest in a traditional IPO, explains Henry. The so-called "de-SPACing" process (which officially begins after a letter of intent is signed) is about bringing growth-oriented investors into the stock.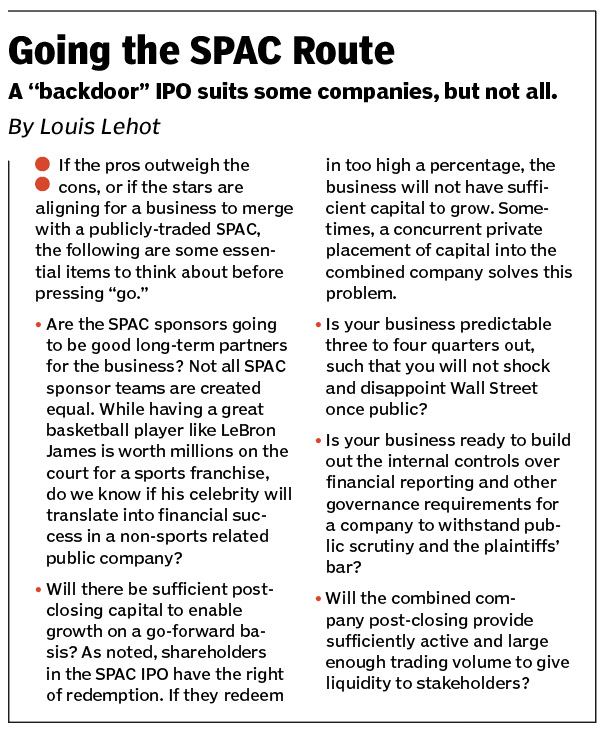 A way to kick-start the de-SPACing process and draw institutional investors is a private investment in public equity (PIPE) transaction. "The PIPE is a hard forward commitment, very much like how you allocate a book before an IPO," Henry says.
PIPEs can finance a significant portion of the target's acquisition price and provide post-merger operating cash. (The initial SPAC raise rarely covers all of the merger price.) PIPEs also earn the target company validation from respected long-money investors, "so there's a little bit of a branding element to it," Henry says. The PIPE investment for Skillz is $158.5 million and is led by Wellington, Fidelity, Franklin Templeton, and Neuberger Berman.
Performance Problems
Even with a PIPE, capturing long term investors while keeping the stock price up can be tricky. After the reverse-merger's close, the target's shares face immense pressure from stockholders trying to run for the exits, says Lehot. In contrast, in a traditional IPO, only 10% to 20% of the company is sold, and all existing stockholders are locked up for 180 days. "The very limited liquidity pushes up demand," says Lehot.
In contrast, "in a SPAC, there is always a ton of supply of common stock on the market for sale that depresses the stock price," he adds. The supply comes from the 20% SPAC promoter interest and the warrants issued to the purchasers in the initial SPAC IPO.
Renaissance Capital, a provider of IPO exchange-traded funds, found that of the 313 SPACs IPOs since the start of 2015, 93 have completed mergers and taken a company public. Of those, the common shares have delivered an average loss of -9.6% and a median return of -29.1%, compared with the average aftermarket return of 47.1% for traditional IPOs. Only 29 of the SPACS in the group (31.1%) had positive returns as of late September.
Lehot is blunt about whether SPACs are worth the risk. If a company can list via a traditional IPO or find an exit via private equity or a strategic purchase, especially with some management rollover, investors are better served, he says. He calls those routes "eminently preferable."
But SPACs may be here to stay regardless, especially if the stocks of companies that have taken the SPAC route start to perform better.
"Every Wall Street investment bank and law firm is promoting a SPAC conference and making hay while the sun is shining," Lehot says. "Long-term performance and continued availability of capital will be required to prove whether these efforts are a flash fad or a sustainable trend."
For his part, Scott Henry says his opinion of SPACs has become much more favorable: "I think of it as one of the potential tools that the modern-day CFO has as an approach to going public."