What drives company financial performance? It's a soup with a plethora of ingredients, of course. But key traits possessed by CFOs certainly correlate with revenue growth, according to a new report from SAP and Oxford Economics.
SAP, which surveyed 1,500 CFOs from around the world, divided the respondents into two categories: "finance leaders" and "others." The leaders, which comprised only 11.5% of participants, were defined as having self-reported that they possess all six of the following traits:
Have strong influence beyond the finance function.
Drive strategic growth initiatives.
Improve efficiency with automation.
Are very effective at core finance processes.
Collaborate regularly with business units across the company.
Work closely with the GRC (governance, risk, and compliance) teams and excel at handling regulatory change.
The leaders were identified based on their answers to a handful of questions. For example, they had to agree that automation is improving efficiency, and they had to name driving strategy as a top-three business goal.
But while strategic and technological acumen are the CFO capabilities that garner a majority of the spotlight these days, excellence in core finance functions is no less important than it ever was. Only 40% of respondents at companies with 0% to 5% revenue growth rated themselves as very effective at core accounting and closing, compared with 73% at companies where revenue rose from 5.1% to 10%.
"It's worth remembering that as the CFO's mandate expands, traditional finance activities still play a starring role in corporate performance," said SAP, which provides finance teams with core technology tools.
But it was not strategic orientation, technological know-how, or core finance skills that SAP identified as "the magic ingredient." That distinction went to the ability to collaborative effectively. In fact, 46% of finance chiefs at companies with flat or negative revenue and profit growth said the finance function's isolation hinders achieving business goals. That percentage shrunk to 28% among respondents whose revenue grew 5.1% to 10%.
The 11.5% of survey participants who qualified as finance leaders said they work closely with business areas where finance may not traditionally have been highly visible, and most especially with customer-facing functions (see graph).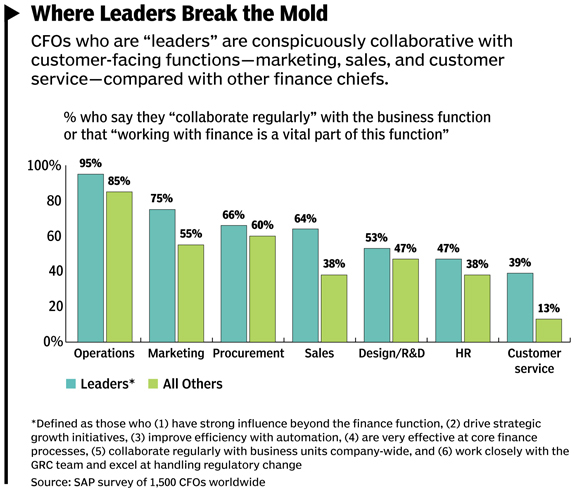 Also, at the fastest-growing companies, 63% of respondents said finance has a strong influence over supply chain and procurement, compared with 49% at companies with revenue growth of 0.1% to 5%. And 70% of the faster-growing companies reported that finance influences innovation and new product development, vs. 53% at slower-growth companies.
And 83% of respondents at companies where revenue rose by more than 5% over the past year say the finance function is "increasingly visible and influential" organization-wide. Among those whose companies' revenue grew by less than 5%, 79% of the CFOs said so. And where revenue was flat or negative, only 70% of participants reported increasing visibility and influence.
"If finance leaders are more collaborative, it's partly because their companies want them to be," SAP wrote in its report. That is, more financial leaders than non-leaders said their organization provides business analytics and training programs to encourage different units to work together productively.
And at the fastest-growing companies, senior leadership is much more likely to require collaboration between finance and other business units, SAP said, writing that "these executives see the connection between a collaborative finance function and business success, and they do all they can to inspire and enable it."
As to automation, nearly a third of CFOs at the fastest-growing companies agreed that it's improving their finance function's efficiency — twice as many as those with slower revenue growth. "The finance function itself is a prime candidate for streamlining and automating, as many of its core, transaction-focused tasks must be repeated period after period," SAP noted.
There are significant challenges involved in fully bringing automation to bear, however. For 69% of surveyed CFOs, the difficulty of updating technology without disrupting daily activities is among the top three challenges. That was followed by lack of workplace skills (52%), lack of budget (50%), and lack of system integration or compatibility (36%).
"Yet despite these roadblocks, 91% of survey respondents say technology will be important to streamlining the finance function over the next three years," SAP said. Among finance leaders it was nearly unanimous: 98% agreed with that statement.
Finance leaders were significantly more likely than non-leaders to rate leveraging emerging technologies as "very important" or "critically important" to the finance function's successful performance.
That held true across the entire spectrum of such technologies, including those related ERP platforms (97% to 80%), cloud (95% to 70%), security platforms (94% to 77%), big data (93% to 64%), mobile (87% to 58%), real-time analytics (83% to 45%), predictive analytics (80% to 37%), shared-services platforms (79% to 49%), Internet of things (66% to 31%), blockchain (20% to 6%), and artificial intelligence (18% to 6%).
Interestingly, while CFOs are committed to boosting finance efficiency, they don't seem to be reducing staff. Only 3% said they have done so over the past two years. In fact, the fastest-growing, most-profitable companies are almost twice likely as those with less than 5% growth likely to report higher finance headcount. One explanation: finance chiefs who lead an efficient function are redeploying their people in productive ways.