Despite significant evidence that companies with more women leaders experience greater profitability and stock returns, men continue to enjoy more advancement opportunities at every stage of career development.
Discussions about that disparity are frequently framed in terms of pay inequity. Indeed, the size and causes of the compensation gap between genders is a matter of unending debate.
Most experts in this area put little credence in the oft-cited U.S. Census Bureau statistics comparing earnings by gender. The bureau's most recent report on the topic shows women earning 83 cents on the dollar paid to men. That's up from 79 cents a year ago, but it's still a raw figure that doesn't compare men and women doing similar work or take into account factors like the time women spend out of the workforce while focused on raising families.
That's not to say the pay gap is fictional. "There's no question there's an income disparity, and probably in no case does more than half of that [79-cents-on-the-dollar] gap go away when you control for other factors," says Barry Gerhart, a professor of management and human resources at the University of Wisconsin School of Business. "The question is, what causes that? That's harder to answer."
Cockeyed Data
A host of studies have shown a link between gender diversity and corporate performance. For example, a 2015 report by McKinsey, based on data from 366 companies, found that those companies in the top quartile of gender-diversity metrics were 15% more likely to have financial returns that were above their industry's national median.
A study of 3,000 companies across 40 countries by Credit Suisse Research Institute found that, from 2009 through 2014, those with an approximate three-to-one male-female management mix had average annualized stock returns of nearly 23%. Where the ratio was two to one, average returns increased to more than 25%. And when the numbers were balanced (although this sample size was small), returns exceeded 28%.
Much research has also shown that women tend to outperform men in other corporate roles — including CFO — yet are paid less. For example, among the 870-plus customers of Xactly, which provides sales-performance and employee-performance software, in 2016 the average female salesperson outperformed the average male by 2% in sales-quota achievement, the company says. Yet the women's total compensation — base pay plus variable pay — registered a rather shocking 21% less than that of the men.
"We find almost routinely that women on average have higher performance ratings, but their compensation doesn't reflect that," says Christine Hendrickson, an employment attorney with Seyfarth Shaw.
Nor do women fare well in the promotion department. According to 2016 research by McKinsey, which surveyed 132 companies employing 4.6 million people and separately surveyed 34,000 employees, women are under-represented at every level within corporate leadership pipelines — and more prominently so at each succeeding, higher level. (See chart.)
For every 100 women promoted, 130 men are promoted, McKinsey notes.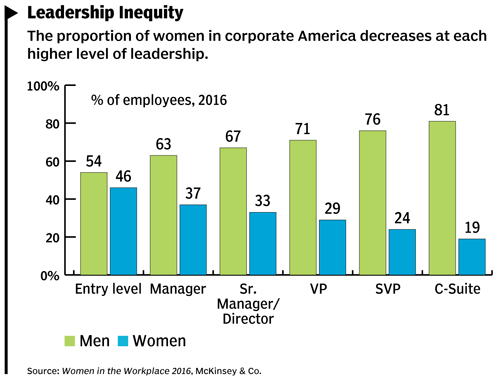 As for CFO representation, women make up just 14.1% of finance chiefs globally, though they're heavily skewed toward Asia, and China in particular, where they account for 22% of finance chiefs, according to a September 2016 report by Credit Suisse Research Institute. In the United States, among the 1,000 largest companies by revenue, as of July 2016 only 12% had a female CFO, according to Korn Ferry.
So, one major reason why women are paid less than men, on average, is that the higher up in the corporate hierarchy you look, the fewer of them there are. But why is that?
Subtleties Abound
Hendrickson suggests that women are on average more reticent to apply for jobs or promotions unless they meet all of the stated requirements. "If you put yourself out for a promotion when you have only, say, 70% or 80% of the qualifications — if you put yourself into the hat more often — you're more likely to be selected for a promotion," she says.
Also, women are 20% less likely than men to say that their manager often gives them difficult feedback that helps improve their performance, according to McKinsey's research.
"Men may be more comfortable giving feedback to men," says Janice Ellig, a longtime executive recruiter and past president of the Women's Forum of New York. "Sometimes they're afraid of legal ramifications." For its part, McKinsey reports that managers who hesitate to give feedback are more likely to fear that they will trigger "an emotional response" from women.
"Direct feedback is critical, because improved performance leads to getting choice assignments, which impacts pay," Ellig points out.
Indeed, fear is the root cause of not having more gender balance in leadership ranks, according to Melissa Greenwell, chief operating officer for The Finish Line, a specialty shoe retailer, and author of the new book, "Money on the Table: How to Increase Profits Through Gender-Balanced Leadership" (Greenleaf Book Group, 2017).
"Women fear taking risks and having so much responsibility that they'll be over-extended," Greenwell writes. "They fear not being completely prepared. They fear being wrong…. Many just aren't willing to take the next step to find out whether they'll be successful."
Men, meanwhile, "fear changing the rules," according to Greenwell. "The new idea of work-life integration is perceived to be fraught with sticky policy issues and precedents that many leaders do not want to handle." And, she writes, men may also fear bringing more women onto the team because of social factors: Will she fit in? Will she be offended by our guy banter?
But qualities that women innately possess are ones that companies may overlook until it's too late, Greenwell charges: "When things go wrong, what excuses do boards … typically cite? 'They didn't communicate. They didn't listen to others. They didn't ask enough questions. They didn't collaborate. They took too many risks.' These are traits more likely to be missing if women aren't involved."
Greenwell takes issue with the popular notion that women leave the workforce in droves in favor of caregiving. She writes that in a women's leadership workshop, she put forth the following premise: When women opt out of the workforce, they want to say stay home and raise families rather than doing something that enables them to keep and develop professional skills on a level that supports both.
"Laughter was the response," Greenwell writes. "Most of the women said they would go crazy if they stayed home full time, but they wanted enough flexibility to spend quality time with their children and not feel guilty when they couldn't."
Meanwhile, the McKinsey research also indicates that fewer women than men feel they are able to participate meaningfully in meetings (67% vs. 74%), have recently gotten a challenging assignment (62% vs. 68%), believe their contributions are appropriately valued (49% vs. 54%), and say they are turned to for input on important decisions (56% vs. 63%).
Further, more men lobby for a promotion or new assignment (39% to 36%), ask for an increase in compensation (29% to 27%), have a substantive interaction with a senior leader at least once a week (62% vs. 51% among senior managers, and 46% vs. 40% among middle managers), and say they believe they'll one day be a top executive (32% vs. 24%).
"A lot of this is about communication," says Ellig. "I don't think it's that complicated."
Pushing Accountability
There are increasing efforts to make companies more accountable for gender-based pay inequity.
It was already illegal to pay men and women doing the same work differently under two federal statutes: the Equal Pay Act of 1963 and the Civil Rights Act of 1964. But this year new laws took effect in four states — California, Maryland, Massachusetts, and New York — with more specific requirements.
Massachusetts, for example, made it illegal to ask a job candidate about their prior compensation. In California companies can still ask about that, but cannot use the information in setting compensation. "Over time that's a significant factor in perpetuating pay inequity," says Margaret Keane, an employment attorney with law firm DLA Piper.
Adds Keane, "None of these laws requires you to do a pay-parity analysis. But it's very hard to understand how you're complying if you don't do one, so that's what many companies are doing."
Also, a series of shareholder proposals were filed in advance of the 2016 proxy season, asking nine technology companies — Adobe, Amazon, Apple, eBay, Expedia, Facebook, Google, Intel, and Microsoft — to study their compensation practices and commit to closing the gender pay gap.
Several of them publicly made such commitments. Amazon, Apple, and Intel subsequently released the results of pay-equity analyses claiming that they were respectively at 99.9%, 99.6%, and 100% gender pay parity. Salesforce, though not among the targeted companies, announced that it spent $3 million to make salary adjustments for about 6% of workers to eliminate discrepancies.
"This was a limited group of technology companies," notes Keane. "I would not say that most employers are going to come out evenly the way they did."
She adds, "If the goal is the narrowest compliance with pay-equity statutes, then giving short-term raises is one way to fix it. But for companies that are looking at this on a broader level, it's more about looking at how people are brought into the organization, at how initial compensation is set, and at promotion and retention issues."