Some information technology organizations are bullish about their prospective spending for 2016, while others appear to be hunkering down, according to "IT Spending and Staffing Outlook for 2016: Divergence Ahead," a report released Tuesday by Computer Economics.
Overall, the Irvine, Calif.-based IT research firm forecasts that IT operational budgets will grow about 2% at the median, slowing a bit from the rate of improvement over the previous four years.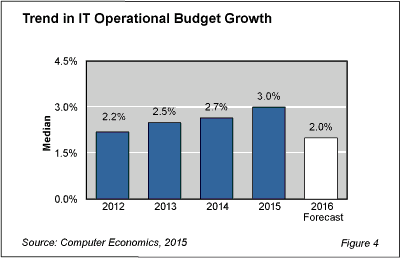 However for some organizations, IT capital spending "appears ready to stage a comeback from its recessionary doldrums," with a number of IT executives telling the firm that their business leaders are increasingly demanding more innovation and consequently, more investment.
"Small and midsize organizations, particularly those in the financial, professional, and technical services markets, are aggressive in their forecasts for IT operational spending," the company said in a press release. "Yet in sharp contrast to the outlook for smaller services companies, large organizations, particularly those in the manufacturing sector, are clamping down. Several IT executives lamented that despite rising demand for IT services, they are being asked to maintain the status quo on spending."
Computer Economics' report is based on projections of IT spending plans by 86 organizations in the U.S. and Canada. The study assesses IT operational and capital spending plans for 2016, priorities for IT spending and investment, and plans for hiring, outsourcing, and pay raises for IT workers.
Other surveys, like Computerworld's, project a robust year for overall IT spending. Forty-six percent of the 182 IT professionals surveyed by the computer publisher said they would be increasing IT spending in 2016, by an average of 14.7%. The top areas of increased spend were security technologies, cloud computing, business analytics, mobile applications, and virtualization.
IT organizations will be cutting spending in on-premises software, data center optimization, legacy systems replacement, hardware, and storage, according to the Computerworld data.
Graphic: Computer Economics