After months of heated debate, the Financial Accounting Standards Board and the International Accounting Standards Board split their differences in June, deciding to allow companies to account for lease expenses on the balance sheet using one of two approaches, depending on the type of lease. The two methods the standards-setters agreed on were the "right of use" approach (Approach A) and the "whole-contract method" (Approach D).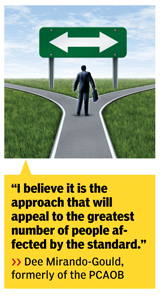 The two approaches differ greatly from each other, but together they seem to satisfy a variety of constituents, as well as the boards. Approach A takes the right-of-use asset of a lease and amortizes it in a straight-line fashion, while Approach D lets the lessee allocate lease payments evenly throughout the lease.
The boards' decision clarifies how to account for equipment leases and real estate leases: equipment leases should fall under the right-of-use approach, and real estate leases should fall under the whole-contract method. In earlier discussions at the joint board meeting, FASB originally opted for a two-method model and the IASB favored a one-method model. But after a second vote, both boards agreed on the dual approach.
Several market participants say they would welcome the combination of the two approaches. "I believe it is the approach that will appeal to the greatest number of people affected by the standard," says Dee Mirando-Gould, a former associate chief auditor with the Public Company Accounting Oversight Board and now director at MorganFranklin, a business consulting and technology solutions firm. The two-lease model "is closer to the economics of leases in that some leases transfer ownership rights [for which the whole-contract method is best], while others merely transfer a right of use," adds Bill Bosco, president of lease-accounting firm Leasing 101 and a member of a FASB/IASB working group that provides input to the boards.
FASB and the IASB will publish a joint exposure draft on the topic in the fourth quarter of 2012.