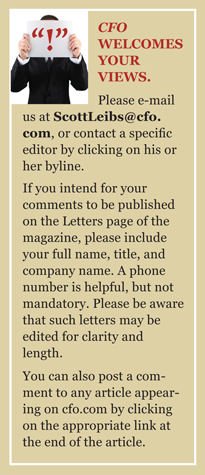 "Going for the Other Green" (September) was a great article. I have a financial background, so the substance of the piece truly resonated with me. In my current business, we've developed a unique sustainability option for large national manufacturers. Our solution could eliminate the cardboard utilized in their in-store merchandising, saving literally tons of cardboard annually. An additional benefit is that our solution is very economical. It contains a very short payback period and will lower overall costs.
Here's the unfortunate reality: Not one major manufacturer has opted to conduct a simple test. Not one!
Chris Bragas
Via E-mail
---
Consider the Cloud
The term cloud computing is used to describe a variety of services, each with its own exposures and risks ("Cloud Control," September). The degree of control and responsibility by internal IT varies, in part, by the service employed.
CFOs need to work closely with IT professionals to seek solutions and establish appropriate levels of security and control as well as ensuring "skin in the game" by the external service providers. More important, before seeking a cloud solution, the CFO should benchmark the company's current internal IT solutions against the points made in this article. How does your current IT solution measure up? In many cases, an appropriate cloud solution will be superior to your current solution, even with some of the shortcomings identified in the article. This is especially true for organizations with revenues of less than $1 billion; the critical mass simply does not exist within the IT organization to address the complex issues that exist today. So before you dismiss cloud computing, understand the current implicit risk of your internal IT environment, then make an informed decision.
Dan Abell
Via E-mail
---
Compared to What?
The concern regarding comparability under international financial reporting standards (IFRS) has been raised many times ("Comparability: Still Up in the Air?" Topline, September). This article assumes that use of judgment automatically reduced comparability. The underlying question that must be answered about comparability is, What are you trying to compare?
I have used both IFRS and U.S. GAAP for eight years. U.S. GAAP's prescriptive approach requires entities to choose the right "box" to stick a transaction into. If a company has two very different contracts, but there is only one box, how does this contribute to comparability of the representation if the transaction is skewed to start with? IFRS requires entities to represent the transactions faithfully, whatever they may be. This compels entities to reflect the economic reality of the numerous contracts that constitute a business. So which is more comparable: U.S. GAAP or IFRS? Moreover, U.S. GAAP has always had judgment as part of its framework. How much judgment is too much?
Steven Shamrock
Via E-mail
---
Spreading the News
I am the chief executive of a fast-growth company, and my CFO distributed your article "How Not to Grow" (September) to our senior management team. I found it to be very important and relevant. The insights on "when to say no" are particularly relevant for our business.
Andy Zynga
Chief Executive Officer
NineSigma Inc.
Cleveland
---
Private-Equity CFOs
Thanks for presenting the different perspectives on being CFO at a private-equity firm ("You Take Risks and You Own Them," On the Record, July/August). New Breed's Rick Wimmer, at least on a personal level, is especially inspiring, because he flat-out shatters the commonly held perception that workers who are older than 50 are only looking to find a job they can use to coast to retirement.
I worked as a CFO/business-development officer for a company that I grew from essentially zero to $60 million in a relatively short period. We did dozens of presentations to private-equity firms through our investment bankers. We received several letters of intent at hugely attractive multiples. Unfortunately, that was 2007. Credit disappeared and so did the LOIs. I left shortly thereafter, but the company was eventually sold. I regret having missed the opportunity to make that transition with the new owners.
I subscribe to the notion that, in general, alternative forms of ownership, such as private-equity ownership, are more efficient and create more value than do many publicly held companies. This is the result of the inherently divergent interests between owners and management in publicly held companies, most of which are eliminated in alternative forms of organization.
Jeff Moskovitz
Principal
JMM Advisors
Newtown, Pennsylvania
---
Senior Management Must Set an Example
I concur with all of the points made in "Creating a Culture of Compliance" (July/August). The problem for me is that, in the case you described, Alcatel's shareholders suffered more than $130 million in fines due to the lax standards of management and the board. The $8 million in bribes had to be approved, and I doubt it was given out in $20 bills. From my research I found that one person went to jail — Christian Sapsizian, deputy vice president for Latin American operations.
Shareholders can't sue anymore — management and the board must be held personally accountable.
Joe Galante
Via E-mail
I agree that if companies want to mitigate fraud, then senior leaders need to speak up forcefully, especially when it comes to ethics and policy deviations. These are the early warning signs that governance and compliance systems are at risk.
Mike Brozzetti
Via E-mail
---
First Things First
Price optimization is a nice catchphrase, but in reality it is hard to achieve ("The Price Is [More] Right," June). Companies should start the pricing journey in a simple way — by first planting the ground — not with complex algorithms to optimize prices. You should start using price-analyzing tools to determine pricing opportunities. To harvest the low-hanging fruit, you need to transfer your findings in (segment-specific) pricing rules, guidelines such as target and floor margins, escalation steps, and so on.
The price management and tool support of price execution will improve pricing tremendously. After you have the basics right, you can start thinking about fancy algorithms to optimize your prices.
Martin Wricke
Via E-mail