Two years ago, Diebold was in a slump. After peaking at $3.1 billion in 2008, revenue for the maker of ATMs and electronic security systems had stalled, while gross margin, operating profit, and free cash flow all fell during the same period.
In the fall of 2013, under new CEO Andy Mattes, the North Canton, Ohio-based company launched an ambitious, multiyear turnaround strategy dubbed "Diebold 2.0." Its goals included introducing new products and services, collaborating more with customers on innovative solutions, and cutting $200 million in costs through 2017. Today, Diebold is "a company in transformation serving an industry that is transforming," Mattes said during a recent earnings call. Ultimately, Diebold wants to become a services-led company; services and software already account for more than half of its revenue.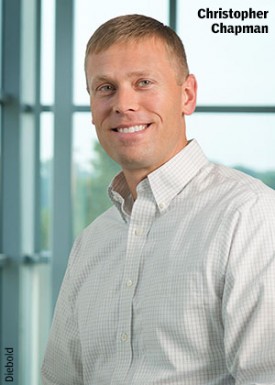 CFO Christopher Chapman has overseen the financial side of Diebold 2.0 since its inception. Only 41, Chapman is a seasoned Diebold veteran, having joined the company straight out of college in 1996. He rose to become head of Diebold's international finance organization, "getting more steeped in the operations of the company," he says, before assuming the top finance role in November 2013, initially on an interim basis.
Last year, Diebold's revenue grew nearly 7%, topping $3 billion for the first time since 2008. Recently, Chapman sat down with CFO to discuss the company's turnaround and the future of ATMs.
What is Diebold 2.0 all about?
Diebold 2.0 is about taking an old-line manufacturing company and transforming it more into a services-led, software-enabled company. We're trying to build Diebold into a collaborative partner with banks, to help drive innovation.
A lot of what we've been going through in the last 18 months has been a significant dose of self-help. The company has some cost-structure issues, and we're trying to sort out where we want to go from a strategic direction. Much of the work we've been doing so far has been on the fundamentals. We're focusing on cost, on cash, on talent. Ultimately, we're looking to drive growth as part of that overall transformation.
How do you want to partner with banks?
Whenever banks try to cut costs and figure out how they are going to reposition themselves, the conversation immediately turns to automation. Diebold can help with that, both with the technology — the ATM — and the software and services it's going to take to enable that. We have approximately 9,000 technicians globally who are Diebold-trained associates, and the quality of their training is very high.
Diebold is one of the world's largest ATM makers, yet its revenue has been flat for the past six years. Could this be a sign of a maturing industry?
Some of the underlying markets may be mature, but the industry itself is not even close to mature. It's continuing to evolve and go through a significant transformation, just as we are.
What do you see in the future for financial self-service?
As a consumer, you probably haven't met a way of interacting with your bank that you didn't like. Sometimes you go to an ATM, sometimes you visit a teller, sometimes you're using your PC or mobile phone. The companies that have the ability to integrate all of those channels are going to be the ones that thrive. Consumers will want to be able to start a transaction on a phone and finish it, seamlessly, at a device.
Banks want to free up their organizations to focus on higher value-added transactions, so they want to automate as many routine transactions as they can. Do you really need a teller to handle the initial startup work for a loan? Our recent acquisition of Phoenix Interactive Design gives us a strong software platform that will help us continue to help the banks with this automation.
Is there a future for cash in an age of digital money?
History has shown that new payment venues, such as ApplePay, don't necessarily replace other methods of payment — they just add another option. Based on the data and market trends we're seeing, there's certainly a future where cash and digital money will coexist. Cash in circulation in the U.S. has grown 50% during the last 10 years. In Europe, it's grown 80% in the same time. And global cash withdrawals at the ATM are expected to grow by more than 40% by 2019, according to Retail Banking Research. So the death of cash has been greatly exaggerated.
According to the company's annual report, Diebold 2.0 has three phases: crawl, walk, run. What stage are you at today?
I'd say we're in the transition from crawl to walk. We are moving further down the path in terms of transforming our back office, our IT systems, our sales organization. This is a multiyear journey. The company didn't get to the point where it is in six months or 12 months. It took time to get there, and it's going to take time to get out.
What message are you giving investors about the company's progress? Do they want to hear about specific financial goals and milestones?
Our message has been, first and foremost, look at the scoreboard for early indications of progress. Over the last five or six quarters, we've improved our service margins 300 basis points, from 27% to 30%.
From an overall story standpoint, we're looking at top-line growth to be at or above the market growth rate for the ATM industry — that's about mid-single digits. We're looking at service margins to be sustainably north of 30%, and product margins to be consistently above 20%.
That framework is going to allow us to grow our operating profit and bottom-line earnings at a much healthier clip — it should be two to three times our top-line revenue growth. And ultimately, it should enable us to drive very strong free cash flow performance, of greater than 90% net operating profit after tax.
How are you dealing with the strong dollar?
A big piece of our business is services, where revenues and costs are in the same currency, so we have a nice offset from that. Also, we manufacture in all of the major regions that we sell in, and that does a lot to offset some of the currency headwinds.
What are your priorities these days? How do you spend your time?
It partly depends on where we are in the quarter. I'm still heavily focused on the operational side; I'd say 25% to 30% of my time goes there. Probably another 30% is spent on SEC reporting requirements, capital allocation, our relations with our banks, and so on. The IT organization and corporate strategy dominate the rest of my time, as well as investor relations.
We recently surveyed CFOs on work-life balance and found that most of them spend most of their time on work. Are your work and life in balance?
I think I've found the right balance. I have a passion for turning this company around, the same as the rest of our leadership team. It requires a level of commitment. I look at our organization and I see people who are on and who are on a lot, and that's what it takes to drive a successful company. I do try to get some downtime when I can.
What do you like to do in your downtime?
My downtime is focused on my family. My hobbies are secondary to spending time with my wonderful wife and four children.