There are some who would say that total cost of ownership (TCO) is no longer relevant.  After all, information technology is now firmly grounded in a service management mode, and cloud billing is based on "pay-as-you-go" by level of resource consumed.
TCO was the norm in the days when capex spending involved multi-year commitments. Today's IT's strategy is to provision quickly, creating a highly agile environment, and to decommission just as quickly when resources are no longer needed.
However, those who jump immediately to the service-costing concept are denying the place TCO holds in sound cost management. TCO is not just about project life cycle, it is about creating a holistic view of operational costs.

This view of costs is critical in conducting comparative analysis of provisioning alternatives, especially important when considering using a public cloud. TCO also adds credibility to unit costs or rates created for service catalog offerings, including the creation of service bundles.
In reality, TCO still creates the best basis of cost compilation that can be used, even in assessing cloud alternatives. Most IT organizations are undertaking a transformation to a hybrid environment, one that uses a mix of traditional IT, public, and private cloud resources. The business cases these organizations create must include a life-cycle view that reaches across the entire operation.
Creating the Base Operations Costs
TCO emphasizes considering costs of end-to-end operations from project inception, design, and implementation, to operation and decommissioning.  For many, the effort to identify these costs is viewed as too time consuming and overly complex.
Here are a few ways to execute your TCO compilation more effectively and still produce quality cost figures:
Hardware acquisition costs. Check asset records, recent purchase orders, or vendor price lists.
Hardware maintenance. Apply a percentage to hardware acquisition costs based on average maintenance levels.
Software. Since it's often difficult to find costs under MLAs, develop a ratio of hardware to software based on general levels experienced for the operation.
Technical support, connectivity, power, facilities, security, disaster recovery, and other administrative costs. Again, develop a ratio of costs based on general operating expense levels.
If actual costs are available, those should be used. However, in most cases, when assessing the cost alternatives for a discrete workload to be moved to either a private or public cloud, using ratios will prove adequate.
With the base costs collected across the projected useful life of the hardware (depreciation schedule), the resulting multi-year cost can be easily expressed as an annual cost. These costs represent the base costs of operation.
Assessing One-time Costs
There are a number of one-time activities to consider when moving a workload to the cloud. These costs include the costs of both commissioning and decommissioning existing equipment. In some cases, the move may provide the opportunity to clean up areas that have been neglected due to lack of funding or resources. Be cautious and do not over-burden the cost model with those kinds of costs.
Some one-time implementation costs and shut-down costs include:
design;
architecture;
data migration;
porting data;
data cleansing and archiving;
user and technical support training; and
Standardization, upgrades, and customization.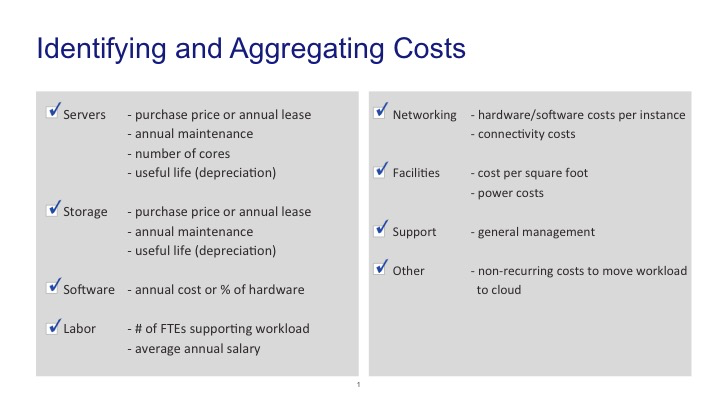 Often overlooked are penalties for early termination of licenses or leases, expenses to write off assets if not redeployed, and staff costs to wipe hard drives and disks, as well as packing, shipping, and junking.
Determining New Recurring Costs
There are some new kinds of functions and costs that will result from a move to a cloud environment. The best way to estimate these costs is to run a cloud pilot using data from the existing environment as the base. The goals of the pilot should be carefully defined in advance, with timelines and measurable success criteria clearly stated.
Cost impacts from a cloud environment include:
expanded network capacity;
vendor invoice (if using public cloud);
administration of invoices from cloud vendor; and
staff to manage vendor and client relationships.
A final item to check before ending your collection of public cloud costs is the contractual cancellation terms. While the cloud is advertised as offering greater flexibility and choice, there are still potential penalties associated with various price points, particularly if you leave the provider on short notice. Those costs would be included in the final year of your analysis, if applicable.
A public cloud is normally billed on a usage basis rather than a fixed contractual amount.  In some cases, a reserved instance may be used as an option for resources; however, this option is less common for an initial deployment. The variability and size of the targeted workload will determine if this option is preferred.
The invoice from a public cloud provider will be treated as an operating expense from a financial perspective. These costs will most likely have an impact on the way costs have been budgeted and funds allocated to the IT budget. The long-term impact of the shift between capex to opex is actually a wash. In fact, the pay-as-you-go model may end up being less expensive when considering the benefit of not carrying excess hardware for multiple years.
Conclusion
The benefits of creating a mix of traditional IT support with a cloud environment are great. Whether looking for increased agility, reduced time to market, improved productivity, or accessibility, organizations are eager to reap the benefits of using cloud resources to create a more innovative approach to providing services.
With costs for the current environment and estimated costs for the new environment, comparisons can be preferred for a variety of options.  Calculating Total Cost of Ownership does not need to become onerous.  Accurate numbers are an important part of your overall analysis of deployment to a cloud environment.   Knowing where to find numbers and how the cloud pricing structures can be estimated can make this effort straightforward.
Penny Collen is the senior financial solutions architect at Cloud Cruiser. The IT Financial Management Association (ITFMA) recently named Collen IT Financial Educator of the Decade.
Image: Cloud Cruiser