If finance chiefs could choose a new name for the compliance function, many would settle on something like this: The Department of Necessary Evils.
After all, companies have traditionally viewed compliance as a costly burden, sapping valuable resources from revenue-generating activity. Lacking metrics to demonstrate the positive value of an investment in compliance, the function's champions have usually resorted to focusing on what it would help the company avoid: fines, legal sanctions, lawsuits.
But a recent survey conducted by CFO Research, in collaboration with ADP, a provider of human capital management services, has revealed that senior executives in both finance and human resources now believe that effective compliance programs deliver tangible benefits and measurable returns, contributing to the bottom line. The survey collected responses from 152 senior finance and HR executives about the payoffs their companies receive from employment-related tax and payment compliance.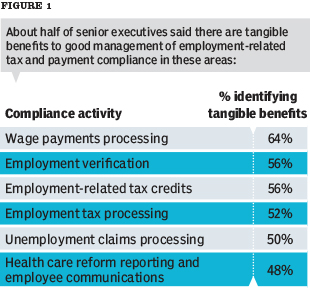 At least half of the respondents reported that their company's management of such compliance activities has had a positive impact on several dimensions of business performance, including employee productivity, operational efficiency, and profitability. Such results suggest that what makes compliance especially burdensome, beyond its ever-shifting nature — "the myriad of rules and regulations that seem to change daily," as one respondent described it — is how companies approach it. (The full report, "The Bottom Line: Highlighting the Benefits of Investing into an Employment-Related Tax and Payment Compliance Strategy," is available for download at cfo.com/research.)
Companies that operate their compliance function on an ad-hoc basis frequently find themselves scrambling to keep up with the never-ending stream of new rules and regulations. Instead of taking a short-term view of the function, finance chiefs ought to see compliance as a continuous process and a growth opportunity that can help boost business performance. "We have a committed team that knows what's going on and is dedicated to ensuring all the right things get done," said one survey respondent, explaining the secret of his company's compliance-related success.
Indeed, added another respondent, the key to an efficient and effective compliance function — the kind that translates into a range of benefits — is making sure that the function "receives appropriate focus and attention."
Tangibly Beneficial
About half of the senior finance and HR executives in the survey identified tangible benefits from good management of employment-related tax and payment compliance, in areas such as wage payments processing (64 percent), employment verification (56 percent) and employment tax processing (52 percent). (See Figure 1, above.) Meanwhile, a majority of respondents cited the positive impact of well-managed compliance on intangible performance measures, including employee satisfaction (cited by 70 percent of respondents), employee engagement (63 percent), and corporate brand and reputation (55 percent). (See Figure 2, below.)
By tackling compliance in a consistent and integrated manner, managers have an opportunity to create a working environment that is less isolating, more transparent, and increasingly conducive to open dialogue. That transformation, however, can only begin by "setting a strong tone at the top" about compliance, said one executive survey-taker. Getting "buy-in for change from executives," as another respondent put it, empowers employees, enabling them to join together to take on a greater mission.
In other words, paying attention pays off. Executives who ranked compliance as a higher priority tended to give a higher grade to their company's management of employment-related tax and payment compliance, the survey found. Two-thirds of those who said compliance was among their top priorities gave the function an "A" or "B," while nearly half (47 percent) of those who regarded compliance as either a lower priority or not a priority slapped their compliance efforts with a "C." (Perhaps because of grade inflation, no participants judged their company's compliance systems as performing lower than a "C," or average.) Clearly, executives believe their companies are reaping the benefits of taking a proactive approach to managing compliance across the enterprise.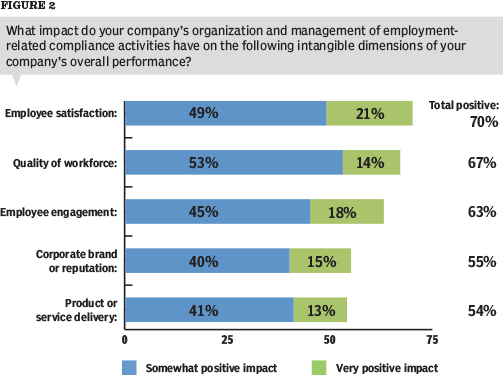 Those who are waiting for a compliance crisis to push such an initiative to the top of their to-do lists are likely to end up with a compliance function that is inefficient and expensive to maintain. "We view this area as a necessary evil," said one survey respondent, expressing a sentiment that was echoed by others.
An Unexpected Opportunity
Of course, managing compliance effectively requires an investment in dollars, not just attention. As one respondent said, "We need to improve and invest in better technology for employment-related compliance." Beyond that investment, companies will also need to spend money on finding, hiring, and training employees who are skilled in managing compliance operations and have a part to play in improving the overall global compliance function.
Those knowledgeable employees should be spread throughout an enterprise. "We are centralized when it comes to compliance, and we have strong processes and people in human resources, legal, and finance," noted one respondent. Another survey-taker attributed his company's success with compliance simply to "working together."
Compliance, as the survey revealed, constitutes an operational opportunity. Who wouldn't invest in a function that will help the business achieve cost efficiencies, improve employee engagement, manage risk, and meet regulatory requirements? That, as it happens, is the real bottom line — or should be — when it comes to compliance.