With regulatory requirements and legal risks burgeoning for many corporations, CFOs are assessing bigger budget requests from compliance departments, a new PricewaterhouseCoopers report suggests.
In the last 12 months, most of the 780 U.S. and U.K compliance executives responding to the survey said, corporate compliance budgets have either risen or stayed the same (see graph below).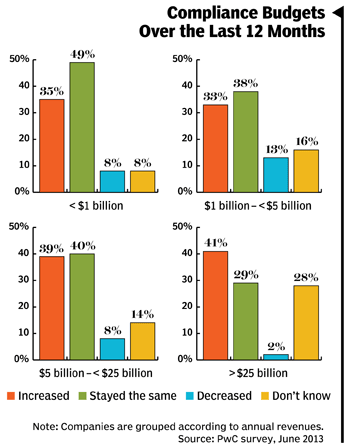 Part of the reason for the rise in requested budgets may be that the compliance function is gaining more clout within the corporation. "As the importance of compliance becomes more evident to business leaders, we are seeing an upswing in the number of organizations in which the [chief compliance officer] reports to the CEO," the report's authors observe, noting that in U.S. companies, the portion of CCOs reporting to chief executives jumped to 28 percent this year from 20 percent in 2012. (Last year's study, however, had only about 115 respondents.)
In the United States, only 7 percent of U.S.-based CCOs report to their company's CFO, according to the current survey, which covered 603 senior executives with compliance responsibility in the United States and 177 from the United Kingdom. They included CCOs, chief risk officers, chief legal counsels and chief audit executives.  
Although compliance executives largely don't report to CFOs, they will likely be running heftier budget requests past them, Sally Bernstein, a principal with PwC and a leader of the firm's ethics and compliance services unit, told CFO. From that perspective, finance chiefs will increasingly be asking compliance types to justify the effectiveness of, say, their Foreign Corrupt Practices Act compliance programs.
Focusing on compliance resources, finance chiefs are asking CCOs to justify corporate investments in their function, Bernstein said.
At the same time, compliance executives are feeling mounting pressure from regulators and other corporate leaders, according to the survey. Fifty-eight percent of the survey respondents, for instance, said regulators would increase their demand for evidence of effective compliance in the next three years. Further, 54 percent, 52 percent and 51 percent said audit committees, senior management and boards, respectively, would apply the same pressure.
The pressure, Bernstein explains, may stem in part from the changing nature of regulation. Previously, rulemaking tended to stay in a tightly defined area. Now, however, new rules with a very specialized sound to them, like those involving "conflict minerals," can have extremely widespread compliance implications.
The Securities and Exchange Commission, in fact, estimates that about 6,000 U.S. companies will be subject to onerous new compliance strictures if they sell products containing gold, tantalum, tin or tungsten, or use them in manufacturing. Noting that there is tin in everything from zippers to tuna cans, Bernstein makes a larger point: "Regulatory reach is increasing."