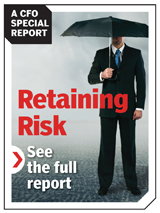 This is the second of four articles in a special report looking at risk retention. Also included are:  An Appetite for Risk, which explores the metrics and thought processes of the new ways of thinking about risk; If Insurance Costs Too Much, Don't Buy It, which provides a case study in cost saving; and Taking a Risk on Workers' Comp, which zeros in on that specific coverage.
---
You've decided that, yes, the virtues of retaining a certain amount of casualty risk — your auto-liability or workers'- compensation loss exposures, for example — make sense for your company. The cheaper costs of a fully self-insured or a high-deductible plan would also make sense — especially in the current hardening market for traditional property-casualty insurance.
Or you might think that retaining risk through a captive will protect your company from the volatile pricing and availability of traditional insurance. That's especially appealing in an uncertain economy like the present one.
Yet when you think about the other side — the fact that you stand a good chance of having to shell out a pile of your company's own money, rather than receive a payment from an insurance company — you pause. How much risk should your company take on?

To answer that question, CFOs and corporate risk managers need to make an exacting assessment of their companies' ability and willingness to take on risk, experts say.
That's especially true in the case of middle-market companies, which may not have the level of experience in self-insuring that big companies tend to have, says Doug O'Brien, national casualty and alternative-risk practice leader for Wells Fargo Insurance Services. To make such an assessment, O'Brien says, companies should ponder the following seven factors.
1. Past and future losses. In gauging how much financial risk a company can assume, executives need to know both how much and what kinds of loss it has assumed in the past and what it can expect to in the future. It's relatively easy to plot a company's experience with frequent, low-severity losses (slips and falls in the context of workers' compensation, for instance). A review of prior loss experience "is usually a good gauge of the future," according to a white paper authored by O'Brien. In the aggregate, such loss experience "is fairly predictable year over year and can be actuarially measured."
Rarer but more severe individual large losses that involve incidents such as a worker's fall from a scaffold or a plant explosion, are tougher to forecast. Yet they, too, must be taken into account when an employer decides how much casualty risk to retain and how much to insure.
2. Pre-loss and post-loss efforts. Companies that retain risk are more motivated to prevent losses than fully insured companies are, because self-insured companies have their own money on the line. And once those losses occur, self-insured organizations have a similar urge to settle claims in the most efficient way. Executives trying to assess their companies' retention levels have to consider the presence and strength of their safety and loss control programs. If such programs aren't there, a company's retained risk could have a high cost.
When losses do occur, self-funded companies need to "manage them more proactively through aggressive claims handling, return-to-work programs, managed care and other initiatives," writes O'Brien. "Any reduction in loss has a direct impact on your bottom line."
3. Company financials. Self-funding decisions should be made in the context of a company's overall financial structure: in particular, its liquidity, earnings volatility, balance-sheet strength and cost of capital. In theory, not spending money on insurance would add to a company's liquidity, for instance. At the same time, some banks demand that borrowers buy coverage — thereby increasing the cost of capital.
In terms of earnings volatility, self-insuring can be seen as lessening it via an avoidance of volatile insurance markets. But a big retained loss can take a chunk out of a company's financial assets that still might be there if the company had purchased coverage.
In general, risk retention can boost a company's financials — especially in the case of small and midsize companies, whose savings gains can be more significant than those of a big corporation. "One dollar spent on risk transfer," says O'Brien, referring to buying insurance rather than self-insuring, "is a dollar that can be spent on building a plant."
In deciding how much risk to retain, finance chiefs should calculate the value of insurance premium savings over time, taking into account the effects of interest compounding and reinvestment, he advises. "A lot of companies think of risk retention in terms of a one-year window," O'Brien says, noting that a long-term view will often show that "over a series of years you won't have a loss every year."
4. Risk philosophy. This is a more fundamental and subjective factor that goes straight to the heart of a company. Is taking on risk aggressively something the organization does regularly in running its business? If so, the company might have overlooked an opportunity to cut its insurance costs by retaining more risk.
On the other hand, a cautious approach to retaining risk might be appropriate to companies that have a more conservative approach and the funds to cover every dollar of risk with a dollar of insurance. Fueled by its parent company's reaction to the Asian financial crisis, Samsung Electronics America has an "ultra conservative" risk philosophy  in terms of bad debt. It buys a policy that covers the risk of non-payment on every one of its receivables.
5. Divisional accruals of risk. The question here is whether the company views the risk retained by subsidiaries in the aggregate or individually. Until about a decade ago, companies tended to manage such risks centrally, spreading the costs across the organization regardless of the risk retained by each unit, according to O'Brien. Now there's a tendency to view each unit individually. One subsidiary, for example, might be able to absorb $50,000 of a loss before insurance kicks in, while another can retain $500,000. The analysis, in such cases, takes place at the unit level.
6. The general economic climate. Risk-retention decisions take place in the context of the company's overall financial picture, and that depends in large part on the direction of the U.S. and global economies. Motivated by low interest rates and liquidity anxieties that have hung on since the end of the financial crisis, many companies are sitting on piles of cash. The presence of such cash presents those companies with an opportunity to take on more risk, according to Richard Michel, senior vice president and national risk management practice leader at Wells Fargo Insurance Services.
7. The availability and cost of insurance. Deciding whether to retain risk at all and, if so, how much to retain, is very much a function of insurance markets. If, for example, no insurer will provide the type of coverage essential to a company, the decision to self-insure would be a no-brainer. Beyond that, much of the decision hinges on whether the company can buy insurance more cheaply than it can self-insure. The rest depends upon the six factors above.
---
This is the second of four articles in a special report looking at risk retention. Also included are:  An Appetite for Risk, which explores the metrics and thought processes of the new ways of thinking about risk; If Insurance Costs Too Much, Don't Buy It, which provides a case study in cost saving; and Taking a Risk on Workers' Comp, which zeros in on that specific coverage.