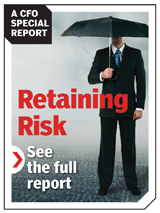 This is the third of four articles in a special report looking at risk retention. Also included are: An Appetite for Risk, which explores the metrics and thought processes of the new ways of thinking about risk; Seven Factors in Self-Insuring, which analyzes the components of retention strategy;and Taking a Risk on Workers' Comp, which zeros in on that specific coverage.
---
Every profit-making organization assumes certain business risks every day it is in operation.  Many CFOs and risk managers have begun to realize, however, that their companies can profitably assume some of the risks that in the past they have transferred to an insurance company.
The reasons risk retention can benefit an organization include:
1) Eliminating the charge for risk transfer to an insurance company. That's generally 40 percent to 50 percent more than will be paid out in losses, depending on the type of coverage and the amount of premium involved.
2) It's inordinately expensive to document and settle relatively small losses with an insurance company, particularly when management's time is considered.
3) The collection of payment for small losses can frequently have an adverse effect on future insurance costs.
The decision about the types of insurance to buy and the amount of risk to retain is as important to an organization as the decisions about how much debt and equity a firm needs to issue.
The choice of whether to buy coverage or retain risk  should thus be based on a rigorous corporate finance framework that determines the trade-offs between buying an added unit of insurance and adding to the firm's cost of capital.
Managing insurance through the prism of corporate finance might sound complex, but it comes down to this basic principle:  If the cost of buying an extra unit of insurance is greater than the cost of the extra risk capital used to retain the risk, don't buy that insurance coverage.
One thing to consider when determining your organization's best risk-retention level is to figure out its Total Cost of Risk. The traditional formula for calculating TCOR is expected self-insured losses plus expenses to run the company's risk management program plus insurance premiums.
Yet what's been missing in that definition of TCOR is the cost of capital. If an organization wants to assume more risk, it should also hold more capital than it would otherwise.
Actuaries are great resources to help an organization determine what the appropriate retention levels across all classes of risk by comparing the cost of insurance to the cost of alternative sources of capital. This will be different from one organization to the next depending on the organizations' types of risks and the risk controls that they have in place.  
CFOs and corporate risk managers who decide that their companies should retain risk believe that in the long run, retaining a portion of the risk is more cost-effective than transferring that risk through the purchasing of insurance. To arrive at the right risk-retention level an organization must consider the following points.
Appetite for Risk: Each organization's overall risk appetite and risk-tolerance levels (its range of acceptable volatility on specific risks) will depend on its earnings, profitability and capital-structure goals.
The Insurance Market: Organizations do not operate in a vacuum, and any risk not retained by an organization needs to be transferred elsewhere. The company's TCOR will depend on the rates charged by the insurance markets.
Regulatory Constraints: The retention level may be mandated or restricted based on an organization's mandated surplus level, financial condition, annual funding levels and so on.

The University of California's experience provides a good case study in how to use TCOR in risk-retention decision making. The university calculates its TCOR as the sum of self-insured losses, insurance premiums and claims- administration, loss-control and loss-prevention expenses.
UC bases its TCOR on an amount per $1,000 of its system-wide operating budget. UC's enterprise-risk- management (ERM) program, in fact, drove down its estimated TCOR from $18.46 per $1,000 of its operating budget in its 2003-2004 fiscal year to $12.49 in 2010-2011.
The prevention and mitigation of potential losses is the daily focus of the Office of Risk Services at the University of California, which has reduced the University's TCOR by over $716 million over the last eight years. The UC also has estimated the TCOR of its 10 campuses and five medical centers on an individual-location basis for the purpose of comparison.
The largest component of UC's total risk costs is their workers' compensation claims. Before the 2003-2004 fiscal year, UC was not tracking its TCOR, relying heavily on the purchasing of insurance coverage to manage its risk exposures. When Grace Crickette became chief risk officer in 2005, she made it her goal to reduce TCOR by 20 percent in two years. UC was able to accomplish this goal in 18 months.
Based on its recent analyses, UC estimates that the amounts incurred from the cost of individual claims accounts for about two-thirds of its annual TCOR. The remaining third goes toward expenses for claims administration, loss-control and loss prevention programs and excess-insurance premiums to cover the costs of individual claims above UC's risk-retention level.
There are many ways to quantify the annual cost of self-insured losses. UC's actuary has done this by using estimates of the ultimate losses for each year and also taking into consideration the annual investment that UC is making with their ERM initiatives.
There are several advantages to basing TCOR on ultimate losses. First, ultimate losses have been fully developed to reflect the university's final estimated value rather than raw paid-to-date amounts.
Second, by using original ultimate estimates, those figures will not change from one cost-of-risk study to the next, allowing for a more consistent comparison. Finally, each program year's estimate is comparable to the others because they are made after one year of development.
UC's reduction in its TCOR has made it less dependent on its reinsurance agreements and more able to retain a large amount of risk then it was able to do before. It has also helped UC to be more financially sound and to be in a position to create a captive insurance company and thus cut risk costs.
In March 2010, University of California CFO Peter Taylor and Crickette, who runs UC's office of risk service, hired actuary Bickmore Risk Services to conduct a feasibility study of the benefits of creating a captive insurance company.
What the study revealed was that the captive option would provide UC with the flexibility to meet several of its risk management objectives, including lowering its TCOR and enhancing its coverage. Via a captive, UC could have access to insurance coverage for non-traditional risk exposures like those involving aviation and for hard-to-place perils like construction surety bonds.
Because it's a self-insurance vehicle, the captive is not subject to wide swings of commercial insurance pricing. That makes it easier for the university to budget for its risks year after year – a problematic effort before the creation of the captive.
In December 2012, UC created its captive insurance. By managing risks holistically, UC has been able to reduce its risk-prevention and risk-mitigation costs by reducing redundancy in its loss-control practices.
The key component of this approach started with the identification of the top-ten most critical risks in the UC System. They include: budgetary improvements; laboratory safety; disclosure of confidential information including healthcare information; inadequate lab processes and practices for the promotion of health and safety; and referred maintenance.
The other top risks are student mental health; unethical, unapproved human and animal subject research; research misconduct, such as falsification of data or results or non-disclosure of research dangers; acts of intolerance; and threats to the safety of researchers.
The identification of the top ten risks was followed up by an analysis and review of their mitigation strategies. Once the UC's finance and risk management leadership defined what financial resources were needed to mitigate these most serious risk exposures, they could evaluate what were the most cost-effective methods to curb risk exposures and, most importantly, measure the financial effect of the results.
The use of TCOR as a financial metric has been very critical in helping UC demonstrate to its Board of Regents how effective the ERM program has been in the overall reduction of costs in the UC System. It has helped university officials decide on what level of risk retention they can manage effectively per risk exposure. Aided by Bickmore they reviewed each line of coverage and determined the proper level of risk retention that would still align with their risk-appetite level. In the end, the University saved a great deal of money.
Kristina Narvaez is president and CEO of ERM Strategies LLC.
---
This is the third of four articles in a special report looking at risk retention. Also included are:An Appetite for Risk, which explores the metrics and thought processes of the new ways of thinking about risk; Seven Factors in Self-Insuring, which analyzes the components of retention strategy;and Taking a Risk on Workers' Comp, which zeros in on that specific coverage.