When it comes to discussing her budget with her CFO, e-mail marketing manager Carey Marston Kegel says she has it pretty good. "I'm lucky," says Kegel, who works for online equestrian-supply retailer SmartPak. "It's so inexpensive to send e-mail, especially compared with some of the other marketing tools, like paid search and social media. There, you're always having to justify the spend."
Despite social media's soaring popularity, e-mail remains the most common activity people do online. According to Ipsos, a market research firm, 85% of global Internet users check their e-mail on the Internet, while 65% use social-networking sites. Checking e-mail is also the number-one thing people do on their mobile devices, according to Pew Research Center. And when it comes to driving sales, a September Forrester report describes e-mail as a far more reliable medium than social media: 30% of the 77,000 transactions documented by the research firm over two weeks in April began with a customer clicking on an e-mail.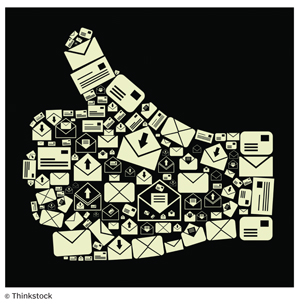 Conversely, less than 1% of transactions could be tracked back to a social network. "E-mail remains very much alive, and to thrive, companies need to continue to focus on e-mail acquisition as well as e-mail optimization," says Forrester analyst Sucharita Mulpuru-Kodali, author of the report. While social media is useful for customer service, it "is definitely not about revenue," she says. "E-mail is very much about revenue." She recommends that companies fund social-media initiatives with their experimental budgets, not with cash diverted from e-mail or paid search.
SmartPak has seen between 125% and 150% revenue growth since 2009, according to Kegel. Perhaps not coincidentally, in 2010 it partnered with Silverpop, a provider of e-mail marketing automation. Silverpop and other e-mail service providers help businesses time campaigns to customer actions, such as clicking on a link.
Ideally, these campaigns present potential buyers with product offers at a moment when they are most likely to buy. Silverpop's software-as-a-service offering merges customer data into a single database and then mines it to create campaigns based on user interactions with the site, such as past purchases and preferences (whether or not the customer wants to receive coupons, for instance).
"Collecting data to target customers based on their needs and wants increases the chances of making a sale," says Ellen Valentine, Silverpop's e-mail marketing leader and a former chief marketing officer. "Over time, you build up this great database and can start to drive a more relevant conversation with customers."
Automated e-mail marketing vendors, says Mul-puru-Kodali, provide a host of ancillary products that leverage the e-mail platform. Like Silverpop, they often offer analytics to create and schedule more-targeted e-mails.
Automation also enables marketing managers like Kegel to control their campaigns with minimal IT involvement. It boosts the manager's agility and reduces time-to-market, thus allowing for more-timely campaign launches and controlling marketing costs. And because there are so many low-cost e-mail service providers, Mulpuru-Kodali maintains, "there's absolutely no advantage to doing this in-house."
All Sorts of Information
When SmartPak started e-mail marketing in 2000, it was sending out one or two promotional campaigns a month to subscribers in the form of "e-blasts," nontailored mass messages that have no tracking capabilities. Because the company couldn't track responses, there was no way it could gauge whether its campaigns were worth the money or IT resources they consumed.
Now, the company can tell who is purchasing products through its e-mails, says Kegel. "We have all sorts of tracking information: opens, clicks, if customers buy or don't buy, and unsubscribers," she says.
Further, says Kegel, the company is tying that data into its website analytics "to create a marketing database so [it] can see what campaigns drove a particular purchase." Once SmartPak finishes doing that, it will be able to link specific revenue to specific campaigns and determine a cost-of-sale with a more precise return-on-investment figure than marketing historically delivers.
Today SmartPak sends out up to 10 promotions a month to customers, with each e-mail tailored to at least 15 customer segments determined by their past behavior: Did the customer open the e-mail? Did he click on the content? How many times has he visited the SmartPak website, and what were his past purchases and interactions with salespeople and support staff?
Kegel estimates that about 35% of online marketing revenue from new customers comes from its e-mail marketing, and the rest comes from display ads, search, and social media.
More Targeted
Even without automation and analytics, Kegel points out that e-mail is inherently more targeted than social media because with the former, customers have to "opt in," providing their e-mail addresses during the purchase process or on the company's website. With analytics, companies can use the tracking data to determine a customer's interest in certain products, calculate the likelihood the customer will make another purchase, and even tell whether the person opens the e-mail before deleting it.
"We look to see if certain segments can tolerate more e-mails," explains Kegel. "A one-time buyer who bought a blanket for their horse may not be sent as many e-mails as our regular customers. We really want to focus on the people who open the mail as opposed to everyone we send it to."
Most companies are still using the e-blast method, which carries some risk, according to Mulpuru-Kadali. "Campaigns can backfire if you spam customers with lame messages that aren't very compelling," she says. And Kegel acknowledges that it's often a challenge to get people to opt in. But Mulpuru-Kadali argues for persistence in the face of resistance.
"You get a bigger e-mail list the more people you ask, and the more times you ask them," she says. "And if you have great product that people want to hear about, they'll say yes."
E-mail is doing so well for SmartPak right now that Kegel says she hopes to hire a coordinator dedicated to the company's increasingly sophisticated campaigns. "It's something the CFO is definitely open to because we've seen such healthy growth," she says. "We've seen 30% growth on the e-mail side without really spending more." Since her costs haven't risen significantly, and revenue has, it is relatively easy, Kegel says, to justify adding resources "to grow a little more."
---