Nearly a year and a half after the passage of the Jumpstart Our Business Startups Act, the SEC voted today to propose rules governing crowdfunding. The rules, if adopted, will allow companies to raise up to $1 million every 12 months from non-accredited investors. Firms that use crowdfunding can only complete transactions through federally regulated funding portals.
The proposed rules also require companies that use crowdfunding to file financial statements for the last two fiscal years (or less, if the firm launched more recently). The rules would require companies to submit audited financial statements for offerings of more than $500,000. Smaller offerings would need to be certified by an independent public accountant or the company's CFO, depending on how much money the company raises. Ryan Feit, CEO and co-founder of equity-based crowdfunding platform SeedInvest, says he hopes the SEC will raise that threshold in its final rule. "If it stays in there, most likely a lot of companies are going to raise $490,000 so they don't have to deal with it," Feit says.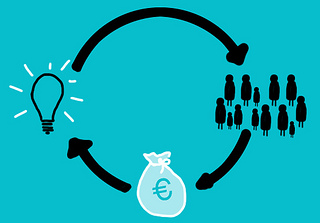 Companies that use crowdfunding will also have to file annual reports with the SEC until they become subject to the Securities Exchange Act, they retire all their crowdfunded securities or they shut down. Under the proposal, certain firms — including public and non-U.S. companies — cannot use crowdfunding.
Leading up to the rule, some have said crowdfunding would be too onerous. By filing annual reports with the SEC, companies that participate in crowdfunding "are taking public-offering-style liability on misstatements in any of their disclosures," says Brian Korn, a corporate and securities attorney at Pepper Hamilton.
The cost of crowdfunding can also be proportionally higher than an IPO, Korn says. "For most IPOs, the legal fees are at least $500,000 to $1 million. To prepare a disclosure statement that adequately protects any business in a crowdfunding round, you're talking about at least $50,000 to $100,000," he says. "Financial statement audits are also not inexpensive. On a million-dollar crowdfunding transaction, your expenses are going to cut into at least 10 percent of your round. In a typical small IPO, the underwriting spread is 7 [percent] to 8 percent."
Some companies have also expressed concerns that using crowdfunding will cut them off from securing venture capital financing at a later stage. But it looks like crowdfunding and venture capital can work together. Venture capitalists are starting to embrace crowdfunding as a way to avoid some of the risk of early investments.
VCs still have concerns about incorporating hundreds or thousands of crowdfunded investors into the company's capital structure. In response, funding portals have come up with potential solutions, like a security that allows venture capital firms to buy out investors at a certain multiple of their investment later on.
The SEC will accept comments on the proposed rules for the next 90 days. It will likely not release final rules until 2014.
For more on crowdfunding and the JOBS Act, see CFO's explainer.
Courtesy of Flickr user Rocío Lara. CC-BY SA