The Jumpstart Our Business Startups Act is a United States law created to help small businesses secure funding.
The bill was signed into law by President Barack Obama on April 5, 2012.
In the year and a half since the passage of the JOBS Act, companies have begun to put the law to use. Twitter recently exercised its newly-granted right to file an S-1 statement with the Securities and Exchange Commission confidentially.
Since the SEC approved a rule governing general solicitation in September, companies can now market private placements broadly, as long as they only sell equity to accredited investors. But some parts of the law remain in limbo. The SEC proposed a crowdfunding rule on Wednesday, October 23. Companies that want to sell equity to non-accredited investors will have to wait until the final rule comes out next year.
It can be difficult for CFOs and other executives — especially those of growing companies — to keep track of all the JOBS Act developments. With that in mind, CFO has put together a JOBS Act explainer: all the questions you and your company might have about the law, answered. We'll continue to update this explainer as new information comes in. And if you have any questions you think should be added to this guide, please respond in the comments section. [Edit: last update on 10/23/2013 4:53 PM EST]
What is an emerging growth company?
This classification is given to companies with of less than $1 billion (indexed for inflation) in their most recent fiscal year.
These companies are given certain privileges.
Privileges:
They have more time after going public to comply with a number of rules, including:

Requirements from the Sarbanes-Oxley Act of 2002
Auditor attestation of internal controls
How long can I stay an emerging growth company?
Until your total annual gross revenues reach $1 billion, you have been public for five years, you have issued more than $1 billion in non-convertible debt over the previous three years, or you become a large accelerated filer under SEC rules.
Can I become an emerging growth company again if my revenues drop?
No.
What else does the JOBS Act do?
It raises the number of shareholders that a company can have before it is forced to file financial reports with the SEC. Before the JOBS Act, companies had to file their financial statements once they attracted 500 shareholders. Now they do not have to disclose that information until they have either 2,000 qualified investors or 500 non-accredited investor shareholders.
The JOBS Act exempts companies offering $50 million or less every 12 months from Securities Act registration.
It also changes the way companies can raise money and who they can raise it from. Title II will allow companies to broadly (use general solicitation), as long as they only sell equity to . It went into effect this September. Title III, the crowdfunding section of the JOBS Act, will allow businesses to raise funding from anyone, including non-accredited investors.
What is the difference between crowdfunding and general solicitation?
Crowdfunding vs General Solicitation
General solicitation allows companies to market private placements broadly. But companies still must only sell equity to accredited investors.
Taken to the extreme, you could advertise a private placement under Rule 506 on the radio, on an infomercial, or on the side of a blimp flying over a stadium. […] For legal purposes, it's still 'private.' But it's not private in that you can go out and talk to investors much more freely after this rule goes into effect."
-David Lynn, partner at Morrison & Foerster. Should You Broadcast a Private Placement?
Crowdfunding allows businesses to raise funding from anyone, including non-accredited investors. But companies that use it face a lot more restrictions. For one, they can only raise $1 million every 12 months using equity-based crowdfunding. They can also only complete transactions through a funding portal that meets certain requirements. And companies that use crowdfunding will have to file annual reports with the SEC.
What are some of the potential drawbacks to crowdfunding?
Some say the requirements could make crowdfunding too onerous for mature companies.
[Companies that participate in crowdfunding] are taking public-offering-style liability on misstatements in any of their disclosures.

– Brian Korn
By filing annual reports with the SEC, companies that participate in crowdfunding "are taking public-offering-style liability on misstatements in any of their disclosures," says Brian Korn, a Corporate & Securities attorney at Pepper Hamilton.
Korn says it would be easier for companies to stick with accredited investors.
If you went to a private placement in lieu of crowdfunding, you would not have to file with the SEC, you would not have to use a funding portal or broker/dealer, and you could offer and raise an unlimited amount of money.

For most IPOs, the legal fees are at least $500,000 to $1 million. To prepare a disclosure statement that adequately protects any business in a crowdfunding round, you're talking about at least $50,000 to $100,000."

Financial statement audits are also not inexpensive. On a million dollar transaction, your expenses are going to cut into at least 10 percent of your round. In a typical IPO, in a smaller transaction, the underwriting spread is 7 to 8 percent. So crowdfunding is actually much more expensive.
– Brian Korn
Using General Solicitation
The SEC's final rule on general solicitation, released on July 10, 2013, adopted most of Title II as proposed in the JOBS Act. It allows companies to market private placements broadly as long as they only sell to accredited investors. It added a list of ways issuers can verify that their investors are accredited. The rule went into effect around the second week of September.
Under current regulations (which will remain in effect) a person qualifies as an accredited investor if he or she has either:
An individual annual income that exceeded $200,000 in each of the two most recent years or a joint annual income with a spouse exceeding $300,000 for those years, and a reasonable expectation of the same income level in the current year.
An individual net worth or joint net worth with a spouse that exceeds $1 million at the time of the purchase, excluding the value (and any related indebtedness) of a primary residence.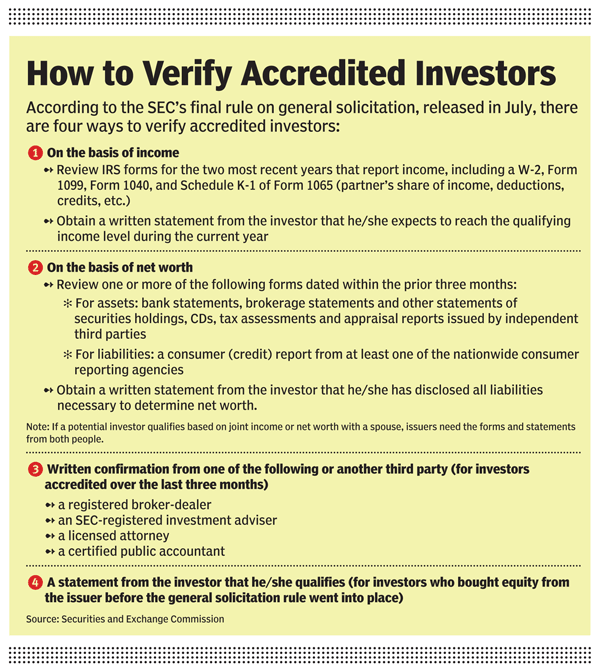 Are VCs concerned about investing in companies that used general solicitation?
Probably not. Ryan Feit, CEO and co-founder of equity-based crowdfunding platform SeedInvest, says VC firms will likely be less concerned about how to incorporate this kind of financing, because they already work with angel groups that invest at similar dollar levels.
Still, companies always have the option of grouping large numbers of accredited investors into a sidecar fund. "Instead of having 50 people investing into the company directly, 50 people can invest into a fund, and the fund invests into the company," Feit says. "With that example, you only have one investor in the capital structure, which alleviates any potential issues with VCs as well."
Using Crowdfunding
Crowdfunding sounds interesting, but I'm worried it will cut off the option of securing venture capital later on. Can I use both crowdfunding and venture capital?
Based on what we know now, it looks like crowdfunding and venture capital can work together. Venture capitalists are starting to embrace crowdfunding as a way to avoid some of the risk of early investments. Initially, many VC firms were concerned that crowdfunding and venture capital would be competitive. VCs still have concerns about incorporating hundreds or thousands of crowdfunded investors into the company's capital structure.Companies who want to use both crowdfunding and venture capital should probably plan ahead.
I could definitely see it as a way of augmenting existing ways in which capital is raised by going out to larger groups [of investors]. I think that could have a lot of benefits for [companies] in terms of raising money more quickly and cost effectively."
– David Lynn, partner at Morrison & Foerster
We see it as a sequence, where crowdfunding plays a role and then venture capital plays a role.

Let's say you have a venture capitalist who is considering an investment in a mid-stage biotechnology company. Fifteen million is already being invested, but there's another $5 million of capital needed. Crowdfunding could be a very effective way of attracting the extra funding that enables that transaction to [close]. The company achieves its financing and the investors capitalize on the opportunity."
– David Loucks, CEO of boutique investment bank Healthios
How can companies plan ahead to use crowdfunding?
They should weigh the pros and cons of using crowdfunding at all. They could also pay attention to the options different platforms are presenting. One platform, SeedInvest, has structured a security that allows venture capital firms to buy out investors at a certain multiple of their investment later on.
Another option: companies could pool investors into a collective, which would only get one shareholder vote.
At what stage should I use crowdfunding?
It could play a role in the seed stage, but companies could also use it to cement a deal or finance a project at a later stage.
Can I use crowdfunding now?
Not yet. Some parts of the act will not go into effect until the Securities and Exchange Commission (SEC) adopts rules fleshing them out. The SEC was supposed to establish rules on crowdfunding by the end of 2012, but it hasn't.
What does the proposed crowdfunding rule do?
As stated in the JOBS Act, the rule would allow companies to raise up to $1 million every 12 months from non-accredited investors. Firms that use it can only complete transactions through funding portals.
The proposed rules also requires all companies that use crowdfunding to file financial statements for the last two fiscal years (or less, if the firm launched more recently). The rules would require companies to submit audited financial statements for offerings of more than $500,000. Smaller offerings would need to be certified by an independent public accountant or the company's CFO, depending on how much money companies raise. Ryan Feit, CEO and co-founder of equity-based crowdfunding platform SeedInvest, says he hopes the SEC will raise that threshold in its final rule. "If it stays in there, most likely a lot of companies are going to raise $490,000 so they don't have to deal with it," Feit says.
Companies that use crowdfunding will also have to file annual reports with the SEC until they become subject to the Securities Exchange Act, they retire all their crowdfunded securities, or they shut down. Under the proposal, certain firms — including public and non-U.S. companies — cannot use crowdfunding.
How long does the rule-making process take?
The SEC will accept public comments for 90 days and spend a few more months making revisions before it releases a final rule. Then the Financial Industry Regulatory Authority (FINRA) will create a registration process for crowdfunding. So don't expect to start using crowdfunding until 2014.
What is causing delays at the SEC?
"Turnover at the SEC and internal politics have stalled issuance of draft rules related to Title III. It is a major shame because although the JOBS Act was a hugely bipartisan piece of legislation, it's become pretty clear over the last few years that deadlines are irrelevant."

– Ryan Feit
Good question. Turnover at the SEC could be partly responsible for the delay. This April, Mary Jo White replaced Elisse B. Walter as chairman. Walter, who had planned to serve a short term, replaced former chairman Mary L. Schapiro at the end of 2012.
Three points the SEC might clarify in its final crowdfunding rule.
1. Title III of the JOBS Act states that crowdfunding platforms must make efforts to ensure that investors are reporting accurate income and net worth levels and that they do not invest more than the limit. In its rule, the SEC may further clarify what steps platforms must take to verify investors' status.
Historically investors have simply been required to self-certify their accreditation. Similarly, investors should be held responsible for reporting their accurate income/net worth levels and ensuring that they do not invest more than they are allowed to depending their respective investment caps. Placing the burden on platforms instead of individuals themselves to police this would be overly onerous."
– Ryan Feit
2. The SEC's proposed rule restricts crowdfunding platforms from offering investment advice or recommendations.
The SEC's initial interpretation of this clause was that funding portals should not be able to subjectively filter out any companies looking to raise capital on a given platform. If that turns out to be the case, it will be a major challenge for the industry. It is no secret that the vast majority of startups looking to raise capital are either not ready to raise capital or are simply not fundable. SeedInvest for instance currently filters out over 98% of company applicants. Why not allow SeedInvest, which employs former professional investors, to filter out the noise for the benefit of its investor base? If the SEC requires funding portals to publish every company that wants to use a platform and meets basic objective criteria, it will greatly threaten the viability of the industry."
– Ryan Feit
3. The proposed rule requires companies that raise more than $500,000 to file audited financial statements. The SEC has the option to change that threshold.