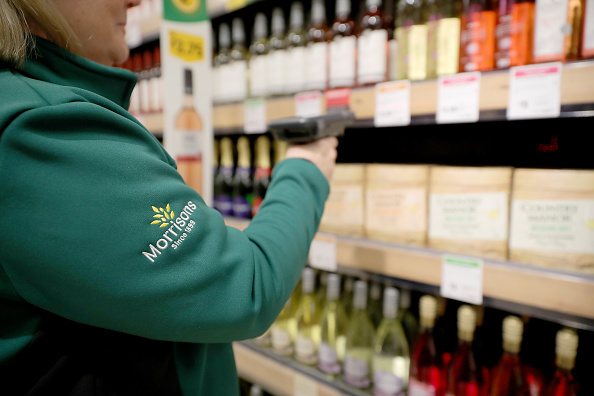 In the latest twist in  a takeover battle over Britain's fourth-largest grocery chain, Morrisons has agreed to be sold to U.S. private equity firm Clayton Dubilier & Rice for about $9.5 billion (6.97 pound sterling).
CD&R's offer, worth 285 pence per share, topped a 272 pence per share bid from rival private equity group Fortress Investment Group that Morrisons had recommended to its shareholders earlier this month.
"The Morrisons board believes that the offer from CD&R represents good value for shareholders while at the same time protecting the fundamental character of Morrisons for all stakeholders," Morrisons Chair Andrew Higginson said Thursday.
"CD&R have a strong record of developing, strengthening and growing the businesses that they invest in and they share our vision for Morrisons' future," he added.
But Morrisons' shares closed on Thursday at 279.2 pence, indicating investors expected a higher offer. Fortress said it was "considering its options" and urged Morrisons shareholders to take no action.
Morrisons, which started out as an egg and butter merchant in 1899, is the U.K.'s No. 4 grocer after Tesco, Sainsbury's, and Asda. Its assets include 339 filling stations, which would supplement the 918 that CD&R already owns through its Motor Fuel Group.
The bidding war over Morrisons began in June when CD&R offered 230 pence per share, or 5.5 billion pounds. Fortress countered with a bid for 254 pence per share, or 6.3 billion pounds in July, and sweetened its offer to 6.7 billion pounds two weeks ago.
Sir Terry Leahy, the former Tesco chief executive, is one of CD&R's senior advisers and worked alongside Higginson and David Potts, the Morrisons chief executive, during his long reign at Tesco.
"CD&R is delighted to have the opportunity to support the management of Morrisons in executing their strategy to grow and develop the business," he said Thursday. "The grocery sector in the U.K. is undergoing great change and we believe Morrisons is well placed, with CD&R's support, to succeed in this environment."
CD&R's agreed bid represents a 60% premium to Morrisons' share price before takeover interest emerged in mid-June.
Photo by Christopher Furlong/Getty Images