The pandemic-mandated shift to remote work has forever changed how we do business by encouraging CFOs and leadership teams to rethink physical office spaces.
The question remains: to what extent will these changes linger once we settle into a "new normal?"
Margulies Perruzzi and Kotter recently released a post-COVID workplace report exploring why remote workplaces will remain prevalent and how leaders can keep pace with the rapid pace of change while navigating lingering pandemic uncertainty.
Workplace change does not happen in a vacuum. Human resource considerations are only part of the equation; financial implications must also be studied. As companies look to design the future, CFOs must play an active role in shaping the post-pandemic office.
Which Model Fits?
CFOs will need to work with leaders across the C-suite to determine their organization's best remote work policy. They will have to weigh factors like productivity, the need for in-person interaction, and the financial investment required for each potential remote-work model.
To further understand the cost implications facing organizations, our report analyzed a hypothetical 100-person company to illustrate the financial impact of four remote workplace models (see graphic).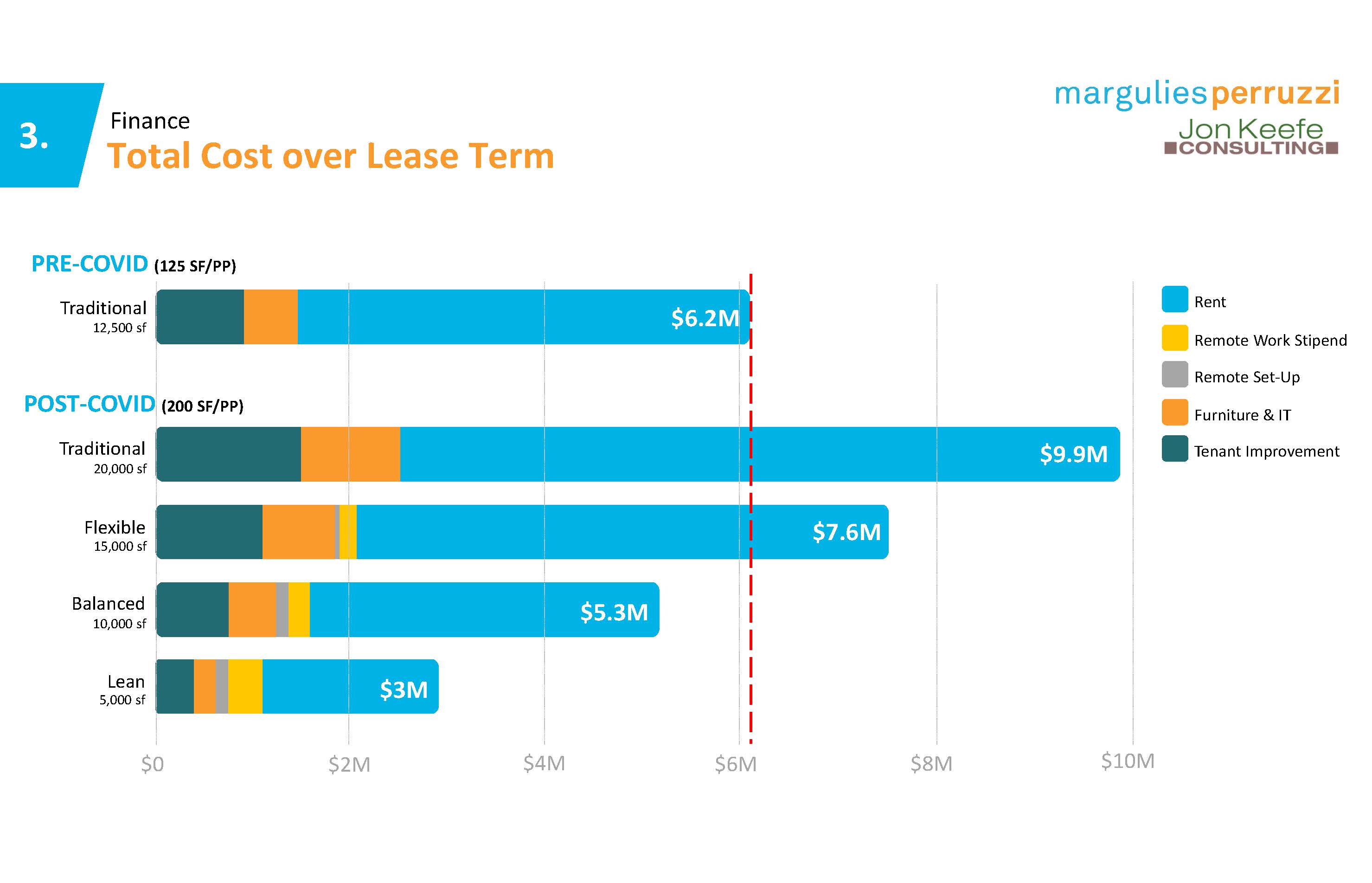 The following hypothetical lease assumptions are assumed within this exercise: a seven-year lease term; $50 per square foot in rent, increasing $1 per square foot per year; $75 per square foot tenant improvement exposure after landlord allowance; and $50 for tenant furniture and IT costs. The following remote IT costs are also assumed: $1,000 one-time fee per employee for remote work set-up; $600 per year as a remote work stipend per employee; 3% inflation on one-time home set-up and stipend; and 10% assumed employee turnover, requiring additional remote set-up costs.
As you can see, total costs vary greatly across the different models. Yet cost is only one factor. Different remote workplace models can impact culture and productivity in drastic ways. For example, a traditional model's benefits — where all employees come into the office, each with their own assigned workstation — include increased socialization and problem-solving through spontaneous interaction and in-person management.
On the flip side, flexible and balanced profiles ranging from having one-fourth to one-half of employees working remotely could lower real estate costs and offer staff greater flexibility. Yet, these models will only work if management can facilitate collaboration, foster innovation, and encourage a positive office culture from behind a computer screen. Remote workers will need adequate equipment and plenty of opportunities for interpersonal engagement to be successful.
While a lean remote work profile is the most cost-effective, this model assumes that virtual working is typical for employees. If workers have a job function that requires them to be on the road or in client offices, and management can be done by virtual interaction, a lean model could help an organization thrive while minimizing its real estate investment.
As vaccine rollout progresses and a return to the office becomes imminent for many, CFOs must work with the C-suite team to choose what remote working model will suit the organization from both a cultural and cost standpoint and determine what it will take to make the workspace feel safe to employees.
Partnering with HR
Inviting employees to be actively involved in designing the post-pandemic workplace can help make change feel less scary. Rather than seeing change as a threat to their livelihood, new workplace policies and office space redesigns could be reframed as opportunities for growth, increased collaboration, and greater flexibility.
Leaders must consider the reactions that employees might have and proactively quell those concerns to make change feel safe. Doing so will prevent workers from being thrust into a "survival reaction," characterized by anxiety or a potential freeze response, which adapts to change even harder.
The best way to combat these challenges is for CFOs to form a somewhat unconventional partnership with HR leaders. By working with the chief human resources officer or HR director, a finance chief can help the organization increase transparency leading up to the workplace transition, keep communication lines open between employees and managers, and ensure employees feel heard throughout.
HR leaders can help CFOs better understand how each model could impact employees' day-to-day work, whereas CFOs can help HR leaders grasp the level of investment needed to enact workplace changes.
At the outset, it will be key for CFOs and HR leaders to acknowledge their differences and, instead of using those differences as fuel for potential conflict, leverage their unique perspectives to challenge each other's thinking.
A Flexible Mindset
When the pandemic started, some of our clients at Margulies Perruzzi had what we might describe as a knee-jerk reaction. For example, some CFOs immediately drew up plans to purchase plexiglass dividers for every workstation. Then they discovered that the investment would cost upward of half a million dollars.
Rather than acting upon a costly, emotion-driven reaction, we advised CFOs caught up in those moments to slow down and see how the pandemic would play out. Slowing down can help financial leaders think more clearly about sustainable solutions that will benefit the organization in the long-term, rather than investing in wasteful, short-term fixes.
Designing the post-pandemic workplace with flexibility is key — especially as we continue to grapple with uncertainty. Possible long-term investments for CFOs to consider include converting desk space into spacious conference rooms to accommodate collaboration among colleagues — especially for flexible, balanced, and lean models, where individual work can be completed in a home office.
While costs will vary, the investment CFOs make in the post-pandemic workplace may very well pay for itself in the future, as workplace dynamics shift and organizations move their way through the pandemic.
Additionally, investing in health and safety measures is now very important. This could include improving indoor air quality and sanitation, installing hands-free fixtures to eliminate common touchpoints, and installing UVC lamps in HVAC systems to sanitize equipment and surfaces when the space is unoccupied. With these safety improvements, perception is just as important as reality, so leaders should strive to communicate to employees the investment they are making in improvements that aren't highly visible.
While costs will vary, the investment CFOs make in the post-pandemic workplace may very well pay for itself in the future, as workplace dynamics shift and organizations move their way through the pandemic. The key for CFOs is simple — stay flexible, as change is showing no signs of slowing down.
Janet Morra, AIA, LEED AP, is a principal at architecture and interior design firm Margulies Perruzzi. She can be reached at [email protected] Kathy Gersch is chief commercial officer at strategy execution and change management firm Kotter. She can be reached at [email protected]
Graphic credit: Jonathan Keefe, director – program for real estate studies, Boston University, Jon Keefe Consulting