Sotheby's shares dipped on Monday as quarterly earnings came in below expectations due to a shift in auction scheduling and a decline in commission margin.
The auction house reported second-quarter net income of $57.3 million, or $1.08 per share, compared to $76.9 million, or $1.43 per share, a year ago. Analysts were expecting $82.1 million in net income, or $1.52 per share. according to FactSet.
On an adjusted basis, the company earned $1.09 per share, well below estimates of $1.56. Revenue dropped 1.6% to $345.6 million, but beat analysts' expectations of $330.3 million as Sotheby's got a major boost from private sales, which rose 57% to $296 million.
In trading Monday, Sotheby's shares fell 5% to $50.29. The stock has gained 2.5% in 2018, while the S&P 500 has gained 6.2%.
Sotheby's said the second-quarter results were "significantly impacted" by the shift of Hong Kong auctions traditionally held in the second quarter to the first quarter of 2018. "The schedule change shifted $130 million in net auction sales and $20 million in operating income to first quarter 2018 results," it said.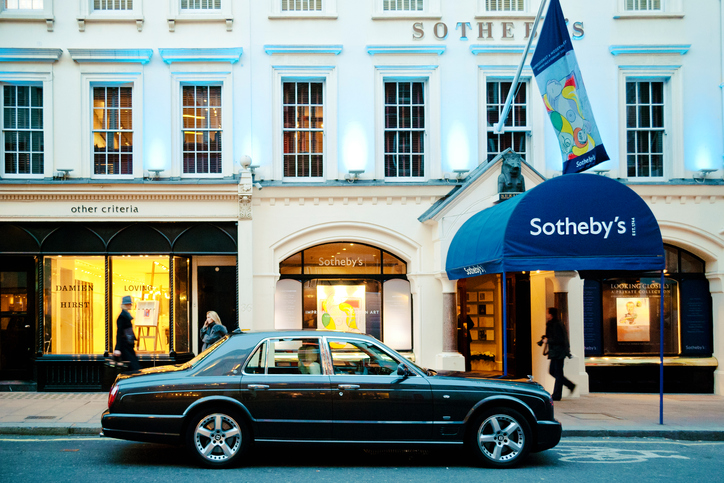 Additionally, the second quarter was hit by the drop in auction commission margin, reflecting a higher level of commissions shared with consignors such as estates, foundations and charities.
Consolidated sales, excluding the Hong Kong impact, increased 15% to $2.4 billion in the second quarter and 22% to $3.5 billion in the first half of 2018.
"Sotheby's is on track to deliver another year of excellent growth in auction sales and even more impressive growth in private sales," Sotheby's CEO Tad Smith said in a news release, adding, "We are confident that our strategic initiatives to differentiate our company are picking up steam."
As The Motley Fool reports, Sotheby's has been working to enhance its digital presence. In the first quarter, almost half of the auction house's clients used its online bidding platform, up from just a third last year, and online participation topped telephone-based participation for the first time.
Photo: Getty Images