McDonald's reported revenue of $5.35 billion for the second quarter, down 12% year-over-year, as it was hurt by a nationwide recall of salads at about 3,000 of its U.S. locations.
But a lower effective tax rate and an increase in sales outside the United States —particularly in the United Kingdom and France — helped offset the decrease. The company beat estimates, reporting adjusted earnings of $1.99 per share, compared with the $1.92 per share expected by analysts polled by Thomson Reuters. Analysts had projected revenue of $5.32 billion.
McDonald's said the drop in sales was due to its strategic refranchising initiative, under which it plans to decrease the percentage of company-operated stores to 5% from 8%. Consolidated operating income increased 5% for the quarter. The company said it incurred a $92 million restructuring charge and other one-time expenses.
"We continued to build upon the broad-based momentum of our business, marking 11 consecutive quarters of positive comparable sales and our fifth consecutive quarter of positive guest counts," McDonald's President and Chief Executive Officer Steve Easterbrook stated.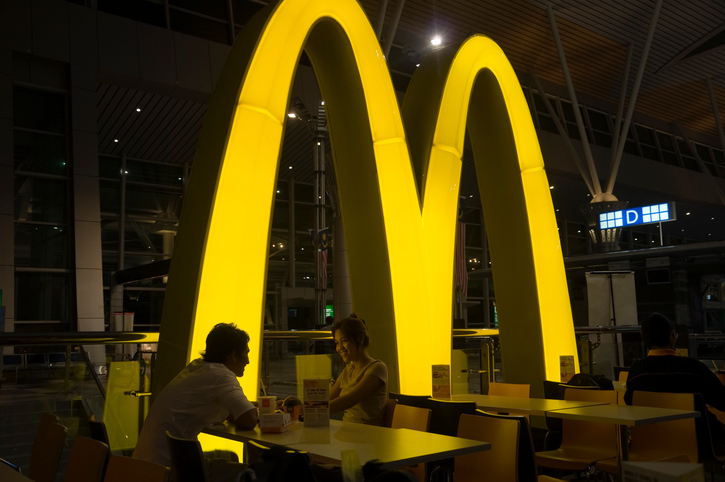 Global comparable sales increased 5.5% and global comparable guest counts increased 0.8%. Same-store sales grew 4% globally, compared with the 3.5% expected by analysts. But same-store sales at U.S. locations that have been open at least a year grew by 2.6%. However the company said its guest count in those locations fell 0.3%.
"We are confident in the strategies guiding our business for today and for long-term sustained growth into the future." Easterbrook said.
McDonald's has been working hard to win back visitors, on which it is "intensely focused," said CFO Kevin M. Ozan on the McDonald's earnings call.
"As we've said in the past, we must be competitive on value. We don't strive to win on value, but we won't lose either," Ozan said. "While our $1-$2-$3 Menu is driving incremental sales and guest counts with our budget, basic, value customers, we need to do more to attract other customer groups."
On a broader basis, the company is also offering mobile and kiosk ordering and partnering with UberEats to test delivery, said CNBC.
In the 60 markets in which it is testing delivery, McDonald's said delivery accounts for 10% of sales.
The company said it returned $2.5 billion to shareholders in the quarter through share repurchases and dividends. It recorded an effective tax rate of 26% for the quarter.
McDonald's shares are down nearly 10% this year.
Photo: Getty Images