CFOs are facing a dilemma in terms of how they invest in the talent of their teams. On the one hand, unit heads want more practical analysis of performance drivers — information they badly need to stay competitive and cost-efficient. But the way many finance organizations operate today places obstacles directly in the way of meeting business unit leaders' analytical needs.

At the same time, not many finance professionals believe that their finance teams are currently delivering game-changing value to their enterprises. Similarly, at some companies, finance groups aren't considered business partners by their counterparts on the operations side, and they aren't given a seat at the decision-making table.
Why is finance being left out of organizational decision-making? There's a big gap between the value that many finance organizations could deliver to their stakeholders and the value they're actually capable of delivering right now.
Closing that gap depends on increasing productivity and shifting from transactional work to a better process for developing and disseminating meaningful analysis. And to do that, CFOs must strongly commit to the training and development of high-potential members of the finance team.
By and large, those are the people who will be charged with pinning an economic template on strategic options and explaining the ramifications to non-finance operating executives. The term "high potential" refers to a finance professional who's been identified as eager, prepared, and capable of succeeding in a formal finance leadership development program and moving up the managerial ladder.
To gain respect among operating heads, up-and-coming finance professionals must have a solid understanding of not just finance and accounting, but the company's markets, customer groups, operating traditions, and competitive dynamics.
They also need a good foundation of knowledge in management accounting, performance reporting, statistics, financial information management systems, and enterprise data-management platforms. And, they have to have "people skills" to be able to communicate clearly and effectively. Why don't more finance organizations have formal development programs for their up-and-comers?
My contention is that spending for finance personnel is misguided in many cases — and that's putting it mildly. Consider the two following graphs based on research by APQC, the organization I work for. In both instances, there are startling gaps revealed in the way top performers, as compared to bottom performers, spend to run the finance function.
The top performers represent the best 25% of organizations in the test. The number shown for them indicates the percentile level above which all the winners operate. The bottom performers do worse than 75% of all other survey takers. The median is the middle of the range captured.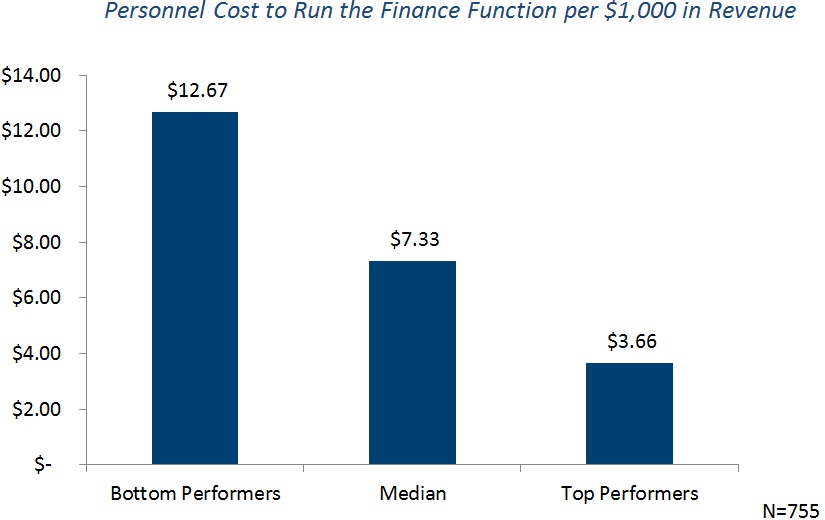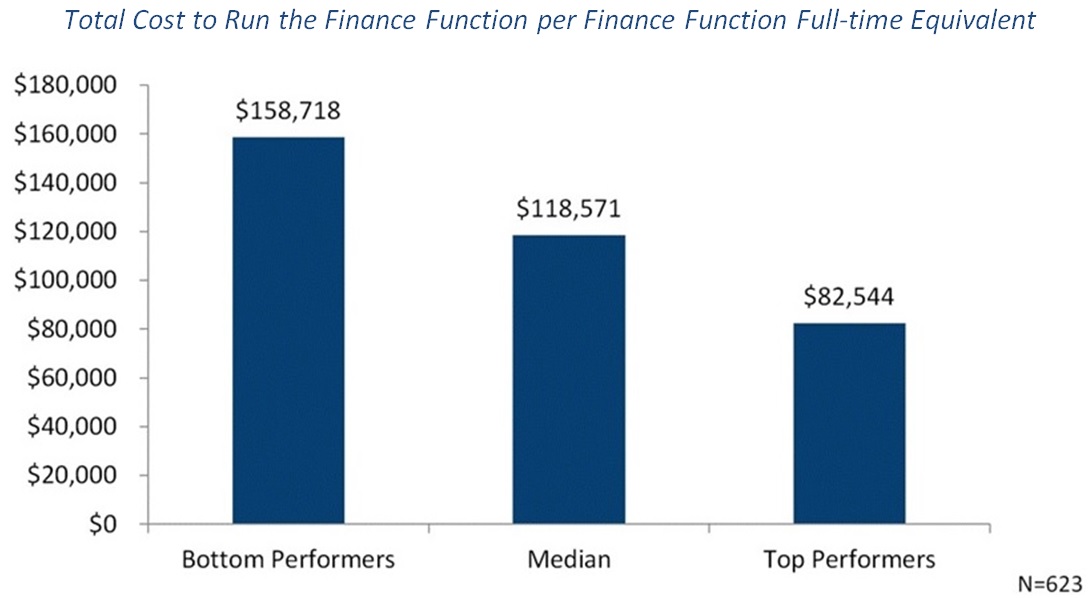 Out of a total of 755 firms, bottom quartile performers spend at least $12.67 per $1,000 in revenue on people to perform the finance function, while the top quartile performers spend just $3.66 or less. In the second chart, we see that the difference in total cost to perform the finance function per finance function FTE is even more striking. Out of a total of 623 firms, bottom quartile performers spend at least $158,718 per FTE, while the top performers spend about (or less) of that: $82,544.
What these numbers reveal is that too many finance organizations are blowing their budgets to pay armies of people to do low-level work inefficiently. Instead of paying high-potential people to think strategically, they're spending a lot to move paper from one stack to the next, reconcile data, and clean up the general ledger.
It's also helpful to consider the total cost to perform the finance function as a percentage of revenue. Bottom performers spend 2.05% of total organizational revenue on finance, while top performers spend 0.63%.
Considering that personnel costs typically account for about two-thirds of the total cost of finance, it's clear that many organizations are spending way too much on tasks that some experts say will soon be handled by fleets of robots in shared-services centers. At present, there's little money left over for CFOs to invest in helping high-potential finance talent develop the sophisticated, forward-looking, analytical skills and data management savvy to push finance further up the maturity scale.
Complexity Makes Things Worse
The need for sound finance advice grows even more urgent as organizations grow increasingly complex, and as major changes in global trade and disruptive technology drive operating risks ever higher. It's a big challenge, and it's one that finance needs to step up and address with urgency.
Given today's data-driven, highly automated business environment, more CFOs need to think long and hard about how to make the most of the talent within their teams, especially when it comes to their high-potential employees. To really move the needle, strategic finance roles require more than such traditional finance and accounting "hard skills" as cost management, management accounting, and performance forecasting. They also need new hard skills like prescriptive analytics, sophisticated modeling, advanced statistics, and data science. (Prescriptive analytics is focused on finding the best course of action for a given situation.)
Finance leaders must ensure that key team members have technology as well as leadership skills to lead the IT initiatives that will reduce finance labor costs. These key players may be charged with harmonizing finance IT systems and automating repetitious finance processes to free people from the daily grind of inputting data into spreadsheets, so that they can focus on work more closely aligned with corporate strategy.
The high potential finance staffers, presumably future CFOs, need a firm grasp on how systems automation and robotics can work with human augmentation to support the mission of finance, in alignment with the requirements of the business.
To effectively support organizational leaders and gain a seat at the strategy table, these consultative roles also call for mastery of "soft skills," such as collaboration, listening, public speaking, and emotional intelligence.
They also need to gain a thorough understanding of every aspect of business operations. Soft-skills training programs can strengthen finance staffers' ability to communicate well with top executives, negotiate with managers in other domains, build effective teams, and collaborate with others in pursuit of common goals.
But too many finance organizations aren't making adequate investments in finance staff training to develop the right chemistry of hard and soft skills. Most finance teams aren't considered "partners" in strategic decision-making, largely as a result of a failure to invest in soft-skills training and encourage their employees to learn about the business.
By installing effective talent development practices, CFOs can identify high-potential employees and help them evolve into more strategic roles, increasing the finance department's ability to give business unit leaders more of what they need.
Providing regular skills assessments, formal career-path development, a reliable training process, and access to professional coaching and leadership development are all ways that CFOs can equip key finance professionals to make valuable contributions to organizational planning discussions.
What's standing in the way of more investment in tomorrow's finance leaders? CFOs must free up the time and money to train high-potential employees, so that those key finance professionals can gain the necessary skills to free up even more time and money. Yes, it's a catch-22, but one worth solving for CFOs who want to take their finance organizations to the next level.
Mary Driscoll is a senior research fellow in financial management at APQC, a nonprofit business benchmarking and research firm based in Houston.