The fees companies pay to have their financials audited have stayed fairly flat for the past decade. But each year produces some significant outliers at individual companies.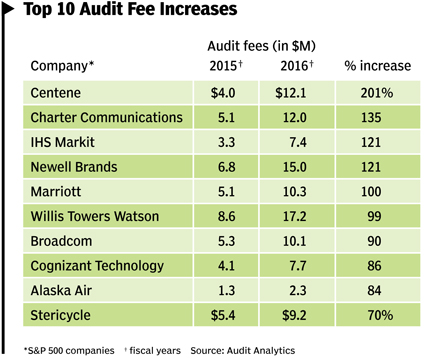 For fiscal 2016, Centene, the big provider of Medicaid and Medicare health plans, saw its audit fees triple (see chart). The whopping increase was accompanied by a 78% surge in revenue, from $22.8 billion to $40.1 billion, as the company completed its acquisition of Health Net and, as in recent years, experienced strong organic growth.
That there were no major accounting events that could further explain the massive spike in Centene's fees, according to Audit Analytics, which released a report on 2016 audit fees.
Mergers and acquisitions also apparently contributed to the steep increases that several other companies experienced:
Charter Communications acquired Time Warner Cable.
Information firms IHS and Markit joined forces.
Hotel companies Marriott and Starwood combined.
Risk adviser Willis Holdings merged with consulting firm Towers Watson.
Alaska Air acquired Virgin America.
For two companies among the 10 with the greatest increases in audit fees, Cognizant and Stericycle, "it appears as though accounting-related issues could have been the primary drivers," Audit Analytics said.
Cognizant's auditors found a material weakness in the company's internal controls over financial reporting, citing weak "tone at the top" and the possibility of improper payments related to overseas projects. Stericycle, meanwhile, had a number of issues, including late filings and a restatement, as well as its own internal controls weaknesses.
At the other end of the spectrum, HP, which spun off Hewlett Packard Enterprise, enjoyed the biggest decline in fees, dipping by 15%. Others experiencing significant decreases included Ebay, PPL, Kraft Heinz, and Walgreens Boots Alliance.