On Oct. 1, The New York Times released pages from the Connecticut, New Jersey, and New York 1995 tax returns of Donald J. Trump, the  Republican presidential nominee. The pages showed a $916 million loss, which could potentially cancel out federal income tax liability for up to 18 years. The news has turned the spotlight on an often underused tax tool available to CFOs and their companies: state net operating losses (NOLs). Recently, Bloomberg BNA analyzed the financial statements of the Fortune 1000 and estimated nearly $200 billion in NOL assets sitting on their books.
From a tax perspective an NOL occurs when a business loses money and can apply some or all of those losses as credits against tax obligations in a different tax year. NOLs are tracked at the federal level and also at a state level. At the federal level, corporations can carry a loss back two years and forward up to 20 years. For states, NOL schedules can go back and forward many years, according to state rules. The foundation of any corporate state income tax return is the federal form 1120 tax return. Any change at the federal level, such as an IRS audit, tax notice, or taxpayer filing an amended return, affects the state tax returns.
Relatively speaking, federal NOL rules are fairly straightforward, making the calculation and use of NOLs on the federal level a manageable task. But the ability to use them to offset state income tax liabilities is a much more difficult process. Limited resources compound the risks of missed opportunities, which affects cash flow and financial statements.
Complex State Rules
State NOL rules are complex, and there are different rules for each state. Especially for companies with multiple entities that file in many states, this is an especially painful process. Such companies sometimes must file hundreds, or even thousands, of returns in a single year. Further, each entity may require its own NOL-tracking schedule even in group filing states. In addition, tracking NOL generation and use can often span upwards of a decade. The result is a state NOL management process that requires countless hours managing spreadsheets to track, compute, and forecast state NOLs.

But what specifically makes it so hard? According to a recent Bloomberg BNA software poll, 39% of 100 finance executives from U.S.-based C corporations across a wide range of industries cited state "carryback/carryforward rules" as their biggest challenge, with "keeping up with state NOL tax law changes" citations a close second (32%). State limitations came in third (30%).
States have different rules concerning NOL modification and apportionment. Further, they tend to have two sets of rules: one for how the taxable income/loss is computed for a given year, and another to control how a loss is computed and used. Adding to the complexity, states have specific rules regarding carrybacks/carryforwards, post-apportionment, pre-apportionment, group reporting, suspensions, and limitations. Given all these factors, it's easy to see why managing the reporting NOLs to the states is such a difficult process.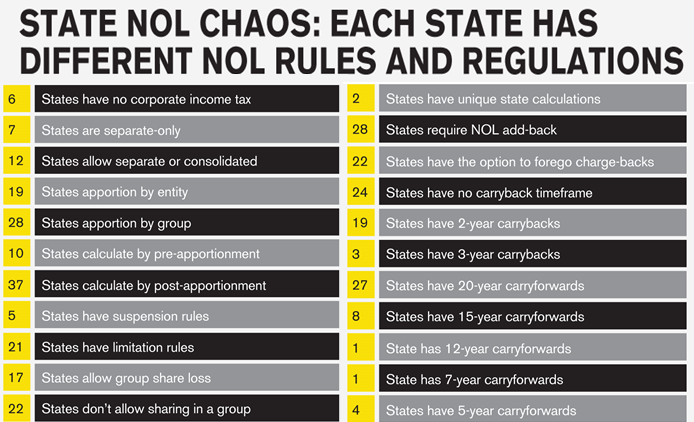 State NOLs Are Risky
Research by Bloomberg BNA's software group revealed that "manual data entry error," followed by "missed tax rule or rate," and "a spreadsheet formula error" were the top risks associated with the use of spreadsheets and manually managed databases. "An incorrect amount in tax provision (material misstatement in financials)," was another top risk of spreadsheets.Companies have had no other choice but to use risky manual processes, including spreadsheets and databases, as their primary methods for tracking state NOLs. But this approach can come at a steep price.
The findings indicate the myriad of issues resulting from decentralized state tax workpapers, in which tax teams have to create and maintain separate spreadsheets for provision, compliance, tax audits, and planning.
Reducing Risk
Even if a company has unlimited resources, manual processes have proven to be unreliable and risky. So what's the solution to the state NOL challenge? Is it even possible to safely take advantage of state NOL deductions? Bloomberg BNA asked tax departments these same questions. The answers appear to be rooted in automation. The majority of respondents indicated a solution that accurately computes allowable state NOL and use for compliance/ provision, provides state NOL forecasting, and allows what-if analysis is needed.
As state income tax and specific NOL laws continue to evolve and grow in complexity, so will the management of state NOLs. This means that the management of state NOLs by multi-state corporations with multiple entities has become far too difficult to navigate and manage manually.
As a result, CFOs are looking for safer solutions than risky spreadsheets. Similar to how provision was once a manually managed process, expect the future of state NOLs to shift from one dominated by manual processes to one dominated by automation. The result will be a best practice that seamlessly tracks, computes, and forecasts state NOLs so companies can confidently maximize this valuable asset.
Ken Crutchfield is vice president, software, for Bloomberg BNA.