Caterpillar is one of the most renowned industrial brands. It makes the kind of heavy machinery — loaders, excavators and off-road trucks — that is used in the construction, mining and transport industries when things need to get dug out or shifted somewhere. But the firm's latest results, released on January 28, show that it is struggling to shift its own products. "This past year was a difficult one for many of the industries and customers we serve," it said. Revenues in 2015 were nearly 15% lower than they were in 2014, and 29% below the 2012 peak.
The company's woes are emblematic of the problems facing manufacturers worldwide. Although manufacturing is a much smaller part of most developed economies than services — just 12% of output in America, for example — its recent weakness makes many economists nervous about the wider outlook.
Recent data point to the size of the problem. Big jobs cuts have been announced this year by GE, Tata Steel, and Bombardier. In December industrial production fell by 0.7% in Italy, 1.1% in Britain, 1.2% in Germany, and 1.6% in France. In China both the official purchasing managers' index (PMI) of manufacturing activity and that of Caixin, a leading financial magazine, are below 50, the threshold that indicates contraction (see chart, below).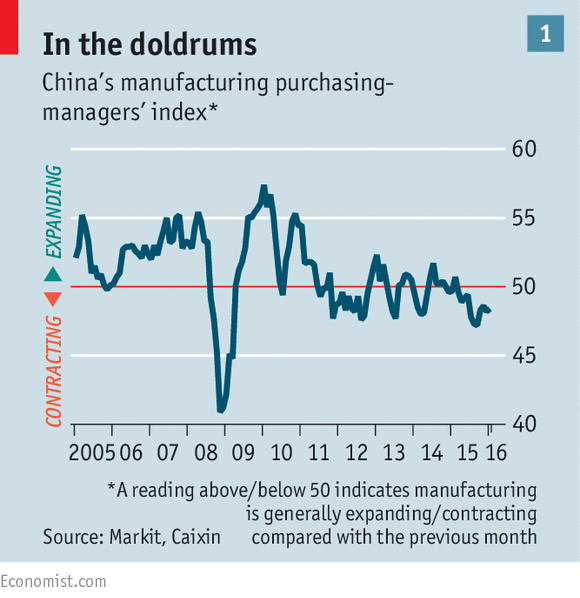 In America, manufacturing output rose by 0.5% in January but only back to its level in October; it has fallen in four of the past six months. The manufacturing PMI, compiled by the Institute for Supply Management, has been below 50 since October. Services-sector PMIs in most countries, by contrast, indicate continued expansion.
A slowdown in Chinese economic growth, as the authorities try to switch from an investment-led to a consumption-led model, is blamed by many manufacturers in the developed world for their problems. The steel industry is suffering from the effect of past Chinese investment, which has led to massive overcapacity and plunging prices. China's demand for raw materials in the first decade of this century also prompted mining companies to step up production, and shipping companies to build more vessels. As Chinese demand has dropped, both industries have taken a pounding. Bloomberg's commodity index has fallen by 28% over the past 12 months. The Baltic Dry index of shipping rates is down by 98% from its peak. The latest data show that Chinese imports, by value, have fallen by 18.8% over the past year.
Yet China itself is suffering from weak global demand; the value of its exports has fallen by 11.2% over the same period, including declines of 10% to America and 12% to the EU. Before the financial crisis, global trade used to grow faster than GDP, now it is lagging behind. The OECD, a club of mostly rich countries, estimates that trade volumes last year grew by just 2%.
The sluggish nature of trade growth has a disproportionate impact on manufacturing. Around 25% of all American manufacturing jobs are linked to trade, compared with just 6% of jobs in services. Even though overall job growth in America has been strong, there were no net gains in manufacturing employment last year. In trade-intensive American industries, Bank of America Merrill Lynch estimates that output was growing at an annual rate of just 0.1% by the end of 2015.
Falling commodity prices also mean that oil and metals producers are not investing in new plant and equipment, which hurts the companies that produce such goods. Exxon Mobil, an oil giant, has announced a 25% cut in its capital-expenditure plans for 2016, for example.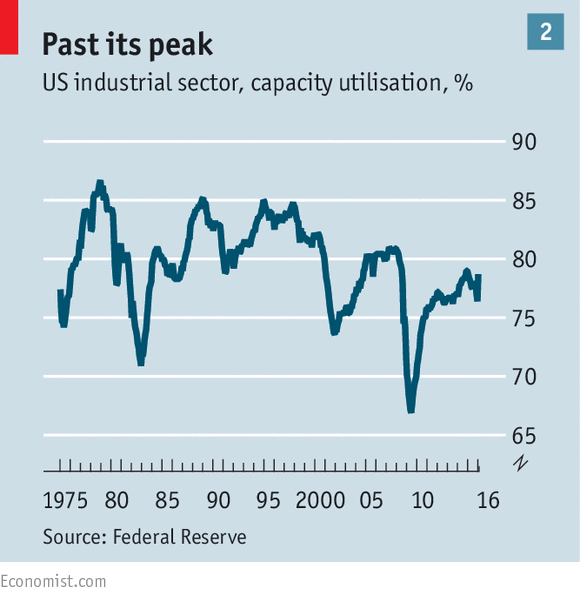 American capacity utilization, a measure of how much productive capacity is not idle, may have peaked at a lower level than in previous cycles (see chart, right). Firms seem to be struggling to sell what they produce: the inventories-to-sales ratio is higher than at any time since the financial crisis. By the time the fourth-quarter reporting season is over, American industrial companies in the S&P 500 are expected to have reported an annual decline of 5.4% in earnings and 7.3% in sales.
The rising dollar is a problem for American firms, as it makes their wares more expensive. On a trade-weighted basis, the greenback is up by 22% since mid-2014. That is painful for companies that make low-margin commoditized goods such as paper or plastics. But currency movements cannot explain the weakness in European manufacturing; the trade-weighted euro has dropped by 11% over the past five years.
The best hope for manufacturers is that this weakness is temporary. Falling commodity prices have had a short-term impact on the energy and materials industries. But in the medium term, lower prices should be good for consumer demand in the developed world, and they will step up their purchases of manufactured goods. Carmakers have already shown that it is possible to buck the trend. Low petrol prices encouraged American car buyers last year, with sales hitting a record 17.6 million.
As for China, recent data may be distorted by the effect of the lunar-new-year holiday. Chinese road freight grew last year; officials have started breaking out consumer-focused industries within its official PMI, and those data still seem robust. In a rare interview published this week by Caixin, Zhou Xiaochuan, the head of China's central bank, dismissed worries on the part of developed-world manufacturers that the Chinese would devalue the yuan to enhance the competitiveness of their exports. He vowed not to pursue a policy of competitive devaluation, and insisted China had more than enough in foreign-exchange reserves to fend off those who were speculating against the currency. His comments sent the beleaguered yuan soaring: it hit its highest level this year on February 15.
For the moment, however, pessimism reigns. Even the shares of carmakers have taken a battering in the early weeks of 2016, underperforming the rest of the market. Global fund managers polled by Bank of America Merrill Lynch now have their lowest weighting in industrial stocks since 2011. Perhaps the much-larger services sector will pull manufacturing out of its rut. But investors are not counting on it.
©The Economist Newspaper Limited, London (February 20, 2016)