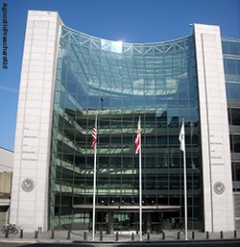 Eighty-one years ago this month, President Franklin D. Roosevelt signed into law the Securities Exchange Act of 1934, which created the Securities and Exchange Commission. The SEC is headed by five commissioners serving five-year terms, with one commissioner designated by the president as chairman. To date, more than 90 people have served as a commissioner. Test your knowledge of these people by taking our quiz:
1. President Roosevelt named prominent businessman Joseph P. Kennedy, father of future president John F. Kennedy, as the SEC's first chairman. Who was the second chairman?
A. George C. Mathews
B. Robert E. Healy
C. James M. Landis
D. Jerome N. Frank
2. Famed for his investigation of the 1929 stock market crash, this commissioner was the subject of a 2010 book, The Hellhound of Wall Street:
A. J.D. Ross
B. Ferdinand Pecora
C. John W. Hanes
D. Leon Henderson
3. Which of these Supreme Court justices previously served as chairman of the SEC?
A. Stanley Forman Reed
B. William O. Douglas
C. William J. Brennan Jr.
D. Robert H. Jackson
4. Appointed by President Jimmy Carter in 1977, this woman was the SEC's first female commissioner:
A. Roberta S. Karmel
B. Barbara S. Thomas
C. Aulana L. Peters
D. Eleanor Holmes Norton
5. Appointed by President Barack Obama in 2009, this woman was the SEC's first female chair:
A. Elisse B. Walter
B. Mary L. Schapiro
C. Mary Jo White
D. Hilda Solis
6. Which SEC chairman went on to become director of the Central Intelligence Agency?
A. William L. Cary
B. William J. Casey
C. Manuel F. Cohen
D. Ray Garrett Jr.
7. Which SEC chairman resigned just 74 days into the job, shortly after admitting that he had lied to a grand jury investigating financier Robert Vesco?
A. Hamer H. Budge
B. G. Bradford Cook
C. Harold M. Williams
D. David S. Ruder
8. This former owner of Roll Call, a Capitol Hill newspaper, was the SEC's longest-serving chairman, holding the position for seven and a half years:
A. Richard Breeden
B. John Shad
C. Arthur Levitt
D. Roderick M. Hills
Source: Securities and Exchange Commission
---
Answers: 1–C; 2–B; 3–B; 4–A; 5–B; 6–B; 7–B; 8–C