Smartphone manufacturer Blackberry is acquiring WatchDox Ltd., a file-sync-and-share (EFSS) platform that is popular among banks, government agencies, and Hollywood studios, in a move to strengthen its growing portfolio of mobile security services.
Terms of the deal were not disclosed but Israel's Geek Time said Blackberry had agreed to pay $150 million for WatchDox, which is based in Palo Alto, California, and has a research and development center in Israel. Geek Time described WatchDox as "Dropbox with an extra layer of watchfulness."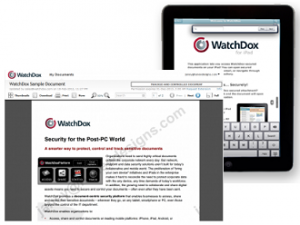 The deal continues Blackberry's evolution from making mobile devices to providing mobile software and security solutions. It also recently announced a security partnership with Samsung, acquired Secusmart, and made an investment in NantHealth, a healthcare IT provider.
"This acquisition represents another key step forward as we transition BlackBerry into the premier platform for secure mobile communications software and applications, supporting all devices and operating systems," Blackberry CEO John Chen said in a news release.
With the addition of WatchDox, he added, "we now have capabilities to secure communications end to end from voice, text, messaging, data, and now enterprise file-sync-and-share."
WatchDox was founded in 2008 as Confidela and has raised nearly $36 million from investors including Blackstone Group and Gemini Israel Ventures. According to Geek Time, the platform "has gained traction with governments and banks, enterprises that need an extra level of security in the cloud." WatchDox claims its customers include most of the major Hollywood studios.
Forbes noted that while Blackberry is pushing ahead with its hardware business, recently announcing the global rollout of the BlackBerry Leap, "it's betting hard on software as a second revenue stream that will help it serve users on other platforms apart from its own."
Although it faces competition from, among others, Microsoft and Okta, "With focused research and development and good acquisitions, BlackBerry has as good a chance as any at becoming the next-generation security platform for the mobile cloud world," Forbes said.