If you're in charge of the finance function for a growing professional services firm, it may well be time to get out of the back office and onto the front lines.
That's one of the main themes we found emerging from a recent survey of professional services companies — including accounting firms, law offices, banks, consultancies, and architecture and engineering firms. In a climate in which the old model of principals and partners making commercial decisions for a firm is giving way to the corporate management model, CFOs, it appears, have an opportunity to make meaningful strategic contributions.
The survey, conducted by CFO Research in collaboration with UPS, received 161 responses from finance officers in professional services organizations. (Titled "The Front-Line Finance Officer," the full report can be downloaded from CFO.com/Research.)
Two-thirds of the companies in the survey had revenues under $500 million, placing them squarely in the pool of ambitious midsize professional services firms looking to expand. In fact, three-quarters of the finance executives report that their companies' revenues have surged over the past five years, and 83% say that the number of client engagements they take on every year has also risen. About 30% of the respondents characterize both their revenues and their engagements as "much higher" than five years ago.
For many companies, growth is a direct result of the increasing trend toward consolidation that the professional services sector has seen in recent years. Thirty-seven percent (37%) of the finance executives in the survey say that their companies are larger today than five years ago due to merger activity.
With midsize professional services firms busier than ever, more demands are being placed on the partners and professional staff who drive revenue growth. They simply are expected to do more themselves. To meet the challenges of increasing competition and uncertain markets, many finance executives in the survey point to the "need to become a leaner organization, with less overhead and more dollars allocated to front-line activities," as a director of finance from the banking industry writes.
The desire for rapid growth means the task for a mid-size professional services firm now is "maximizing volume on thinner profit margins," according to a CFO from the financial services sector. To accomplish that, according to eight out of ten respondents, firms have taken on increasing numbers of professional staff. However, staffing for administrative support hasn't necessarily kept pace with business expansion — 43% say that the ratio of support staff to professional staff has decreased over the past five years.
Seven out of ten respondents feel that their companies would benefit from reducing the amount of time professionals spend on administrative tasks, rather than increasing it. The people most directly responsible for generating revenue need to be able to direct their time and attention to that end.
New Roles, New Skills
All of the above means that finance officers at professional services firms are uncovering more opportunities than ever before to become directly involved with the success of their businesses. The survey results point to the increasing value companies place on the ability to work collaboratively on engagements and on strategy, drawing on the varied strengths of different team members.
In fact, only one in five companies in the survey (19%) still rely exclusively on individual principals, partners, or practice leaders to make the commercial decisions at their companies. Almost six in ten operate using a "corporate" model, with executive or senior management teams, instead of individuals, taking responsibility for financial performance. The remainder (23%) combine the two management practices and strike a balance between individual partners and corporate executives.
In this environment, survey respondents say that their firms need their finance leaders to step up to the plate and become both more strategic and more collaborative. Finance officers need to work more with the business leaders at their firms to act as catalysts for change, helping their companies and the professional staff adapt to new demands and new opportunities.
Currently, however, fewer than half of the respondents to the survey (39%) view the senior finance officer at their company (themselves or someone else) primarily as a strategist — a person who analyzes and interprets financial data to guide decision making. Almost as many respondents (31%) report that they or their finance leader still function primarily as the steward of the company's finances — overseeing assets, directing risk-management efforts, and making sure the company meets its compliance obligations. (See Figure 1, below.)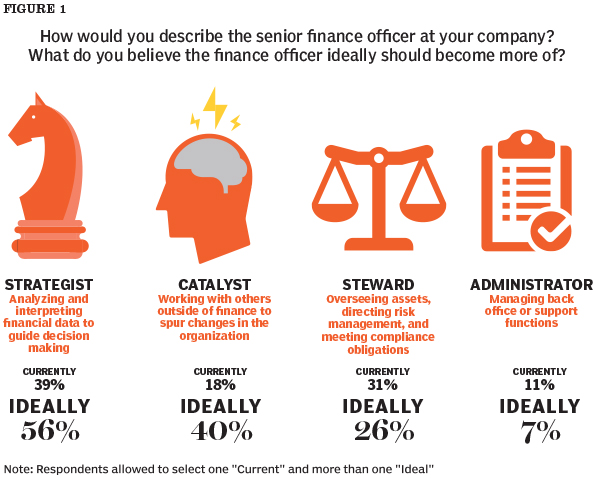 In many firms, finance teams want their leaders to be more actively engaged in company strategy and in working outside of their functional silos. Regardless of the finance officer's current role, a majority of respondents (56%) want the finance leader to become more of a strategist. In addition, 40% believe the senior finance officer should act more as a catalyst to growth, working with others in the organization to spur change.
These kinds of changes are trickling down to finance teams themselves, which also are seeing increasing demands to focus their expertise on higher-value activities. Survey respondents report that their companies' finance functions split their time evenly between financial analysis to support business development and growth (26% of the finance function's time) and transactional and administrative tasks (27% of its time). On average, however, finance executives believe their teams need to be spending more time on financial analysis (36% of their time) and less on routine transactional and administrative tasks (17% of their time).
Changing Times
With traditional partnership models giving way to more collaborative decision-making cultures, many finance officers in professional services find that they need to adapt, as well. As a director of finance from the insurance industry writes, the most important thing these days is to "move with the times. Don't stay put in one place. We need to always be changing."
To become an integral part of the decision-making team, many finance officers have been actively transforming both their job descriptions and their colleagues' perceptions of the value they deliver. To be successful in this environment, writes one CFO in the survey, "The finance officer must be flexible." He or she needs to "get out of the office and meet clients to understand their needs."
Importantly, finance officers need to "do the same with staff" — both to get to know the business better, and to be more visible to the business partners they will need to work with. A CFO in financial services says that the senior finance officer must "know the business from the ground up," while a CFO from a legal services firm insists that value comes from maintaining "business focus, business focus, business focus."
More and more, finance officers at professional services firms are following this path to elevate themselves to become key members of leadership teams.