Bankrate, an online publisher of consumer financial information, revealed Monday that it's under investigation by the Securities and Exchange Commission for potentially improper accounting of more than $1.5 million of accruals and expenses during 2012, Reuters reported.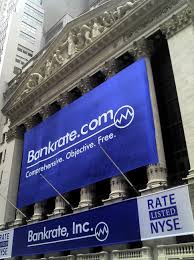 The company also said that CFO Edward DiMaria had stepped down from his post but would continue on as senior vice president. He's been replaced on an interim basis by Steven Barnhart, who previously served as CFO of Sears Hometown and Outlet Stores.
After Bankrate made these admissions, its stock price tumbled 23% to a 20-month low, according to Reuters.
One analyst told the news service he was confident the company would be cleared of wrongdoing. "While anything is possible, we would be surprised if the SEC investigation announced this morning reveals any 'smoking gun' accounting malfeasance," Andrew Jeffrey of SunTrust Robinson Humphrey was quoted as saying.
According to Bankrate, of particular interest to the SEC are "three accruals of revenue totaling about $781,000 and two adjustments to reduce accrued expenses totaling about $850,000." The agency was investigating whether these entries, which allegedly were made for the quarters ending March 31 and June 30, 2012, may have improperly affected reported results.
Because of the probes, Bankrate says its financial reporting for the fiscal period of 2011-2013 "should not be relied upon, pending the conclusion of an internal review."
The company, which runs websites such as Bankrate.com and CreditCards.com, was launched in 1993 and went public in 2011.
Source: Bankrate reveals SEC probe, says CFO resigns
Image: David Shankbone, CC BY 3.0