It is a huge investment class: a $2.8 trillion one, to be exact. And it had long been thought of as a mundane one, just a notch more adventurous than a current account. Yet writing new rules for America's money-market funds, which invest in short-term commercial and government debt, has been "one of the most flawed and controversial" deliberations ever undertaken by the Securities and Exchange Commission, according to Luis Aguilar, the only one of the five commissioners in office throughout the process.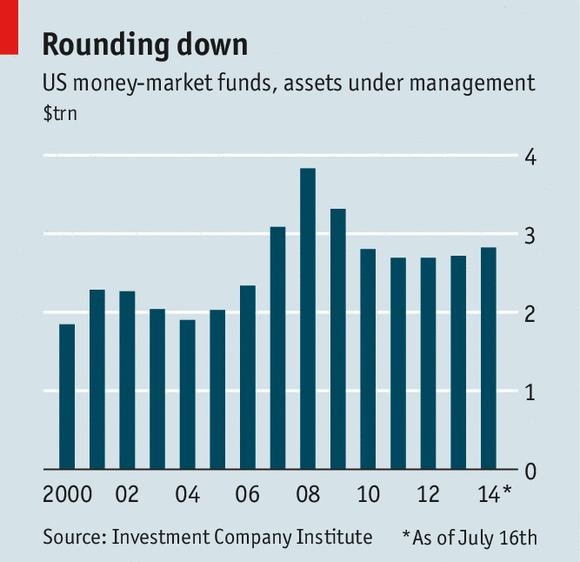 By a 3-2 vote on July 23, the SEC at last approved two big changes. The first allowed funds to impose fees on redemptions or suspend them for up to 10 days to prevent runs. The second requires that the most volatile funds, which cater to institutions and invest in corporate debt, disclose the value of a share to a fraction of a penny.
The second change is more important than it sounds. By convention, money-market funds are priced at a steady dollar a share; changes in value are reflected only in the interest they pay. Variations in the value of the underlying assets are small because they mature in a matter of days, but they do occur. In the past, that has been hidden by tiny amounts of rounding. Though this ruse will now be banned for some funds, those that cater to individual investors will still be allowed to use it.
That matters, since the fixed value contributed to the impression that money-market funds offered the safety of bank deposits with higher returns. In September 2008 that notion was punctured when the Reserve Fund, which had a little over 1% of its assets invested in debt issued by Lehman Brothers, was forced by the investment bank's collapse to "break the buck": reveal a decline in the value of its shares to slightly less than $1. That sparked panicked redemptions at it and other funds.
The panic, in turn, crunched credit for firms that relied on short-term debt and fanned fears of a systemic meltdown. In response, the Treasury provided temporary guarantees for money-market funds, now lapsed. In 2010 and again in 2012 the SEC tightened restrictions on the kinds of securities funds could buy. But it rejected a plan to require funds to hold buffers of capital like banks, for fear it would further dent a battered business (see chart).
Mary Jo White, the SEC's chairwoman, says the new rules will "protect investors and the financial system in a crisis." But the two dissenting commissioners fear they may do more harm than good. Allowing funds to suspend redemptions may actually spark runs, as investors rush to pre-empt any curbs, argues one of them.
The other worries that the changes will divert the gullible to even more misleading investments, notably "stable value" funds. These cater to much the same niche as money-market funds and, despite their name, offer no guarantees. Rather than trying to protect investors from risk, the SEC might do better to ensure that the risks they are running are clearly disclosed.
© The Economist Newspaper Limited, London (July 26, 2014)