Three years ago, Mother Nature struck Asia with a savage one-two punch: a devastating earthquake and tsunami in northeastern Japan, followed a few months later by catastrophic flooding in Thailand. The deadly disasters had a ripple effect on American supply chains, disrupting the flow of components from Japanese and Thai suppliers, particularly in the automobile and electronics industries. That, in turn, delivered an expensive blow to the U.S. insurance industry, via its provision of contingent business interruption coverage.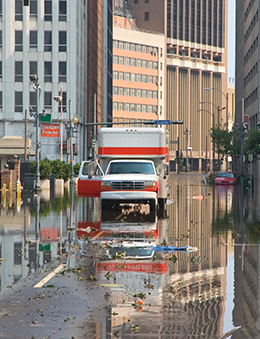 "The insurance industry saw significant losses from both of those events," says Paul Richardson, executive vice president at insurance broker Willis Group. Contingent business interruption insurance, he says, "was a coverage [insurers] had provided on unknown exposures with fairly significant limits, and they were unaware of just how far those supply lines had stretched." Overall, 2011 was the second-worst year in the insurance industry for natural catastrophes, notes Richardson.
Whereas business interruption insurance covers lost profits and continuing expenses as a result of physical damage to a policyholder's own facilities, contingent business interruption insurance covers such losses stemming from damage to the premises of a supplier or customer. Large companies typically have both types of insurance as part of their property insurance policies; smaller companies may not have the contingent business interruption extension.
[contextly_sidebar id="94084f6c437a3bd545a413445c385431″]As supply chains have grown more complex, contingent business interruption insurance has become more important. Companies continue to outsource and offshore operations, source materials from overseas, and use just-in-time practices to remove the slack from their supply chains. As a result, "the ripple effect can be quite significant" anytime there's an incident or disruption that affects supply chains, says Duncan Ellis, U.S. property practice leader at insurance brokerage Marsh.
But in the wake of the 2011 disasters, which revealed how concentrated supply chain risk has become in some industries — scores of U.S. manufacturers relied on the same handful of suppliers — insurers reined in their contingent business interruption coverage. "They reduced the limits, and in many cases they further restricted coverage for natural catastrophes," says Richardson. "When it comes to earthquake or flood, they have made the limits much smaller, or even excluded [the coverage] outright without more information." Generally, he says, "we're seeing limits of, say, half a million dollars to $25 million per carrier, compared with several million dollars to upward of $50 million a few years ago."
Today, notes Ellis, "if a company wants higher limits, insurers will demand to know why, and who the suppliers are who are driving that need."
Where Coverage Starts And Stops
Like business interruption insurance, the contingent variety covers only the perils named in a company's property policy. "Where that gets interesting is in the case of flood," says Allen Melton, partner and Americas Leader of Ernst & Young's Insurance Claims Services Practice. "Many times we've found that clients do not have property coverage for flood, and therefore their contingent business insurance may not be triggered if a customer or supplier is flooded from an event like Superstorm Sandy."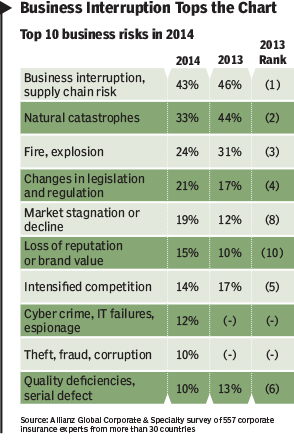 Even companies with flood coverage were caught off-guard by the Thailand flooding in many cases, experts say, since their losses exceeded the limits of their contingent business interruption policies.
Understanding where contingent business interruption coverage starts and stops is key, says Melton. For example, a company may purchase coverage extensions for its business interruption insurance, such as service interruptions caused by a lack of power. "Where this gets tricky is, do those coverage extensions bootstrap and apply to the contingent business interruption portion of the policy?" says Melton. He notes that in the wake of Sandy, a widespread lack of power stopped suppliers from delivering product up the supply chain for an extended period of time. "Many times that was not covered under a contingent business interruption policy, because those coverage extensions did not extend to the [policy] wording," says Melton.
Contingent business interruption insurance may cover a company's direct and indirect suppliers and customers, or just the direct ones. The difference can be expensive. Melton recalls a company that was unable to receive a key product from a supplier in the wake of Hurricane Gustav in 2008. The supplier did not sustain any physical damage, but flooding shut down a major rail yard and prevented the rail carrier from delivering the product.
"The company found out the hard way that they didn't have a direct contract for freight with the rail carrier," says Melton. "They only had direct contingent business insurance coverage, not indirect coverage, so their losses were not triggered under the policy." Other companies learned similar lessons in the wake of the Japanese earthquake, when they realized that their insurance did not extend to their supplier's suppliers — for example, in the case of an electronic component, the upstream vendors that provided the constituent parts of the component.
Exposing Exposures
Such unpleasant surprises point to the need for companies to review their supply chains and business-continuity planning in tandem with their insurance coverage. "It's not enough to say that you have contingent business interruption coverage," warns Melton. "You have to understand how your supply chain squares with that exact coverage."
Experts recommend that companies conduct business-continuity exercises to identify vulnerabilities in their supply chains and ascertain whether they have adequate policy limits for those vulnerabilities. "What are the exposures to your business operations from third-party suppliers or customers?" asks Richardson. A company's exposure will be more significant in cases where a supplier provides a unique material or component designed specifically for its product, as is common in the electronics, automobile, and pharmaceutical industries, he says.
Companies should gain a clear understanding of who their suppliers are and what they provide. "This isn't just an issue for the Fortune 2000," says Richardson. "Any public company should already be going through this exercise in some format."
If the loss of a particular supplier would result in a major disruption, consider building in redundancy, advises Melton — adding a backup supplier or raising inventory levels, for example. Even if a company has a backup, though, it may want to raise its contingent business interruption limits for a critical supplier, since the backup would need time to get up to speed.
"No one wants to buy more insurance than what they need," comments Marsh's Ellis, "but I don't think many people know what they really need." Where exposures are significant, he says, it's worth paying a little to more to push up limits — "not into the stratosphere, but to give you a little bit of a buffer, and a little more peace of mind."
The more information a company provides about its suppliers and key customers — naming them and specifying the location of their production facilities — the more likely it will receive higher limits from underwriters. As part of their supply chain risk management, many companies are also qualifying their suppliers, making sure they have a resilient operation, says Richardson. And if the suppliers have suppliers, companies are looking at those firms as well.
"Get that information and share it with underwriters as much as possible," advises Richardson. If a company supplies the right data and has a strong supply chain risk management philosophy, "then the markets can respond with significantly more coverage."
It's Complicated
Contingent business interruption claims are complex and challenging, says Melton. As with business interruption claims, a company needs to document how much profit it lost as a result of the interruption. But it also needs to demonstrate how operations were interrupted at the supplier (or customer), which may or may not be forthcoming about its own loss. Consequently, "the level of information that insurers like to see — to understand how long the supplier might be down — might not be readily accessible," says Melton.
In general, business interruption insurance claims (contingent or not) "can get very prickly," says Ellis. "It's very clear when you're manufacturing a product — you lost five days of production." But it can be murkier when other types of businesses are involved, such as retailers or financial services companies. For example, say a hurricane damages two stores of a chain, forcing them to shut down for repairs. "But at the same time the sales of the chain's undamaged stores in the area go through the roof," says Ellis. "The chain can't claim a loss of profits without netting out the additional profits it made as a result of the hurricane. That's why it gets prickly."
Finally, what happens when a company's supply chain is disrupted by sources that cause no physical damage — a strike that shuts down a port, or ash from a volcanic eruption that grounds flights? Such interruptions aren't covered under standard contingent business interruption coverage. However, insurers are beginning to offer stand-alone supply-chain products to clients with nonphysical loss and damage exposures, says Ellis. "We've seen some interest in these," he says.
---
Edward Teach is editor-in-chief of CFO.