For a group that heads up finance in a sector that needed the biggest government bailout in U.S. history five years ago, CFOs of commercial banks and thrifts were paid handsomely last year.
Median CFO total compensation at banks and thrifts rose to $291,384 in 2012, up more than 34 percent from $216,734 in 2011, banking data provider SNL Financial disclosed Wednesday (see chart). It was the fourth consecutive yearly compensation boost for the sector's CFOs. While those numbers include the pay for CFOs at some very small financial institutions, they also take in the large pay packages of finance chiefs at some of the world's biggest banks.
The highest paid U.S. bank or thrift CFO was Bruce Thompson of Bank of America, whose total compensation was $11.4 million, including $850,000 in base salary, a $4.1 million bonus and stock awards of $6.2 million. He was followed by Douglas Braunstein of JP Morgan Chase, at $10.5 million; Timothy Sloan of Wells Fargo, $9 million; John Gerspach of Citigroup, $8.6 million; and State Street's Edward Resch, at $8.5 million. Braunstein moved out of the CFO role at JPM at the end of 2012, and Resch stepped down from State Street last August.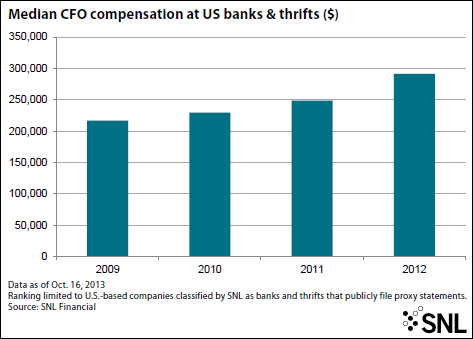 The compensation of the top banking CFOs pales in comparison with the best-paid CFOs in the S&P 500, however. For example, Google's Patrick Pichette's 2012 pay package was valued at $38.7 million.
The moderate pay increase for banking CFOs was on par with other industries, according to numbers reported by CFO last July. But relative to companies in other industries with similar market caps, banking companies are paying their CFOs more, George Paulin, CEO of Frederic W. Cook & Co., told SNL.
Paulin cited two reasons: (1) regulatory pressures affecting banks' line of business, which makes balancing business strategy and risk management a tough job; and (2) upward salary pressure from investment bankers and traders, who often make more than CFOs but whose pay tends to drive up the finance chief's compensation.
As in other industries, banking companies have been reducing the use of stock options in executive pay and replacing them with restricted stock. Restricted stock usually requires the employee to stay on the job for a certain length of time. Wells Fargo CFO Sloan, for example, has restricted stock awards that will vest in the first quarter of 2015, but only if the company meets three-year performance targets.
Pre-crisis perks for bank CFOs, like personal use of corporate aircraft and apartments, and supplemental retirement benefits, are pretty much gone, according to Paulin, although bank CFOs in big cities often have access to a car and driver.
Rounding out the top 10 highest paid bank or thrift CFOs, according to SNL Financial, were Gary Perlin, former CFO of Capital One; Andrew Cecere, U.S. Bancorp; Thomas Gibbons, Bank of New York Mellon; John Fields Jr., Oritani Financial; and Brian Lilly, National Bank Holdings.
SNL's calculation of total compensation comprises base salary; bonus; non-equity incentive plan compensation; option awards; stock awards; change in pension value; non-qualified deferred compensation; and perks and other compensation.