Confronted with shrinking revenue during the Great Recession, many U.S. companies made what seemed to be lasting improvements in their management of working capital. But today it appears that the improvements were simply a short-term fix.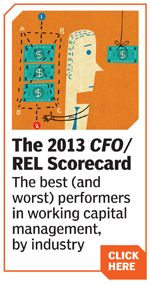 That conclusion can be drawn from the findings of the latest working capital survey by REL Consulting. For the second straight year, REL's annual survey of 1,000 large public U.S. companies reveals a pronounced lack of sustained working capital improvement.
"There was not enough empirical evidence in 2012 to unequivocally state that companies were taking longer to convert operating cash flow into revenues, meaning they were taking longer to convert sales into cash," says Dan Ginsberg, associate principal at REL, a division of The Hackett Group. "Two years in a row of this indicates an unfortunate trend." Approximately $1.1 trillion is now tied up in excess working capital at the companies examined, says Ginsberg.
In addition to this deterioration in cash conversion efficiency, total net working capital among the REL 1000 increased by 6% year-over-year and 25% during the past three years. While overall revenue increased in 2012, as did the net working capital supporting this increased revenue, profitability (measured as earnings before interest and tax margin) decreased by 3% over the year.
"Companies are requiring more working capital to generate an incremental dollar of revenue, which should concern CFOs," says Ginsberg. "Back during the recession the focus was on cash and working capital. Now it no longer seems to be a priority."
The bottom line: Companies are using working capital less effectively to generate sales, earning 9 cents less revenue per dollar of working capital spent in 2012, compared with 2011. But there are exceptions. Major corporations like Masco, Honeywell International, Fortune Brands Home & Security and Armstrong World Industries have made big strides in working capital performance, sustaining improvements three years running that have boosted their top lines. (The 2013 CFO/REL Working Capital Scorecard shows the best and worst corporate performers in 22 industries.)
"The recession taught us to keep as much cash in the business as we can," says E. Lee Wyatt, senior vice president and CFO of Fortune Brands Home & Security, a $3.6 billion (in 2012 revenues) maker of branded home and security products. "We invested this money in the business, and our sales grew by double digits. We became so good at measuring and monitoring working capital efficiency that we've maintained a very strong grasp of it, and have made it a part of our incentive compensation." (See "Skin in the Game" at the end of this article.)
Working Capital Is So Yesterday
But most of the REL 1000 is steadily dropping in working capital efficiency. Why? Beyond the obvious answer of sloppy operations, Ginsberg blames an intense focus on revenue generation in the reviving economy. "Working capital is deteriorating among cyclical industries like auto manufacturers, biotech companies, specialty retail and consumer packaged goods — companies whose stock is highly correlated to the economy — because they're putting their money toward growth," says Ginsberg.
REL associate principal Michael Rellihan agrees, noting that the cyclical companies were stalled from making capital investments during the economic downturn. "They're hot coming out of the recession now and are eager to invest in international expansion, some M&A, new-product development, marketing initiatives and dividend payments to shareholders," he says. "While working capital might deteriorate a bit to accomplish these objectives, it has weakened too much."
Some of the capital invested in growth initiatives has been derived from debt. The ratio of operating cash flow to debt decreased by 5% from 2011 to 2012 and by 2% from 2010. "Companies are not getting enough cash from operations to pay down debt," says Prathima Iddamsetty, an REL senior manager.
Many companies are leveraging today's lower-cost debt to pay down older debt with coupons in the 5%–10% range, notes Iddamsetty. "If that continues and debt becomes more expensive, they won't have the operational efficiency to pay it down at some point," she says. "It's a problem now when debt is cheap, and is sure to only get worse."
The availability of inexpensive debt has enabled companies to add still more to their cash hoards, even after years of tucking money under the mattress. "Cash on hand went up 70 basis points [in 2012] and remains at historically high levels," Ginsberg points out. He ascribes this to debt levels that have risen 10% year-over-year among the REL 1000. "This money is going into expenditures like international expansion, dividends payments and internal ERP systems," Ginsberg says. "Dividend payments alone are up 16% year-over-year, and have increased a whopping 49% over three years, with shareholders saying they want more."
The irony is that superior working capital management doesn't have to conflict with the objective of growing revenue. "Imagine the powerful message of saying to shareholders and analysts, 'We grew revenue and stole market share — and by the way, we also improved cash flow, keeping the organization lean and driving costs down," Rellihan says. "If only more companies could say that."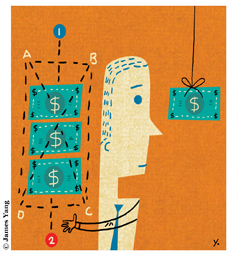 The Chief Culprit: Inventory
The largest area of working capital opportunity is inventory, which accounts for 43% of the $1.1 trillion in excess working capital. Since 2009, excess inventory in the REL 1000 has increased by $117 billion, or 34%. While the opportunity difference between the upper-quartile and median performers with regard to days sales outstanding (DSO) and days payables outstanding (DPO) increased year-over-year by 16% and 8% respectively, it jumped 35% for days inventory outstanding (DIO), "showing that inventory is the area that most companies are struggling to get better at," Iddamsetty says.
Why is inventory the chief culprit in deteriorating working capital performance? Rellihan chalks it up to the supply chain's inherent complexity — its many moving parts by comparison with the relatively simple levers for DPO and DSO.
"You can make nimble adjustments to working capital by pushing suppliers for longer payment terms, and contacting clients to make sure they received your invoice to pay on time," says Rellihan. "But with inventory, there is a lot of ambiguity around forecasting demand. Companies struggle to manage inventory to actual customer requirements."
This internal struggle intensifies when a company anticipates higher sales, which in turn may pressure managers to increase safety stock. "Sales and marketing want a lot of inventory to provide high service levels to customers," Rellihan says. "Operations, which is trying to manage inventory, ends up butting heads with sales, which wants a bunch of product on the shelf. It's tough to get alignment."
Iddamsetty argues that DIO, despite its moving parts, can be improved by developing metrics and, most important, sticking to them. "You can measure the demand volume and profitability of different products sold to determine if it makes operational sense to continue making them at the same volume," she explains. "Few companies do this, however."
Nevertheless, the consultants concede that inventory is a tough nut to crack. "Companies generally believe there is less low-hanging fruit in inventory or immediate actions they can take to improve DIO, and of course they're very sensitive to anything that would potentially negatively impact either customer service levels or market share," says Rellihan.
With payables, of course, a company can move terms from 45 days to 60 days and send letters to suppliers to this effect. They can also toss in a promise to always pay on time to entice suppliers. With receivables, a company can negotiate with its customers to get paid early, moving terms from 60 days to 45 days. But with inventory, "what you do in one area of the supply chain can have a negative impact elsewhere in the chain," Rellihan says.
REL's survey does not assess the effect of higher inventory on customer-service levels, which could shed light on inventory practices. "If we could show that an organization is incurring high inventory to grow revenue, and is not having a corresponding increase in customer-service levels, then we could clearly prove that it has the wrong inventory at the wrong place," says Rellihan. "Companies obviously are having a difficult time making this correlation, which we can see in terms of inventory obsolescence and write-offs."
Regarding days sales outstanding and days payables outstanding, the situation is a bit better, but there are still challenges. The DSO and DPO opportunities have risen significantly since 2008. DSO rose by over 5% to reach $318 billion in 2012, while DPO rose by over 50%, reaching $285 billion in 2012, according to REL.
Looking at the big picture, the key to improving working capital efficiency is getting a company "to operate as one," says Ginsberg. This takes someone to insist on cohesion. That someone, of course, should be the CFO.
Russ Banham is a contributing editor at CFO.
---
Skin in the Game
Looking to improve working capital management? According to several top performers in the REL 1000, one way to achieve greater success is to hold employees' feet to the fire — by creating specific metrics with regard to working capital and its constituent elements, then tying these measures to bonus compensation.
"We partnered with our supply chain organization and operations internally and said, 'This is a vitally important metric — we need to measure it, review it on a routine basis and link a portion of everyone's compensation to it,'" says John G. Sznewajs, vice president, treasurer and CFO of Masco, a $7.7 billion (in 2012 revenues) manufacturer of home improvement and building products based in Taylor, Mich. "That got things rolling in the right direction."
Roughly 20% of Masco's employees' incentive pay is tied to a working-capital metric. "There's no glamour here, just simple diligent work in terms of grinding out the metric, helping us all pull the rope in the same direction," says Sznewajs. Working capital in 2000 at Masco as a percentage of sales exceeded 24%; today it is closer to 12.5%.
In the past, Fortune Brands Home & Security tied 25% of its operating-company management's incentive compensation to working capital efficiency (average working capital divided by net sales in the immediately preceding 12-month period). "The market in the housing space was falling so rapidly during the recession that we needed to manage cash tightly, and the way to do that was to get employees focused on it," says E. Lee Wyatt, CFO at the Deerfield, Ill.-based manufacturer of branded home and security products.
"We measured working capital efficiency on a monthly basis to ensure we were on track, and then paid 25% of the annual bonus when we met or exceeded the metric," says Wyatt. "Even in years when the market kept declining, we paid the bonus because employees stayed focused on generating cash by hitting their working capital number." The company's WCE in 2008 was 17%; it has since fallen to 14.3%. "Even in this growth cycle, we remain focused on driving it down further," says Wyatt.
Similar success was attained at Armstrong World Industries, a $2.6 billion global manufacturer of floors and ceilings based in Lancaster, Pa. "When I came on board in 2007 after a major corporate transformation, I didn't feel we were working on the right measures," says CFO Tom Mangas. "A lot were good and right, like operating income and cash flow, but there were really no solid, long-term measures of value creation."
Armstrong implemented a return-on-invested-capital metric to drive more holistic top-line and bottom-line performance and improve shareholder-value creation, says Mangas. "This triggered a variety of work streams to improve the elements contributing to ROIC — among them working capital, because it pays dividends in multiple ways," he says.
The company tracks working capital performance at the business-unit level, linking incentive compensation to overall ROIC. "We set stretch goals for working capital and other core metrics each year and then track the performance monthly," Mangas notes. "Other companies may be falling back in their commitment to working capital, but not here." — R.B.
---
Getting It Right
Only 16 companies in the REL 1000 have been able to maintain working capital efficiency in all three areas — days sales outstanding, days inventory outstanding and days payables outstanding — for the past three years without deteriorating by more than 5%. What are they getting right that everyone else seems to be forgetting about?
For one thing, these top performers have championed working capital performance from the top down. "It's a strategic priority for the leadership team of this company," says David J. Anderson, senior vice president and CFO at Honeywell International, a Morristown, N.J.-based provider of commercial and consumer products, engineering services and aerospace systems (2012 revenues: $37.7 billion). "It gets critical attention and focus here, and is routinely reviewed by our CEO and four business-segment presidents and their CFOs." From 2010 to 2012, Honeywell's days working capital was a declining 67, 63 and 62.
Other top performers, such as Masco and Armstrong World Industries, also tout the importance of DWC to overall performance. "We've got six P&L leaders across the world, and we rigorously track their sales, profits and working capital against their different initiatives," says Tom Mangas, CFO at Armstrong World Industries. Like Honeywell, the company recorded a successive three-year decline in DWC:  65, 53 and 51.
According to John G. Sznewajs, vice president, treasurer and CFO of Masco, "monitoring DWC on a regular basis is the only way we can improve it. We're pleased to be considered a top performer, but I believe we can improve further." Masco chalked up an impressive DWC of 50, 45 and 44 the past three years running.
What else do the top performers share in common? They all stick to specific terms with regard to days sales outstanding and days payables outstanding. "Our customer mix and supplier mix are extremely broad, ranging from large home centers to small builders to large wholesalers," says E. Lee Wyatt, CFO at Fortune Brands Home & Security, which achieved DWC of 51, 46 and 46 in the last three years.
"We have been very consistent that if they want to do business with us — no matter who they are — they have to meet our terms and conditions," says Wyatt. "As the CFO, I sign off on this, and if I see any negative movement giving someone extended terms, like a sales guy trying to nail a new account, it isn't going through."
Another shared tactic is the use of technology to shorten time frames. Armstrong World, for example, has moved its customers to ACH payments, a successful effort to bring down DSO. With regard to DPO, it used a bit of psychology to improve the metric.
"We said to vendors that we were going to stretch our payment terms, but they could count on us to pay them on time," CFO Mangas explains. "We were a bit inconsistent in the past as far as meeting our 30-day net payment obligations. But now that we've extended this to 75 days net, we're consistently making good on our promise."
What did Armstrong's suppliers think of the change? "They didn't love it," says Mangas. "But after a tough five years of economic difficulties, it was a concession they were willing to make to sustain their business." — R.B.