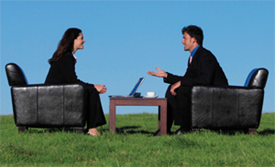 "If people are frustrated with the controller, it's not that the controller isn't working until 8 p.m. or attending to details, it's because he perhaps doesn't communicate well," says Ware Grove, CFO of CBIZ, a finance and accounting advisory affiliated with its public accounting arm Mayer Hoffman McCann. Too often staff accountants, general ledger accountants, and other finance personnel have heard the same criticism.
Communication skills and the ability to "see through the trees" of more mundane finance and accounting tasks to the forest of broad corporate objectives is a characteristic not typically associated with accounting and finance staff, a new CFO.com survey shows. Of the 422 responses from CFOs, controllers and senior finance executives polled in March, almost 60 percent either flagged communication or big picture thinking as the most lacking skills among their staff.
Softer skills, like being able to communicate well, lead their teams and relate to other business units are not just reserved for management anymore. The majority (65 percent) of those finance chiefs and other senior executives polled in the CFO.com survey said they consider thinking strategically to be important at both the higher levels of accounting and finance staffing and at the lower levels.  
If accounting and finance staff don't start thinking more "outside of the box," it could be to the detriment of their units and their firms. Some CFOs are leading the charge in recognizing the other skill sets with training programs, enhanced opportunities to work with different business units and encouraging outside education.  But clearly more work needs to be done— experienced staff still fall down sharply in leadership abilities while new recruits often think they should be the CFO without any of the experience. 
In the following articles, CFO.com investigates what skills are needed most in accounting and finance now and in the years to come. And some of the findings contrast markedly to CFOs abroad.
• Accountants Need to Show Their Softer Side
Almost 60 percent of CFOs, controllers, and senior finance execs said communication skills and the ability to focus on a corporation's goals were lacking among finance and accounting staff, says a new CFO.com survey.
• New Hires: A Skills-and-Demand Balancing Act
A CFO.com survey reveals CFOs and other senior finance and accounting execs are often at odds with Generation Y staffers' expectations on the job. Finding the right mix can help.
• Non-U.S. CFOs Donning Green Eyeshades
The best grounding for new finance professionals with CFO ambitions is "full appreciation of financial and management accounting," new research shows.