Few CFOs can enjoy the process of filing their companies' financials using eXtensible Business Reporting Language, or XBRL. But many have concluded it is a job best done in-house, according to a recent study by Financial Executives Research Foundation. Surveying 416 finance executives from small, midsize, and large companies, FERF found that organizations across the board expect to take greater responsibility for their XBRL filings.
"Usually the trend is to outsource what is not your core competency, whether it's payroll or AP or whatever, but XBRL seems to buck that trend," says Bill Sinnett, senior director of research at FERF and author of the study.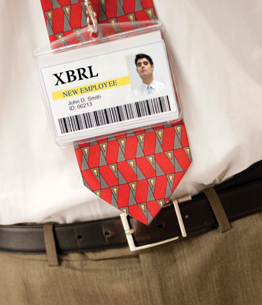 Forty-three percent of large accelerated filers (those that had to comply with XBRL requirements starting in 2009) are not planning to outsource XBRL tagging at all next year, compared with 27% that did not outsource the function in the most recent quarter. Companies of all sizes said they planned to increase both the size of their internal XBRL teams and the level of internal XBRL competency.
The survey showed that companies in every stage of XBRL compliance are hoping to improve on tagging, which was the most-often-mentioned bottleneck in Securities and Exchange Commission filing across all reporting groups in 2012. Among the largest companies, 55% cited XBRL tagging as their greatest difficulty when filing, as did 64% of smaller companies. Respondents cited their internal teams' level of XBRL competency, getting educated on the technology, and the final review process as contributors to the bottleneck.
The Problem with "Pencils Down"
The FERF survey was conducted last October after financial printer RR Donnelley mistakenly released Google's quarterly earnings report before it was scheduled and before it was ready, so the slipup may have affected CFOs' feelings about outsourcing XBRL. But Sinnett suggests that dissatisfaction with outsourced XBRL providers is leading companies to bring the function in-house. In particular, he says, they are unhappy with many providers' "pencils-down" policies, which require them to submit a final version of documents a number of business days prior to a planned filing.
"Many times companies will have last-minute changes they want to make, but if they've already sent the filing to the outsourcer, they can't make that change, or, worst-case scenario, their filing is late," Sinnett says. "If you do the tagging in-house, you can make those last-minute changes."
As with any new and unfamiliar process, it helps to have a helping hand. According to the FERF survey, 52% of all large accelerated filers use an XBRL service or tool to aid them, while 39% also take advantage of training offered by cloud-based software providers such as Rivet and WebFilings.
"XBRL is still somewhat complicated to a lot of companies. It can be scary," says Rivet co-founder Emily Huang. "But if you're letting your printer do the tagging, you're outsourcing your responsibility." The issue is control, she says, and "accountants don't like to give up control."
Eye-Openers
One company that has taken control over the process is Eaton, a Dublin, Ireland-based power-management company with revenues north of $16 billion. Prior to the second quarter of 2011, the company was outsourcing its 10-K and 10-Q tagging to Bowne, which was acquired by RR Donnelley later that year. As the company worked toward XBRL compliance, William Myers, Eaton's vice president of technical accounting and reporting, saw the need for increased control and flexibility over the process.
"Initially, we were tagging only the financial statements, which was easy enough for printers to do," Myers explains. "But over a three-year period, we were going to have to start tagging the footnotes, which is a daunting task." (According to the SEC, filers are required to tag footnotes using four different levels of detail.)
When Myers attended an American Institute of Certified Public Accountants conference in early 2011, he heard talk that printers were becoming overwhelmed by all the tagging. He had noticed that RR Donnelley's turnaround time was slowing. And there were errors.
"There were a couple mistakes that were eye-openers for us," says Myers. Around the same time, he got a call from a WebFilings sales representative. "We knew that the last-tier filers [smaller companies] were coming on in June — that there would be 5,000 registrants coming in and needing tagging for footnotes," he says. Myers felt the time had come to begin using internal resources to complete the process, with the help of WebFilings software.

(Doug Fitzgerald, RR Donnelley's executive vice president of communications, did not respond to inquiries about possible errors in client reports, but acknowledged in an e-mail that there "has been a significant increase in demand for XBRL services due to the completion of the SEC phase-in and the complexities associated with detailed tagging.")
While XBRL tagging does mean more work for finance or accounting departments, Myers believes that after the first year — when there is a lot of training and guidance — the process will be "about 30% cheaper" than outsourcing. He says he hasn't had to add any staff since bringing the process in-house.
Using the software, Eaton avoids a large chunk of the back-and-forth its printer required to revise and complete financial documents. Consequently, a revision that used to take at least a day can now be completed in five minutes. Better still, Myers says he no longer has to deal with the pencils-down policy. "The printers would say they needed one or two days before the filing, but now I can make a change literally within hours," he says.
Still, Myers says he hasn't seen much of a return on investment from XBRL itself, a sentiment echoed in the FERF study. Among smaller reporting companies, 68% reported that the biggest concern regarding XBRL compliance is the cost-benefit question. It was also the biggest worry among 45% of large accelerated filers (the group also ranked potentially receiving a comment letter from the SEC as an equal concern).
"I don't think we've had a whole lot of hits from [XBRL], and from what I've heard, investors aren't using it either," Myers says. "Obviously, we have to comply — and we will to the best of our ability — but as to how meaningful it is, I'm not so sure."