U.S. companies had less cash available in the first quarter, but that wasn't necessarily a bad thing. Why? Because they were spending more cash on capital assets, inventory buildups, and selling, general, and administrative (SG&A) expenses, all potential positive indicators for the U.S. economy.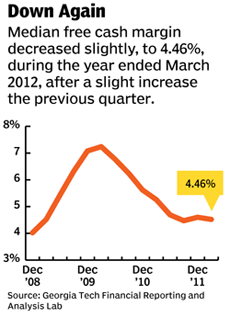 According to a study of more than 2,900 U.S. companies in 44 industries, median free cash margin (average free cash flow as a percentage of revenue) declined in Q1 2012 for the seventh time in eight quarters, reaching 4.46% at the end of the first quarter. That was down from 4.54% in December 2011, says Charles W. Mulford, director of the Georgia Tech Financial Reporting and Analysis Lab and author of the study.
While free cash margin was declining, Mulford says, spending increased on SG&A, rising to 21.3% in the first quarter from 19.84% at the close of 2011. Companies also marginally increased their capital expenditures, to 3.50% from 3.41%.
"These are discretionary expenditures that managers have shown they are willing to cut if business were to slow significantly," says Mulford. "The fact that spending on these items is growing is testament to the continued resilience of the U.S. economy."
Changes in the cash cycle — the time between when a company gets paid and when it puts that cash to work — also contributed to the decrease in free cash margin. Cash cycles for companies in the study rose slightly in the first quarter, to an average of 49.98 days from 49.09 days in the previous quarter. The average number of days that companies held inventory also rose marginally, from 24.62 to 24.69.