Multinational CFOs are increasingly looking to avoid the double taxation that can occur from manufacturing a product in one jurisdiction and selling it in another. Transfer pricing, the movement of goods and services in order to allocate profits, has become a high-ranking concern for finance chiefs of multinational companies, according to a survey by Alvarez & Marsal Taxand.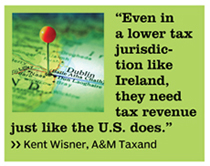 Thirty percent of the 60 large-company senior finance executives surveyed ranked transfer pricing as their greatest risk, just behind global compliance, at 32%. Transfer pricing was also the second-highest risk for the respondents from 158 smaller companies with less than $1 billion in annual revenue, with 20% saying transfer pricing was their greatest risk, compared with 23% who named global compliance.
"Once something goes wrong in the transfer-pricing area, it becomes a huge controversy very quickly, especially if there are two countries involved," says Kent Wisner, managing director of international tax at A&M Taxand. "Even in a lower tax jurisdiction like Ireland, they need tax revenue just like the United States does."
Staying one step ahead of the tax penalties that may accompany trade distortions involving tangible or intangible assets, for example, is a key concern of businesses today. The risks become more pronounced as merger-and-acquisition activity picks up.
Once a physical transfer-pricing structure is in place at a company, however, keeping it operating often becomes less of a burden to financial executives, according to A&M Taxand's survey. Only 7% of the largest-company executives surveyed saw transfer pricing as a burden to their ongoing operations. The survey included responses from more than 300 financial executives, with more than 70% representing smaller companies.