The U.S. Supreme Court's ruling that upheld the constitutionality of virtually the entire Patient Protection and Affordable Care Act will have major repercussions for businesses as they weigh whether to change their employee benefit plans over the next two years.
Many companies expected the court to strike down the individual mandate, a decision that could have unraveled the entire law. But in a 5-4 decision issued on June 28, the court ruled that the mandate, which requires most U.S. citizens to obtain some health coverage if they don't have it, is constitutional because it falls under Congress's taxing powers. The court did strike down part of the law, ruling that states have the option to keep their current Medicaid funding even if they decline to expand their Medicaid programs.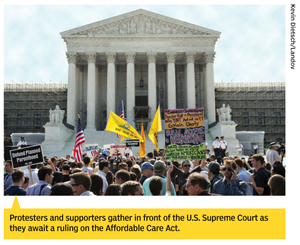 Starting in January 2014, firms with more than 50 employees that forgo providing health insurance to full-time employees will be required to pay a "no coverage" penalty. That per-employee penalty, however, will be less than what virtually all employers currently pay for providing health insurance. Employees that do not receive insurance through their companies may be able to purchase it through federally subsidized insurance exchanges in each state.
While the court's decision creates some certainty for companies, CFOs' initial reaction to the law was largely unfavorable. Some worried that the law opens the door for more federal regulation, which they said is preventing businesses from investing in expansion. They also said the complexity of the law will make it hard to calculate the cost of hiring additional employees as they enter into the budgeting process for 2013.
Despite the ruling, the Affordable Care Act is sure to remain a contentious issue both in Congress and in the upcoming November elections.