For years, nonfinancial companies have put off spending and hoarded cash. Now, for the first time since the financial crisis, they are stepping up their capital expenditures even as they fill their coffers.
The turn of events is good news to one analyst who tracks cash-flow data. "It's the first truly healthy sign since before the recession," says Charles Mulford, a professor of accounting at Georgia Tech and director of the university's Financial Analysis Lab.
Mulford's latest report, an analysis of nearly 3,000 companies in various industries, shows that free cash margin (free cash flow as a percentage of revenue) increased during the fourth quarter of 2011 after six straight quarters of decline. Free cash margin for companies with a market capitalization greater than $50 million rose to 4.54% for the 12 months ended December 2011, up 0.13% from 4.41% in September 2011, according to data supplied by Cash Flow Analytics, a firm where Mulford serves as director of research.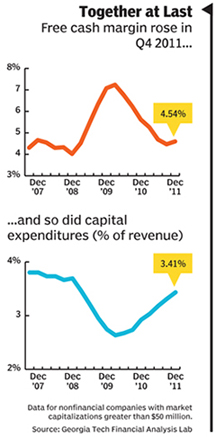 Free cash margin increased in 3 industries, decreased in 10 industries, and was stable in 31 during the December 2011 reporting period, according to the report.
In the midst of the recession, companies cut capex, giving a lift to cash flow. But those cuts stemmed largely from conscious efforts to lower head count and reduce expenses. In the 12 months ended December 2011, however, capital expenditures rose to 3.41%, up from 3.29% recorded in September. Such a convergence of forces has been rare in the past. "This is the first reporting period since before the recession that we've seen increased spending on capital expenditures and increases in inventory [while] no longer seeing a decline in free cash flow margin," Mulford says.
Defense Cash Flows Rise
Defense firms in particular improved their free cash margin performance over the year. Free cash margin for the defense industry rose to 10.14% for the 12 months ended December 2011, up from 5.53% in September 2011 and 4.20% over the 12 months ended Q4 2010. The increase in defense cash flows comes despite an overall reduction in government spending, as the Department of Defense reduced its discretionary base budget by $2.6 billion from 2010 to 2011. "The defense contractors are doing a remarkable job generating cash in the face of a difficult operating environment," Mulford says.
The construction-materials sector and the coal industry, in contrast, had some of the worst free cash margins last year. Free cash margin in December for the construction-materials sector fell by 1.62% from September 2011. The coal industry fared worse, experiencing a 4.99% decline.
Despite the overall bounce in free cash flow, the economy may not be out of the woods just yet, cautions Mulford. "We might see another downturn, but this is the healthiest I've seen it," he says. "Anytime you have an economy that's growing at 2.2%, you're always on the precipice of falling backward. These are positive results for which the CFOs that run these companies should be applauded . . . but you can't let up."