Like most of the health-care industry, nursing-care facilities are often labeled recession-proof. In fact, private nursing homes took something of a hit in sales during the recession, with an average annual drop in sales growth of about 2% from 2007 to 2011, according to data from Sageworks, a financial-information company. Surprisingly, nursing homes still managed to boost profit margins by more than 2% during the same period.
Nursing-care facilities may have been able to boost profit margins because they normally are relatively large operations compared with other elderly-care facilities, says Jesse Slome, executive director of the American Association for Long-Term Care Insurance. "Due to economies of scale, how they're able to bill and what they're able to bill for, and how they can manage staff and expenses, they tend to work lean," Slome says.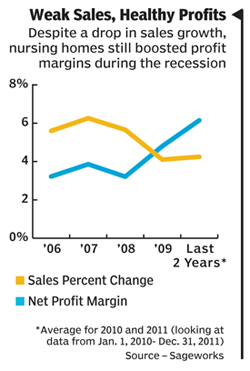 Still, nursing homes are at the mercy of government policy, since most nursing-care residents receive support from Medicare and Medicaid. "It's difficult to draw a conclusion that ours is a sector that's recession-proof," says Greg Crist, vice president of public affairs at the American Health Care Association (AHCA). "Any time you're relying on the government, you're subject to the whims of the policymakers."
To be sure, nursing homes got a temporary shot in the arm when states received additional government funding for Medicaid under the federal stimulus package, the American Recovery and Reinvestment Act of 2009. The stimulus funding expired in 2011.
But the average Medicaid reimbursement shortfall jumped from an estimated $16.54 per patient per day in 2009 to a projected $19.55 in 2011, according to an AHCA report. To make up for the drop in funding, nursing homes must continue to cut costs by dropping staff or putting off inessential tasks like refurbishing the building, Crist says.
With Congress and several states mulling more cuts to both programs, nursing homes may soon see a drop in profits, adds Slome.