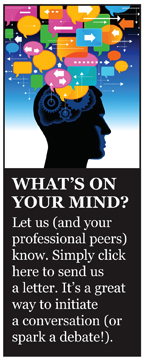 While your article "Who's Out There?" (January/February) was very interesting and detailed, what you've shared are aspects of social media that largely involve either the marketing domain (externally) or that supplant the water-cooler chatter that was common when business units were geophysically compact. From an operations and control perspective, I'd like to know more about how social media is being used to power decision markets that can harness the "wisdom of crowds" to make better resource-allocation decisions and to better mitigate incipient risks.
I've seen social-network solutions being used in hospitals to identify patients about whom stakeholders "had a sense of something imminent," and in investment businesses where social-network chatter is being analyzed for leading indications of gain or risk. A follow-on article that addresses these topics would be welcome.
Nir Kossovsky
Via E-mail
---
Is It Safe?
Russ Banham's article "Where the Money Is, and the Security Isn't" (January/February) provides a real service to small and midsize businesses by making clear that security issues are not limited to big business, and by providing very useful, cost-effective tips for mitigation of [data] risk.
Even apart from the threat of litigation, it is in companies' economic interest to secure their information in order to avoid operational disruption; imagine the consequences if a file containing customer lists, receivables, or unbilled transactions information is corrupted or erased. However, one key consideration that also needs to be mentioned is that many of the steps enumerated in the article are not merely good business, they are legally required. For example, Mr. Banham makes the point that "it's not smart to store unneeded data; erase it." He is correct, but there is also a Federal Trade Commission regulation known as the Disposal Rule that requires such action of many financially oriented firms.
Other FTC rules, such as the Safeguards Rule and the Red Flags Rule, also require many, if not most, companies to take affirmative steps to secure customer information, especially that which is most likely to facilitate identity theft. Similarly, there is a good deal of pending legislation in Congress that would require companies to take various steps to shore up security, and provide incentives for them to do so.
The points made by Mr. Banham not only should be heeded by your readers, they must be heeded. Those readers needing a legal rationale to prompt their companies to take action should consult with experienced IT counsel, but all firms should be pursuing the matter.
Marty Robins, Esq.
Partner
FSB FisherBroyles LLP
Chicago
---
Exciting Times
There are so many great solutions out there that allow businesses the opportunity to manage accounting activities electronically ("Mail Crawl," Topline, January/February). In some cases, solutions will even offer an integration with accounting platforms (QuickBooks, Peachtree, and so on) and provide additional features to manage workflow and cash flow. Thanks for the great reminder. It is certainly an exciting time to be in the accounting profession.
Diana Murray
Director of Business Development
ASAP Accounting and Payroll Services
Telluride, Colorado
---
The Value of Patents
Regarding "Putting a Price on Patents" (December 2011), in an increasingly knowledge-oriented world companies should integrate into their strategy ways and means to not only constantly identify and unlock value from their patents and other intellectual property, but also make their patent portfolios a significant competitive advantage.
Chandrasekar Venkataraman
Via E-mail
Great advice on patent portfolios, but your readers should know that the 80% of corporate value that is generated by intangible capital includes many knowledge assets, not just intellectual property. This 80% number should be a rallying cry for CPAs. It represents an enormous information gap that they can and should seek to close.
Mary Adams
Via E-mail
---
We Take Care of Our Own
While it makes sense for finance and IT to work closely together, we have seen the challenges that David Rosenbaum reported on in "CFOs and CIOs: Can We Talk?" (December 2011). Finance and IT are often separated by a language barrier, with finance speaking the language of assets, liabilities, and equity, and IT speaking the language of bits and bytes.
We've also seen best-practice examples in which finance and IT collaborate effectively, sharing the common language of business. In these cases, both parties view IT from a strategic business perspective, identifying ways technology can be applied to gather information, solve corporate problems, and promote growth. CIOs are valued partners to CFOs, helping them get the insight they need out of their core operational systems.
As both finance and IT departments look beyond their discrete areas of expertise and focus on the larger goals of their organizations, they can create a powerful combination and deliver strong competitive advantage.
Steve Pugh
Chief Executive Officer
UNIT4 CODA Inc.
Manchester, New Hampshire
Editor's Note: For a related look at this topic, see "So, You're the Boss of the CIO. Now What?"
---
Know Whom You're Hiring
The issue of independent contractors has been a major problem for several years, and the solution is simple ("A Loss of Independents?" December 2011): before you 1099 someone as an "independent contractor," you should be required to obtain a copy of that person's business license, insurance, and so on, and have it on file before giving that person any work. After all, someone cannot be an "independent contractor" if he or she is not already a "contractor," right? It should be mandatory for anyone paid as an independent contractor to actually be a self-employed person.
Steve LaCroix
Via E-mail
---
Energy for CFOs
"Power Down" (December 2011) was a nicely balanced article, but one point should be made more explicit: having the ability to curtail energy (or "shed load") suggests an overall operational inefficiency. Companies that make their operations more efficient have less load to shed, but reap the rewards of lower energy usage every day of the year, not just during a demand-response event.
Keep the energy-management articles coming — there is a lot more to this topic that should be of interest to CFOs.
Dan Mees
Vice President of Corporate Communications
World Energy Solutions
Worcester, Massachusetts